Planning - Budgets - Accommodation
Live like a pauper or spend like a king?  Your accommodation budget  will completely depend on what is important to you.  You can stay in a 5 star hotel for thousands of dollars a night, all cram into a tiny budget hotel room, or find any number of variations in between.  Think about how much time you plan on staying in your room; if your kids go to bed earlier than you do consider if you'd rather have a separate room to relax in or if you're fine just hanging out on the bed beside them.  Do you crave some privacy at the end of the day?  Consider what you'd like to do during your down time (not only for the kids, but for yourself as well) and having a comfortable place to relax may be very important.  If you are going to spend all that money and time going to Europe then you might as well enjoy the place you will temporarily call home!
Here is how much we spent on accommodation in Spain in the summer of 2010.  I would consider the apartments we stayed in to be middle of the road - there were more expensive ones available as well as cheaper ones, but for us having a separate bedroom for the kids is well worth the price difference.  We've stayed in one bedroom apartments which is a good option if you don't mind sleeping on a pull-out couch and want to save a little money, particularly in more expensive cities like Paris.  Consider all of your options though because sometimes the price difference isn't as much as you might think.  (To give you a visual, the picture on the left is the living room of our apartment in San Sebastian.)

These prices include everything we paid except for the security deposit.  (All of our security deposits were returned without incident.)  Prices were converted from euros to Canadian dollars.
| | | | | |
| --- | --- | --- | --- | --- |
| | Cost | # of nights | # of bdrms | Cost/night |
| Barcelona | $      448.50 | 3 | 3 | $    149.50 |
| Begur | $   1,725.00 | 7 | 2 | $    246.43 |
| San Sebastian | $     952.20 | 4 | 3 | $    238.05 |
| Madrid | $     877.24 | 4 | 3 | $    219.31 |
| | | | | |
| Average price/nt | | | | $    213.32 |
As you can see, the cost varies by almost $100/night.  The apartment in Barcelona was a fabulous deal - it had three bedrooms, a living room, kitchen, bathroom, and was located right across the street from the Sagrada Familia.  We had a one minute walk to a metro stop that took us anywhere we wanted to go and we had plenty of room to recover from jet lag.  Having enough space to spread out during the first few days is invaluable; everyone's sleep is a bit off and it's nice to not worry about disturbing the other members of your family if you suddenly find yourself awake at 2 a.m.
Begur (a small town on the Mediterranean coast about 1.5 hours NE of Barcelona) was the most expensive of the places but for a very good reason.  For $246.43/night we had our own two bedroom house with a private pool in the backyard.  The cost was well worth it as we spent almost every afternoon sitting by the pool while the kids played and swam.  We saved money by having breakfast in the backyard as well as afternoon snacks and drinks.  It was a very relaxing way to spend a week and was a great place to come back to after a day of sightseeing.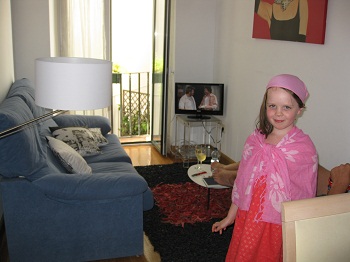 The San Sebastian apartment was in a building filled with 'regular people'.  Laundry hanging outside and the smell of dinner wafting through the windows made us really connect to the city.  We had 3 bedrooms but we used one as a giant walk-in closet because the kids wanted to sleep in the same room.  Combine that with two bathrooms, a comfy living room (see picture on left) and nice sized kitchen and we had a lot of room to spread out.

Our Madrid apartment was the second cheapest cost/night but by far the biggest and best apartment of the bunch.  For $219/night we had dark hardwood floors and 3 bedrooms spread out nicely over two floors.  We even had a giant soaker tub in the upstairs bathroom as well as access to the shared outdoor pool.  Madrid is insanely hot in the summer and we took full advantage of the pool every afternoon.
All of these apartments were mid-range in price and were a nice balance of price, size, and location.  For more money you can have more space, fancier accommodations or a more desirable location - although all of these apartments were located in great areas.  We really lucked out with the 3 bedroom apartments which had more space than we needed, but the prices were too good to pass up.  The economic environment in 2010 led to less travelers and thus more availability and choice which we definitely used to our advantage, although the prices we've encountered for the past few years have remained fairly steady.
To get an accurate view of prices in the area you want to travel you'll need to do a little research and some price comparisons.  Choosing places that have traveler reviews is a good idea as well as really taking your time with the process.  Visit different sites to get the best price comparisons and make sure to look for 'hidden' costs.  Occasionally there will be an extra charge for electricity or linens but that will be mentioned (in fine print) on the website.  Also be aware that almost every place charges a flat rate cleaning fee regardless of the length of stay which should be factored into your budget.
Don't be intimidated, just take your time.  Grab a pencil, some paper and a glass of whatever keeps you calm.  Enjoy!