Obstacles - My Kids are Picky Eaters!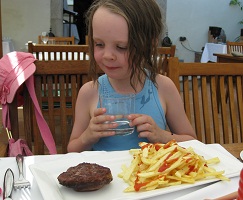 If you are concerned about taking your child to a foreign country full of foreign foods let me tell you one thing - french fries are everywhere.  Not that you want your child to live off of french fries for an entire vacation, but combine that with bread and water and you know they won't starve to death.  Instead of having them subsist on a diet of white starchy carbohydrates use this as an opportunity to get them involved and excited about new food.  We often encourage our kids to try different ethnic foods with the knowledge that 'we can't take you to that country if you can't eat their food'.  Is this child abuse?  I don't think so, I consider it more 'child reprogramming'.  With clear expectations (combined with their desire to travel and see new things) they will be more likely to be adventurous.
Before visiting a new country we 'practice' eating food from that culture.  For instance, before we went to France the first time we went out for crèpes as well as put Brie cheese out at every opportunity.  Granted, those are pretty mundane items (it wasn't escargot!) but it gave the kids some confidence that there would be things they would like when they got there.  Many restaurants do not have a kid's menu - and although in general Europeans are very inviting and gracious to children they certainly don't pander to them like we do.  Don't count on finding a children's menu, and getting crayons is very rare.  I remember on one of our first nights in Paris looking at the menu and saying to my husband, "Oh no, there isn't anything on this menu for the kids to eat!" to which he replied, "Isn't that one of the reasons why we've brought them here?"  True.  So, I quickly shook my head, gave myself an imaginary slap on the cheek and examined the menu further.  We ended up ordering them a side of green beans and a cheese plate (with Brie on it!).  When combined with the french bread on the table they were fully satisfied with their first French meal.  (Side note - one family-friendly chain restaurant in Paris is called Hippopotamus and it actually has a very nice kid's menu and great food for the adults too.  It's fun for a change, but don't let it replace the fabulous little cafés or you'll miss some spectacular food.)  
Plus, the old adage of "If they are hungry enough they will eat" is true.  They may not eat much, but they won't starve.  This held particularly true when we spent an hour wandering the streets of Paris looking for the perfect restaurant.  By the time we sat down we were starving, and instead of the waiter setting down a complimentary bread basket he placed a steaming bowl of mussels on the table.  After seeing her dad pop one out of the shell and eat it, our 3 year old starting digging right in.  Whether it was the novelty of plucking them out of the shell, the fact that she was really hungry, or the smell of garlic and spices emanating from the pot that drew her in we'll never know.  I do know that she would never have ordered them off of the menu, but when presented with the opportunity she jumped right in.  Lesson learned - don't underestimate you children's taste buds!  Encourage them to be adventurous and try things on your plate - you never know when they will end up eating half of your meal.  (Slightly annoying, but also exhilarating!)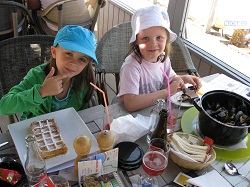 Proving that there is something for everyone - one child with a bucket of mussels, one with a sugar coated Belgian waffle!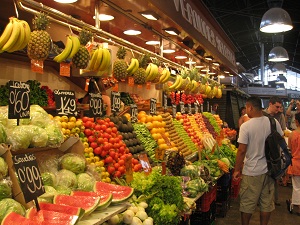 Also, go to the markets!  The fresh produce is amazing so take the opportunity to buy gorgeous white peaches, plump artichokes, a bag of locally marinated olives or anything else that jumps out at you.  We were okay with letting the kids eat a plate of fries for dinner if we knew that earlier in the day they'd eaten their weight in fresh fruit from the market.  Choose your battles.
Be clear about what is expected of them in regards to trying new foods.  Is it two bites of everything?  Choosing one new thing to try at each meal?  Licking their plate clean?  Whatever it is make a rule and stick with it.  Discuss it before you go so they know what to expect and aren't taken by surprise while sitting there with food in front of them.  Be adventurous yourself, try new things together and lead by example.  Just like you're preaching to the kids - you'll never know if you don't try!  (Example - trying the 'mushy peas' that come with fish and chips in London.  They looked gross but I had to set an example by trying them if I insisted that the kids try them too.  Verdict... they taste just like they look.  Apologies to anyone who loves them.  Blech.)