Accommodation - Camping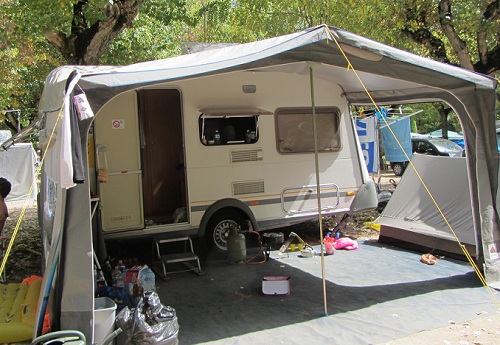 For many Europeans camping is a very popular way to spend a summer vacation.  Many families have a camper or caravan and park it in one of the many giant campgrounds located all over Europe.  We have family members (from Holland) who do this every single year and just choose a different country or different area of a country to base themselves in.  We have driven past some of these mega-campgrounds and many look like a lot of fun if you enjoy chaos.  Some are on lakes, some have multiple pools, some are golf-oriented... the possibilities are limitless.  Many also rent out little trailers or bungalows if you're interested but don't have access to a camper van.
Staying in a place like this may be desirable to some families because the kids will have a complete blast; they will have lots of opportunities to interact with other children while you sit in a lounge chair with a mojito.  On the other hand, unless you plan a lot of excursions you won't be seeing very much local culture.  Maybe you want to spend a portion of your time just chillaxin', or maybe this thought horrifies you.  At the very least, now you know!
Eurocamp - think pools and sun and lots of kids
Eurocampings - think small, intimate campgrounds