Accommodation - Hotels
Hotels are nice if you need a little pampering and want the amenities they provide - things like room service, concierge, maid service etc. But, when traveling with a family you need to weigh the 'perks' against the typically cramped quarters. There isn't any privacy or space to spread out in a hotel, but if you're only staying for a night or two it can be manageable - particularly while in a city that may not have rental accommodations for the amount of time you are there. (For instance, most major cities require a minimum 3 night stay if not a full week during peak periods. If you want to only spend a night or two in a city then a hotel may be the way to go.) Alternatively, if you plan on simply collapsing in a bed at the end of the day and not spending any extra time in your room then a hotel may be the perfect choice. Every individual family is different in their needs and desires which is why the possibilities are endless!
We had the opportunity to stay in two different Italian hotels the summer of 2011. We chose the hotels (instead of apartments) for two reasons, one was that I wanted to check them out for research purposes, and the other was that we were only staying for two nights in each city so an apartment wasn't a viable option.
Our first hotel was Hotel Bologna in Pisa, Italy. We rented the family room for two nights and, although it wasn't cheap, it was perfect for us. The room was very large and had one queen sized bed and two singles. It had two bathrooms which was really handy, and the included breakfast was excellent. The staff was very friendly and our kids loved that they were allowed in the lobby 'bar'. I would definitely recommend this hotel.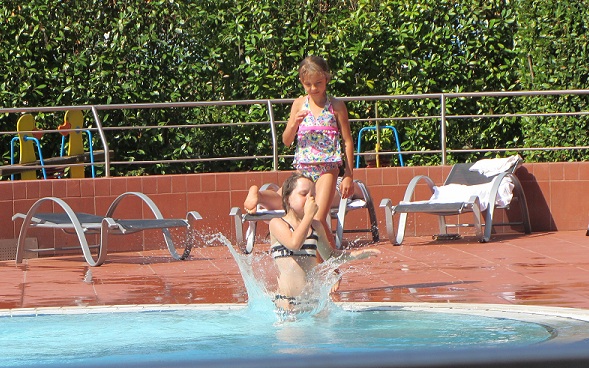 The second hotel we stayed in was in Venice, Italy. I had heard of the Novotel chain and had the impression that they were clean, inexpensive, and family friendly. A friend of mine called them "The Holiday Inn Express of Europe", and he was bang on. We got an incredible deal - I booked online and we spent less than 100€ a night for the four of us with an included breakfast. Staying in Venice isn't cheap, and this hotel's price couldn't be beat. To be fair we weren't in Venice as you know it - the canals, old stone houses... but in Venice Mestre which is on the mainland. We took a bus (about 15 minutes and a few euros each) to Venice which worked out perfectly for us. The hotel had a pool, and as the temperature was in the high 30's (close to 100F) we played at the pool during the day and went strolling in Venice in the evening when it cooled down a bit. The hotel room had a double bed and a double pull out couch - so the quarters were a little cramped but we didn't spend much time in the room so it was manageable for two nights. We had a nice time but it's not the type of room you'd want to spend the majority of your vacation in.
Another interesting option is the German and Austrian chains Familotel and Kinderhotels that completely cater to kids - think Mexican all-inclusive but in the Black Forest. I haven't stayed in any of them but they look like a great option if you're traveling to that area. Alternatively, I recently learned of an Italian website that contains listings for independent hotels that cater to kids. Click here if you're interested. If you have stayed somewhere worth mentioning please send me an email and I'd love to add it to the list.