Transportation - Planes
Getting from here to there:
Unless you plan on taking a cruise or steam ship across the ocean, you will be needing plane tickets.  For more detailed information on actual ticket prices check out the comparison chart (Planning - Budgets) or It's Too Expensive! (under Obstacles).
Finding the right ticket for you will take some time and patience.  Play around with different airlines, dates, and cities until you find the combination that works for you.  Flying outside of the major tourist season (typically June - August) will save you money but that depends on if you're able/willing to take your kids out of school if they are old enough for it to matter.  We have always traveled during the traditional school summer break so that is all that I can attest to.  Flying in the summer is definitely the most expensive time to do so, but you're pretty much guaranteed warm weather and there are a lot of flights to choose from.  Airline fares do not usually go on sale for the summer months, so don't count on waiting until the last minute - you may be disappointed by higher fares and less availability.  I hope in the future to be able to go during the spring or fall when the temperatures are great and the prices are lower, but for now we are dictated by school schedules.
Flying within Europe: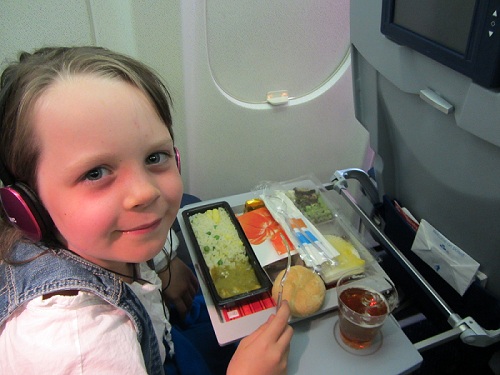 Europe is compact, but it is by no means small.  Compared to the expanses of North America it may seem so, but it's not when you're on the ground and trying to get from Amsterdam to Rome.  If you are wanting to link two places that are not geographically close then your options include a very long train/bus/car trip, or a quick flight.  Many airlines offer multi-city tickets (also known as 'open jaw') which may play a useful role in your plans.  For not much more (and often the same price) you can fly into one city (example - Paris) and out of another city (example - Rome) thus adding some variety into your travel plans.  If you want to explore this option click on 'multi city' or 'multiple destinations' next to the one way/round trip option on the airline's website.
Another option is to 'extend' your stopover.  Most major carriers will have you stop in one of their 'hubs' on the way to your desired destination.  To name a few, British Airways (London), KLM (Amsterdam), and Air Canada (Frankfurt) all allow you to increase the length of your stopover without increasing the price of your ticket.  (Each airline has their own rules on the length of time that is allowable.)  Instead of a 3 hour stopover what about a 3 day stopover?  This allows you to see another city without needing to buy another ticket and is a great way to maximize your trip.  We have done this with both London (British Airways) and Amsterdam (KLM).  Even charter airlines like Air Transat allow you to fly out of a different city than you flew into.  Why not?

If the flight you're taking flies in and out of the same city and you'd like to tour around the continent, then look into budget airlines such as Ryanair, Jetblue, or Olympic.  Major airlines such as British Airways, KLM, and Lufthansa also fly city to city but can be more expensive.  The budget airlines are often inexpensive but they usually don't fly into major airports and have limited on-flight service as well as being very strict with their baggage policies.  Read all of the fine print!  Some of the prices are so cheap you will hardly believe it - but remember that it applies only if you're flying carry-on and don't mind flying into a small city.
As a disclaimer I must admit that I have never personally taken a European discount airline, but I have read many reports from people that have.  Most are travelers that are flying very light (small carry-on only) and don't mind flying into smaller centers.  To them the cheap price of the flight makes the little bit of extra hassle worthwhile in covering long distances.  All intra-Europe flights our family have taken (example, Madrid - London) occurred as part of our multi-city tickets with a major airline.  If you have traveled on any discount European airline please share your story in the forum under Transportation as I'm sure others can benefit from your experience.
When considering if air travel is the right choice for you remember to factor in layovers, security, and the convenience of flight times.  A one hour flight can end up taking an entire day once everything else is included; this may make the train option more appealing!  If you find a cheap flight online try to book it through the actual airline instead of the middleman (like travelocity) if possible.  This makes it easier to figure out what to do if you miss a flight or there is a cancellation.  I often use search engines to find the best deal but then book directly with the airline.
To sum it all up, an airplane will definitely be involved in your trip planning.  Ideally this is not your first time on a plane; it helps if you are already (slightly) seasoned travelers with a few trips under your belt.  Knowing how your children (and you!) handle flying and the general chaos involved in navigating through airports will help immensely in your planning process.