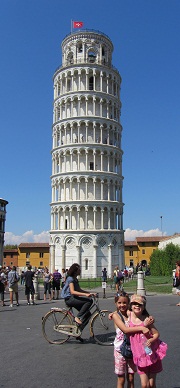 I apologize for the title but I couldn't resist it!

This morning we woke to the rousing sound of heavy footsteps tromping above us - how can such a solid stone house let such loud noises through?  For the entire previous week we had only occasionally heard footsteps but last night until almost 1:30 am and then again this morning starting at 8; I think they were practicing for Riverdance!  The wake-up call was okay though because I was a little antsy to get up and organized.  I can't stand just haphazardly throwing our things into suitcases,  I need it to be organized.  Since we'd be staying in a hotel for the next two nights I didn't want to have us digging into random suitcases looking for specific items.  So, up and at 'em it was!
We were fairly efficient with our packing and so decided to forgo making our own (not so great) coffee and hoped to find a little café on our way out of town.  We indeed found one and I felt very European as I held my custard filled croissant in one hand and my tiny cappuccino in the other.  Fueled and raring to go we went off in search of Pisa.  We could see that the most direct route was the autostrada but that is fairly boring and similar to any other large highway anywhere in the world.  Looking for a little scenery we took the small backroads and we weren't disappointed in the least.  We passed vineyards and picturesque fields of olive trees, as well as some very sad and depressed looking fields of sunflowers.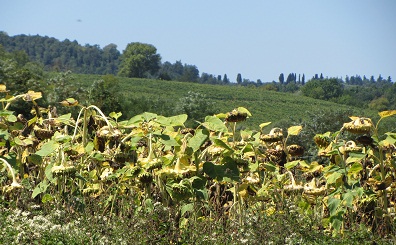 Sunflowers have to be one of the 'happiest' looking flowers around, but once they are finished making their seeds they seem to hang their head in sad dejection.  I was actually feeling quite badly for the field after field of heavy-headed flowers!  I can only imagine how beautiful those fields would've been a few short weeks ago when they were all bright and cheerful and facing the sun.
We passed through dozens of small towns that seemed completely shuttered with only a random smattering of old Italian men sitting outside in plastic lawn chairs.  I'm not sure where everyone else was but we definitely noticed the affinity everyone seems to have for yellow house paint and green shutters.  Maybe there was a big sale?  Town after town blended together but it was still very pleasant and not at all boring.  Eventually we became hungry, and seeing as there were no restaurants open anywhere we got onto the main highway and headed into the bustling town of Pisa.  We found our hotel pretty easily and it's a fantastic set up.  Typically we avoid hotels because we feel like we're on top of each other but this one was chosen specifically for it's Family Room.  It's a big room with a queen sized bed and two twins, and I'm happy to report that we still have a lot of space to 'live' in.   We're all staring at one another but it's still pretty decent for a hotel room, and the price and amenities are great especially considering our location.
We had a quick lunch around the corner and  it was so hot outside that the steaming hot pizza took a full 10 minutes to cool down enough to eat!  It was a scorching 37C today (close to 100F for you Farenheiters) which is of course even hotter when experienced in the tandoori oven of Italian streets.  We managed to make it to a gelato stand which both Jeff and I remember very clearly getting gelato from on our honeymoon 14 years ago!  I couldn't quite remember the flavors I chose back then but today I chose half passionfruit half pink grapefruit.  The heat made our gelati melt very quickly so we had to work fast… and we actually ducked into a little café's bathroom to wash our sticky hands.  We worked our way to the Leaning Tower and I was surprised by how small it seemed to be.  Of course it's actually quite tall (56.7 m) and we climbed all 294 steps to the top.  The view from the top was really nice but the best part was the feeling as you climbed it; on the one side you leaned into the wall and then as you rotated around to the other side you were away from the wall.  The steps were so worn from the millions of people climbing it for the last 950+ years and you could feel the history beneath your feet.  Besides history I also felt a lot of smooth marble because my shoes didn't seem to have a lot of grip on the way down.  Core muscle workout!
I have fond memories of this place - I distinctly remember visiting it on my gr. 9 trip and then again on my honeymoon.  Now again with our kids… pretty cool.  They seemed to really take interest in the tower as it's one of those iconic monuments you see pictures of but don't really understand until you see it in person.  We ate dinner in a little side street where we could see the top of the tower and as the night became darker and the tower lit up it was quite a beautiful sight.  Tonight Julia also became a fan of prosciutto ("It looks like raw meat but is very tasty!") and Chloe was beyond pleased that they had peach flavored iced tea at dinner.  I was just happy to have a real wine glass at dinner instead of a tumbler so it was a pretty good evening all around!

We ended the evening with (yet another) gelato although I opted for a mint granita this time.  It was way too sweet and a crazy color of green so I threw most of it in the garbage.  Our hotel has a lovely little reception room/bar off of the lobby and the kids were super pumped that they were 'allowed' to go into a bar with us.  They bellied up and ordered a juice on the rocks (one apple, one apricot) while the adults indulged in a glass of wine.  We started to get all scientific and intellectual with a discussion of how the earth rotates around the sun instead of earlier theories and the fact that poor Galileo was basically banished because of his contradictory (and completely true) beliefs.  (When Julia heard that she said, "How rude!")  Great hijinks then ensued when their newly purchased mini Leaning Tower was brought out and the Polly Pockets started climbing it.  We had to eventually cut them off and head back to the room… sometimes you have to rope that energy in!
All is now quiet and we'll see how all being in the same hotel room works.  I just have one thing to say - I love iPods ; what did we do before??  They are a parent's best friend - along with wi-fi and a mini bar.  Sogni d'oro…
<---- The Polly girls go nuts in Pisa!