By the time we finally got ourselves up and organized this morning it was close to noon. I think Julia must be growing because she is sleeping much more than usual - eventually I had to almost pull her out of bed! I bet if it was up to her she would stay in bed all day, as long as there were snacks. But, being the responsible parent that I am, I made her get up to walk around in the sunshine. We ate our breakfast popsicles before we left the apartment, and I hate to admit that mine was a bit disappointing. It was very sweet, and the stick pulled right out of the popsicle when I tried to remove it from the container! I ate it with a spoon instead, and it did its job of providing calories before we started walking.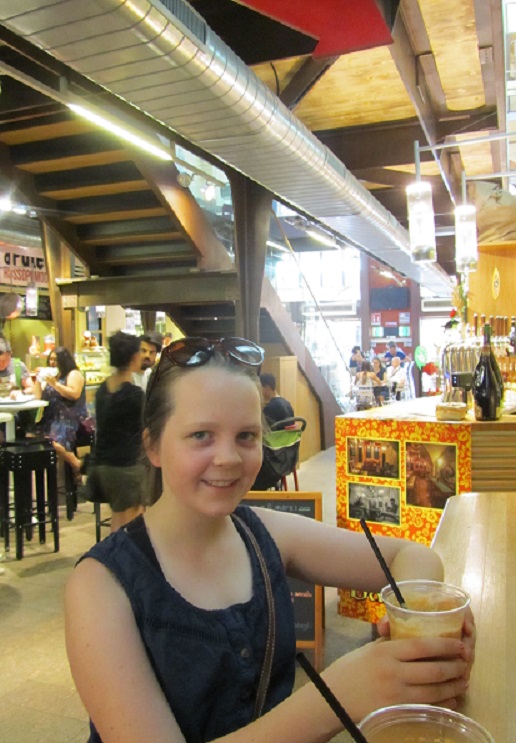 Our first destination was the Mercato di Mezzo - a market that was mentioned on TripAdvisor. We found it quite easily and it was very quaint, clean, and full of delicious looking food. It wasn't a market that sold fruit, vegetables, etc, but more of an upscale food court. It was still nice to walk through, and we bought ourselves some freshly pressed juice before moving on. (Mine was orange, carrot, and lime - a most delightful combination!)
The second goal of the day was to visit the park Giardini Margherita. On the map it appears as a large green spot, and when I looked online it said there was a café in the middle and that it was a pleasant place to visit. As we didn't have any desire to shop, look at any churches, or go to a museum, taking a stroll in a park seemed like a nice idea. It took about twenty minutes to walk there, and when we first walked in we were a bit underwhelmed. There was a coffee/ice cream shop, and initially I worried that this was the 'café' that I'd read about. Thankfully not, as we were hungrier for more than ice cream! The park was actually very nice, and we walked around a small lake filled with lots of swimming turtles! That was quite the unexpected surprise and we watched them for a while before going in to the actual café to order lunch.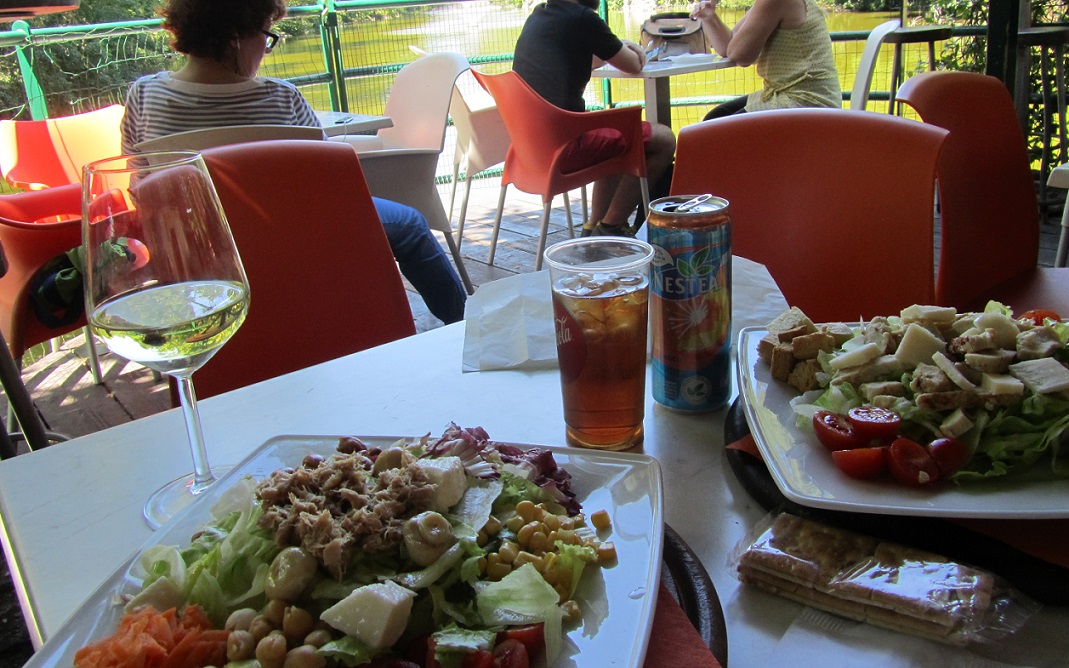 We both wanted salad, and we were pleased to see there were a couple of choices. I had the Insalata Mista and it was really good; Julia chose a Caesar salad and was extremely disappointed. I'm not sure what qualified it as a Caesar, but it had tomatoes and chicken on it, and unfortunately the chicken was drier than the croutons. She picked at the lettuce and ate a few of the hard chunks of parmesan, but other than that her salad went mostly untouched. All things considered, it was still a nice excursion as we sat outside with a view of the little lake and turtles.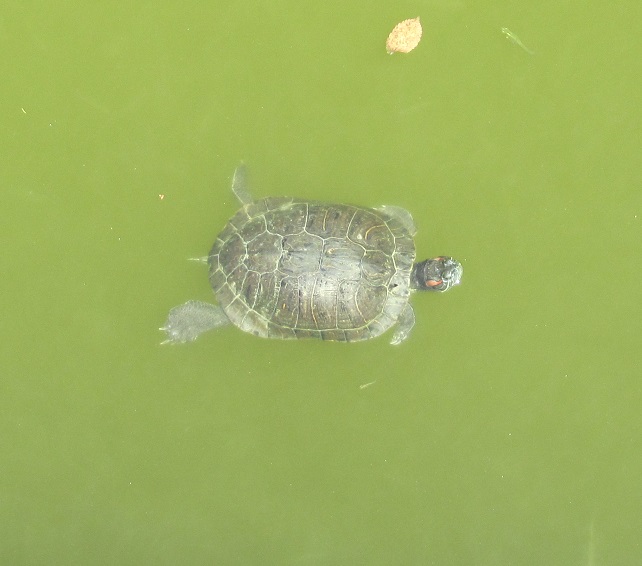 We chose a different route back and found a delicious gelato shop to help occupy our mouths as we walked home. We were very hot and sweaty so we went back to the apartment to cool down, rest, and start packing. After an hour or so I pulled Julia away from her Modern Family marathon to go out for a refreshment and some people watching. I love how you are allowed to sit at a table for as long as you want to just sipping your drink and watching the world walk by. People are so fascinating! We had a nice time, although Julia didn't appreciate that at the table behind me the older couple was 'doing a lot of kissing'. They are free with affection here, and I think it's nice. At 12, Julia thinks it is 'weird'. :)
We had our final dinner on a cute side street that we found while searching for the market this morning. The food was really great, and I thought of my mom and sister as it was the first time that I have seen a 'gluten free' section on a menu here! I was so intrigued by the house hamburger - it is the first time (outside of fast food places) that I have seen a hamburger on the menu. The description was fantastic, and the fact that it had a 'berry-ginger' sauce intrigued me even more. So much unexpected flavour! But, I was equally intrigued by the risotto - I love risotto. So, Julia ordered the burger, and I ordered the risotto. We ended up switching halfway through which was perfect for both of us. The burger patty was about the size of Julia's head, and so halfway through she (understandably) gave up. By that point of my meal (risotto), I was tired of eating it, so it worked out perfectly for both of us. I am glad to be on this leg of the trip with an adventurous eater who will share things with me!
Meal service in Europe always intrigues me… on one level I like their unobtrusiveness, but on the other hand it is annoying to have to flag them down for every little thing that you need. I would've had a second glass of wine tonight, but I couldn't grab a server. Also, the food comes out so quickly that you barely have time to take a sip of your drink. It's weird. Then you can sit there for two hours without anyone talking to you, if you so desire. Interesting. I'm sure they find our service weird in the opposite sense.
We came home from dinner and played a few rounds of Qwirkle. After two games we decided that it took too much brain power so we decided to head upstairs and get ready for bed. We are mostly packed up and ready to leave for our next adventure - a 3 day cooking immersion! We are both really looking forward to it, and I hope it is everything that we are anticipating it to be.
We got to talk to Chloe tonight via WhatsApp and it was really nice to hear her voice. They had a half day of dance today, and the other half was a private double decker bus tour of London. She was really happy and I'm so glad that she is having a great time.
Good night from Bologna - I hope that our Wi-Fi in the next place is as fantastic as it has been here! :)