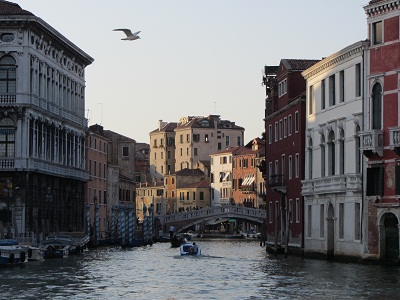 I didn't know that it was possible to actually crave air conditioning.  In general I usually don't like it - I hate how in the summer you need a sweater to go to the mall as it seems that many places make the temperature inside inversely proportional to the temperature outside.  I've always admired Europe for their restraint with A/C, although I'm sure it has more to do with economics than discomfort.  The last few days, however, has made me appreciate modern conveniences and the basic need of keeping your body temperature below the boiling point.  Our apartment in Verona was in a great location and had a fabulous set-up, but the fact that we were in a constant state of sweat was less than ideal.  We were looking forward to our stay in Venice for many reasons, but I think the main was one knowing that we'd be in a hotel with strong air conditioning!
We packed up this morning, grabbed a quick and delicious coffee and croissant and drove to the Europcar office to drop off our car.  We'd had it for a week and a half and had become slightly attached to it - I'm not sure why I always feel a slight sadness when we return a rental car.  We took a quick walk to the train station but in the 8 minutes it took us to get there we were completely drenched.  It was another scorcher and dragging suitcases in the hot sun didn't help.  The only 'restaurant' in the Verona train station is a McDonalds so we took refuge in it and had a cold drink.  They had somewhat cooler temperatures inside than outside but not by much.  We sat on the track waiting for our train and eagerly anticipated the nice, cool, first class cabin.  Well the cabin was indeed nice and the free drinks and snacks were great, however their broken A/C didn't do anything for us and we were relieved that it was only an hour trip.  Then off the train, grabbed a taxi, and finally got into the lobby of the Venice Novotel.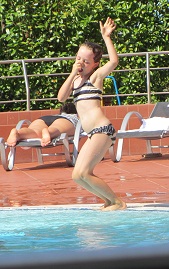 What a relief!!!  It was cool and calm, and we could see the swimming pool beckoning to us.  It honestly felt like we hadn't been cool in days and the relief of our hotel room and the beautiful swimming pool was heavenly.  We had a late lunch poolside but decided not to do that again - the pizza looked like it was from the freezer (and not a good brand) but the ambiance was worth it - not to mention the fact that we didn't have to go anywhere to get it.
We are not staying in the part of Venice that most people picture, but rather on the mainland.  I chose this hotel for a variety of reasons - one is that the cost was extremely reasonable ($103/nt with breakfast included), and the other was that it has a pool.  You can't stay anywhere in 'old' Venice and have a spacious room and a big swimming pool, it's just impossible.  It's a bit out of the way but at this point in the trip we need the pool more than we need the canals.  You can take a taxi from our hotel into the main part of Venice for about $40, or you can pay $1.30 each to take a 15 minute bus ride.  We opted for the cheap way.
We wandered the streets, admired the view, and just soaked in the Venetian ambiance.  I'm sorry to relate that we had our first horrible meal tonight.  The people were fine and the location was great, but unfortunately the food didn't live up to our expectations.  We started with the 'mixed Venetian fried fish platter' - and we expected something similar to a delicious appetizer we had in Pisa with lightly fried calamari, shrimp and chunks of fish.  We were sorely disappointed, and as I even think of it I feel a bit queasy.  This plate had a bunch of slimy baby octopuses (octopi?), two very overcooked scallops, a small pile of little fish with bones and heads and overall ickiness, and some other random things from the sea.  There were a few olives and two chunks of polenta that we ate, but other than that it was a big flush of money down the toilet.  We had high hopes for the next course; Jeff ordered tagliotelle with lobster - sounds delicious, right?  It had very little flavor and you know the lobster is bad when there are huge chunks of it left on the plate at the end of the meal…  he ate some breadsticks from the bowl instead.  I had spinach gnocchi which were okay, but nothing to write home about.  I ate enough to keep from starving and also ended the meal with a breadstick.  On an upnote the kids loved their spaghetti and we witnessed an interesting altercation between the table beside us and some locals.  Three young Venetians were having a drink and a cigarette close to the tables and to be honest I never really noticed or thought much about it.  The lady at the table beside us got up and stood away from them and then her husband/boyfriend asked them to leave and smoke somewhere else.  A strange fight ensued with a crazy language barrier - none of them spoke English very well but that was the designated dispute language and I have to side with the smokers on this one.  I don't like smoke around me when eating either, but if you don't want it then don't sit outside on a sidewalk in a country where people smoke!  Either sit inside or stay home.  It added a little excitement to the evening and kind of made me forget about the horrible fish platter.
We took the bus back and it was an 'experience' - at least that's what we had to tell the kids.  It was 11 pm and we were smushed like sardines in a hot, sweaty bus.  Julia mentioned that she thought she could fall asleep standing up and wished she could go home to her own bed.  Okay, so I'll admit it isn't always bubblegum and rainbows… those are the times you need to think of the situation as a memory for the future…. "Remember when we were smushed in a hot bus in Venice?  Wasn't that interesting?" .  We got off the bus in a random place (to be honest we actually didn't know where to get off, we were just winging it) and found a great gelato place.  The fish platter was still haunting me and the combination of that and the hot bus made my stomach feel a little uneasy.  Mint granita to the rescue!!  We were all revived and hopped in a cab for the short ride back to the hotel.
Julia is already asleep and we are not far behind.  Time to rest up for our last full day in Italy.
Goodnight!