Ahhh, time to say 'adios' to Spain and get ready to head home in the morning. I always like the stage of a trip where you are happy to leave, yet not quite ready to go. Going home means groceries, laundry, school and work, but it also means familiarity and family - things we have been missing.
Instead of hitting the same café from yesterday, we headed in the opposite direction to a healthy smoothie place that Chloe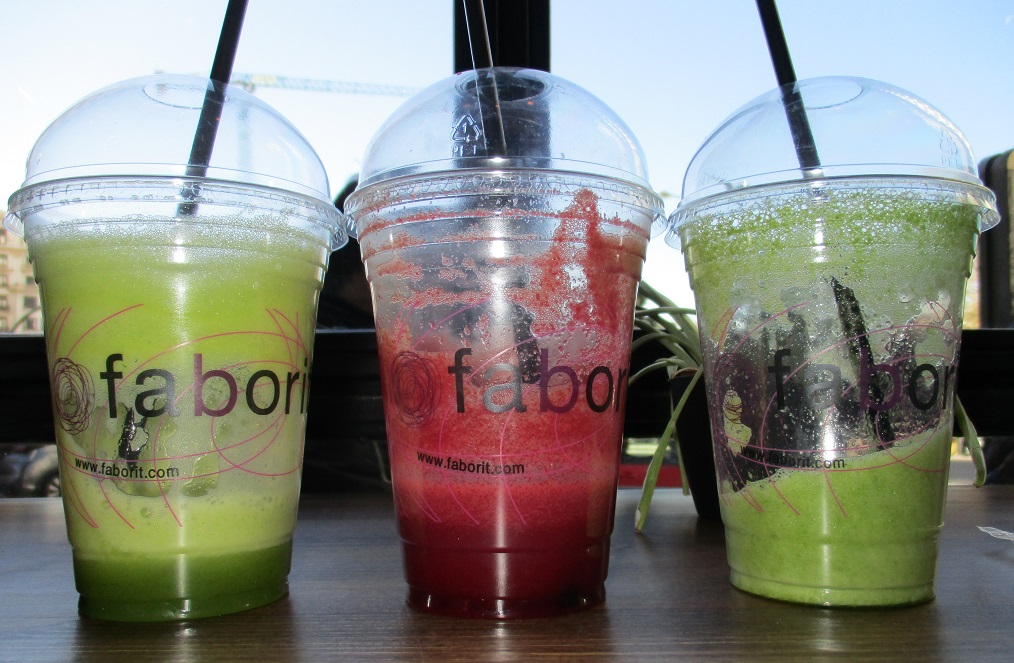 and Jeff discovered the other day. We skipped the toasted bread and dulce de leche, and instead had healthy smoothies - three green and one red. We could feel the vitamins and minerals pulsing through our veins afterwards, and we hit the streets with renewed vigour.
The only 'must-do' today was heading back to the San Miguel Market (for the third time in 2 days!) to procure a bowl of paella for Julia. She really wanted paella on this trip, but unfortunately, this is not the ideal region of Spain to experience it. Yesterday at the market, we saw a man eating a small bowl of paella as we sampled olives and sangria, so we knew that we could find it there. Plus, everything at that market looked delicious, so we had high expectations. Well - we were right! They had a stall with four giant paella pans - seafood, meat, vegetarian, and black squid ink. We got a bowl of both seafood and meat, and they hit the spot! This only heightened our hunger, so we continued on with two mini pizzas (cooked in their own little cast iron pans), various spiced nuts, baklava, and violet ice cream. There are so many delights to sample, and I think you could spend an entire day tasting (and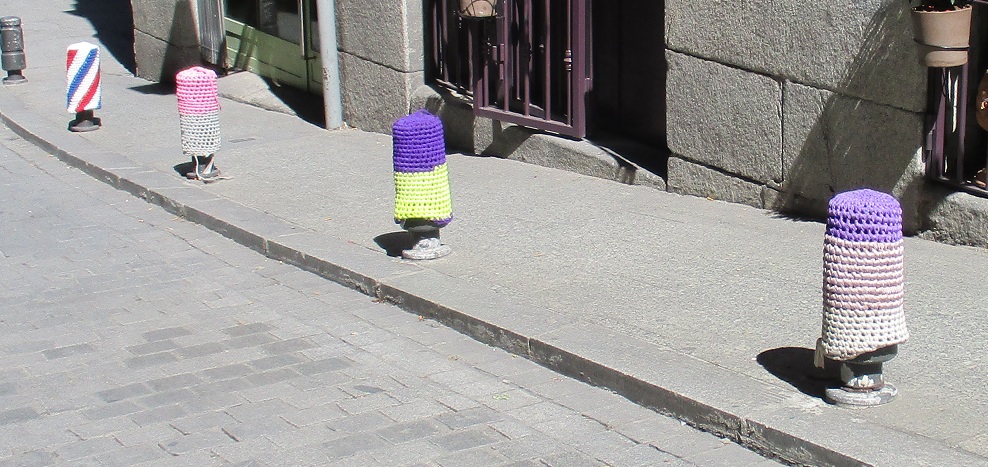 drinking) your way through the market. Something to aspire to. :)
We continued our wander with nothing to see but what we saw - if that makes sense. We encountered some really cute crochet-bombed parking poles that for some reason really pleased me! I also love looking at the various buildings, some grand, some not so much. We wandered a street that was like a supermarket but with individual stores - fruits and veggies in one, meat and fish in another, various dry goods, a pharmacy, etc. The big box versions we are used to are handy, but you definitely lose the individuality and personal service of these little shops. There are positives to be said for both.
We had to check out the infamous Don Quixote statue located only a few blocks from where we are staying. Here are the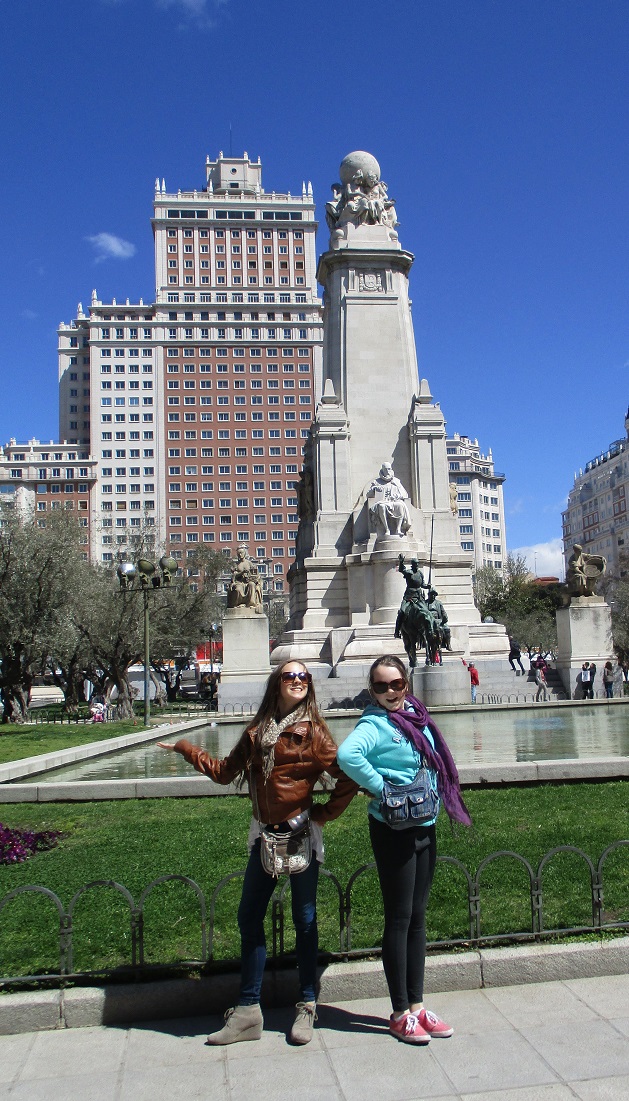 girls hamming it up on a gorgeous spring day. Did you know that the Don Quixote novel is considered one of the top four novels ever written? (Of course, this is from Wikipedia, so take it with a grain of salt.) In any case, it was a pretty influential novel for its time and inspired many great novelists afterwards. I guess it deserves a statue. Spain is proud of it, and I can understand why.
A few doors down from our apartment is a taco bar that had great reviews. We decided to try it, and well... it was 'interesting'. We have eaten a lot of great Mexican food in our life, and perhaps it is best to leave that for Mexico. I won't say it was bad - it was actually fairly good - but it did leave a tad to be desired. We took a chance and knew it. Mexican food should be bold and spicy, and this was mild and moderately flavourful. They did have a very pretty nacho presentation - kudos for that!
Siesta time... we are addicted. Jeff and I are trying to figure out how to work this into our normal daily routines going forward. We now understand how people can stay out so late every evening! Dinner reservations for 11 pm? Are you kidding? Totally manageable when you've had an hour and a half nap in the afternoon. Interesting.
We are settling in for our final sleep in Spain; our departure time is 1:30 pm which is very reasonable and won't cause the morning stress that sometimes occurs with leaving. It has been a really nice trip with lots of Phase 10 card games, family laughs, and a shared love of good food and adventure. Goodbye for now - see you on the other side!