Today we decided to do a bit of exploring and checked out the town of St. Remy du Provence and the archaeological site of Glanum. St. Remy is well known to many as where Van Gogh lived in the Saint-Paul asylum and painted many of his (now) very well known paintings. It is only about 20 minutes from where we are staying, and so it was a very easy drive on narrow roads through fields and fields of sunflowers. Van Gogh had a special interest in the flora around this region, and it's easy to understand why artists are drawn to this area. There is a softness to the light here, and the weather makes for such gorgeously lush flowers and vegetation.
St. Remy was a cute little town with the requisite shops and restaurants, so after a lunch of GIGANTIC salads (no joke, they were huge!) we strolled through the alleys while the kids ate ice cream and Jeff and I enjoyed café crèmes. In a fairly unremarkable alley with narrow passageways, Jeff noticed a sign high up on a building.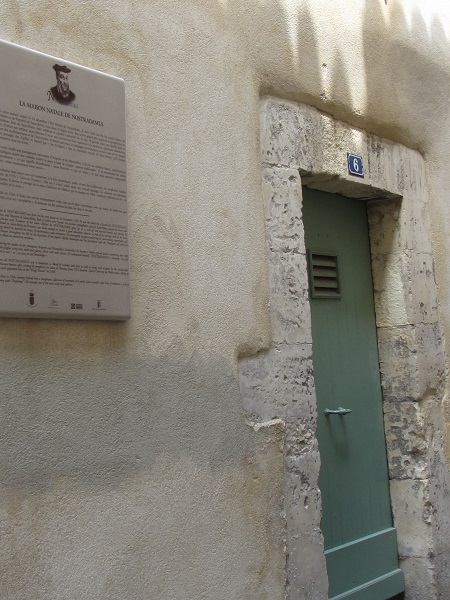 Normally I am the nerdy one who wants to read every single sign, but this one missed my attention. It turned out to be the house where Nostradamus was born in 1503! Can you imagine that?? In that exact spot 511 years ago… boggling. Feeling like we'd gained at least one informative and educational tidbit we headed to the car and drove a few minutes up the road to Glanum.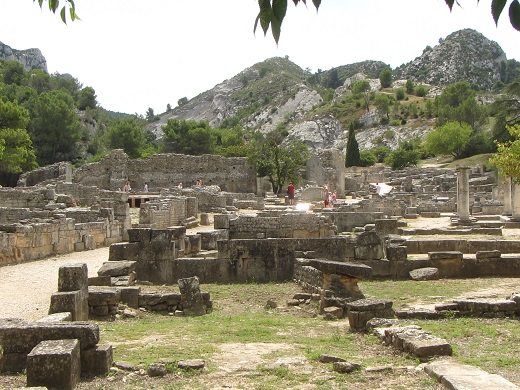 Glanum was fascinating – it became a Roman colony during Augustus' reign somewhere between 63 BC and 14 AD. Seriously? And it was impressive… I can't believe the level of complexity and innovation they had back then. Bath houses with cold, warm, and hot pools, a steam room and a swimming pool; a market, temple, basilica, Roman forum and many large and elaborate two story houses. Mechanisms for keeping fresh water away from waste water… all things that many countries can't figure out in the modern world! I've visited many old ruins in various countries and I am always impressed – it never gets old to me! (No pun intended. Well, kinda.)
There was a lot to see and explore, but it was very hot and sunny and the kids weren't enjoying the experience as much as the adults were. I randomly threw capfuls of water at their heads which would temporarily placate them, but eventually we called it a day and aimed for home. We did, however, go into a gigantic supermarket on the way back – the French equivalent of a Super Walmart. How exciting! I was overcome by the Boursin cheese aisle (Fig and Walnut… omg) and we stocked up on some basic provisions for the rest of the week. Feeling like that was enough excitement for the day we came back to our apartment where we sat on the veranda eating a platter of cheese, olives and salami and enjoyed doing nothing. (Nothing = reading, snoozing, and blogging.)
Dinner was at a cute little pizza place (I know, I know… we aren't in Italy). It was recommended to us by the guy that checked us in to our apartment – and it definitely delivered! It was on a quiet, nondescript street with (no!) smokers and had the delightful occasional whiff of lavender blow by. All in all, it was very relaxing, delicious, and perfect. A few dogs got in a slight territorial stand-off, but that's life and who can blame a dog for wanting to stake out its territory. No pee was involved in the dispute.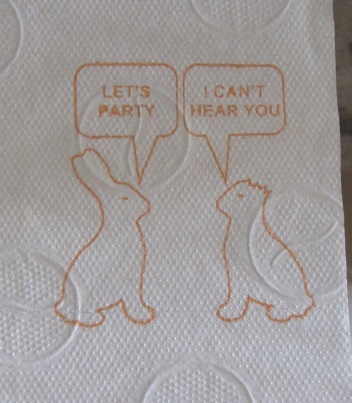 PS – Interesting thought of the day. Why do the French have colored toilet paper? It's either white with a strange pattern on it, or it is solid pink. I find this disconcerting! Do they think our toilet paper is boring? (This is a photo of the toilet paper in our apartment. What's up with that??)