Okay, so the whole 'let's wake up early!' thing didn't really happen this morning - that sort of crazy idea seems great in theory, but silly when you're in a warm, comfy bed on vacation. We did, however, reach our goal of eating breakfast before noon - I believe we ordered around 11:20 am, which in Spain is not actually all that bad. We went to a fantastic little café right by our apartment, and it was strange how many people were eating cake. Huge, huge pieces of decadent cake. Weird! This place was so delicious - they served tiny pots of dulce de leche with toast which was absolutely heavenly. Plus, their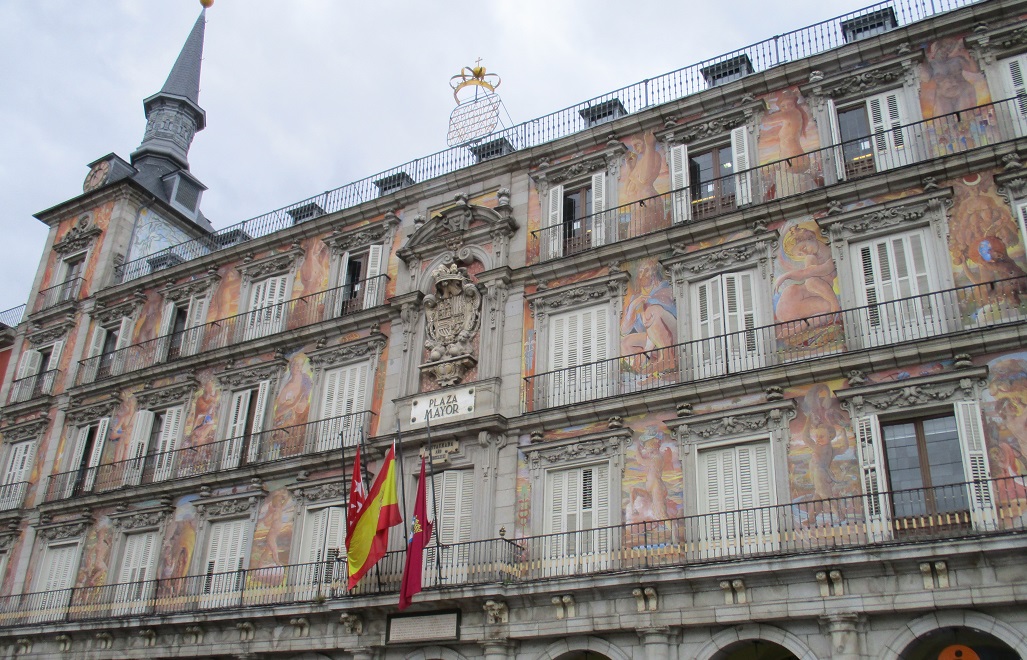 coffee and fresh-pressed orange juice were exactly what the morning doctor ordered.
With not a clear direction in mind, we set off on foot and ended up walking for hours. We saw the Royal Palace, the Plaza Mayor, and many other 'must-see' tourist destinations. We also popped into the fantastic Mercado de San Miguel, but we were disappointed to have just eaten breakfast because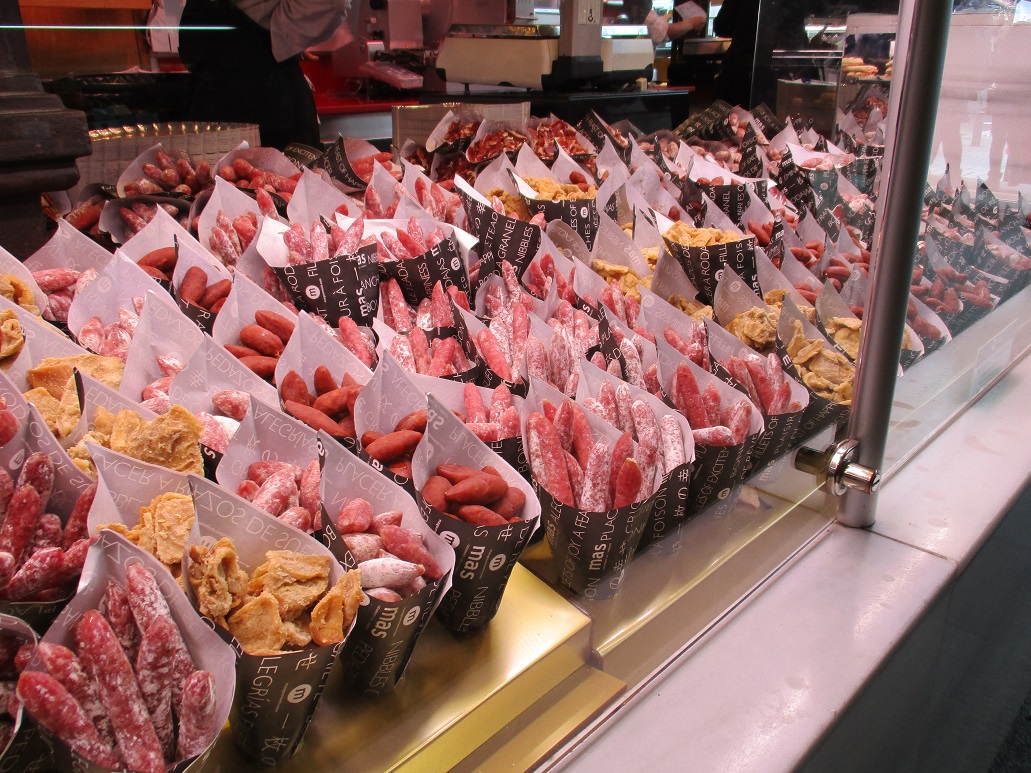 the tapas were so crazy-delicious looking! We ended up going back there later for a drink and some olives - it was just too good to pass up. There were all sorts of crazy food items - olive kabobs, tiny cones of various salami, and 'spaghetti' made out of fish! (Great for Paleo diets…)
After walking for hours we were actually a bit chilly, as today there was a strong, cold wind that cut right through us. We ended up back at our apartment to use the internet to hunt for the perfect lunch restaurant, and also to grab a few more layers to stave off the cold. Jeff ended up finding a place only a few blocks from us, and it was a great experience! Interestingly enough, it seemed like most of the people in the place were businessmen on their 2-hour lunch breaks. The portions were quite small, but the best part of the whole meal was the fancy 'galleta de la casa' that came at the end of the meal with our coffees - it was so delicious, and if we
weren't so civilized we would've elbowed each other out of the way to get more than our fair share. At the end, a waitress spoke rapid-fire Spanish to us and we had no idea what she said, but we must've seemed agreeable because they brought us shot glasses and filled two with an apple liquid for the kids, and some sort of creamy delicious liqueur for Jeff and I. Hmm, nice!
The Spanish tradition of an afternoon siesta is more understandable after eating a long and filling meal like that one, and wanting to blend with the locals we headed home for a nap. Yep, we actually napped. I'm not sure how anyone here is productive after 3 pm… especially when I witnessed how much wine they drink with lunch. I suppose it would be a good idea to set all meetings before 1 pm. Surgery too.
The final important decision of the day was deciding where to go for dinner. This work is difficult!! We wandered the Latina neighbourhood, and it is really quaint and interesting if you feel like eating tapas and hopping from place to place. For some reason this doesn't appeal to kids, and so we will have to come back and do this in about 10 years. Instead, as mentioned earlier, we popped into the mercado for a snack, and then hit the streets waiting for the best restaurant to declare itself.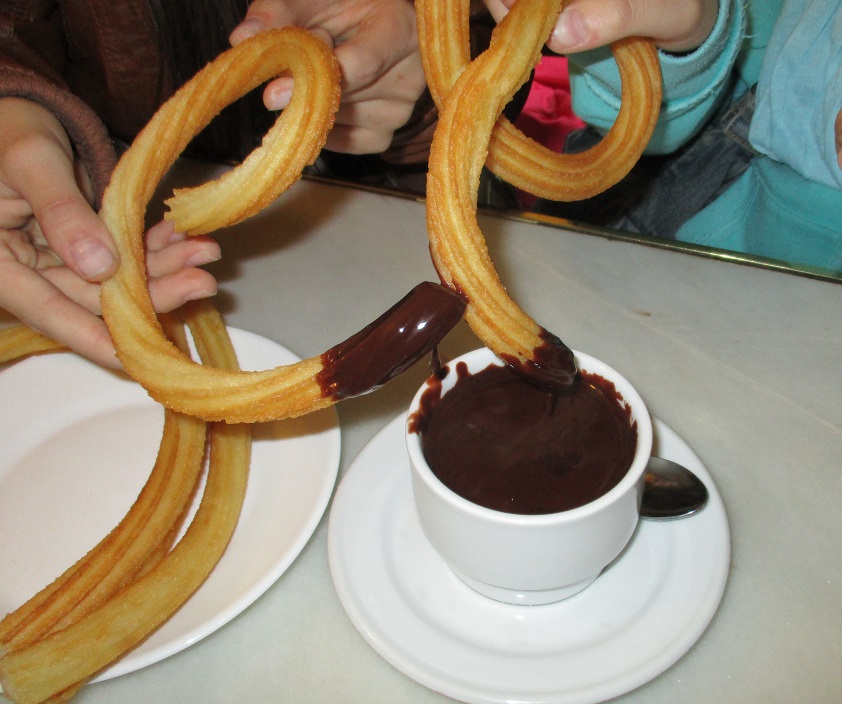 We ended up at an amazing Italian restaurant and secured the second last table for the night. (A lovely family from Birmingham got the last table right beside ours.) This restaurant hand makes all of their pasta and pizza, and it was delicious! An added bonus was that is located down the street from Choclatería San Ginés - an establishment selling churros and chocolate since 1894! Well, of course we had to try it - and it was fantastic! By themselves, the churros weren't sweet at all - I would almost say they had a saltiness to them. The chocolate was very thick and dark and the perfect accompaniment to the churros. They obviously know what they are doing. Yum.
Now time for bed - tomorrow is our last full day and we have nothing planned other than finding great food and then walking it off on the streets of Madrid. Better rest up. ;)