We have had such a fun day! After setting the alarm this morning to do the last minute packing before catching the 10:20 train to Salisbury, we were starving by the time we made it to the train station. We had 20 minutes to spare but weren't able to grab anything because we couldn't carry the drinks, food, and suitcases while getting into the train. After we were settled we had exactly 10 minutes until departure and Jeff ran off to be a hunter/gatherer for the family. I will not lie… the kids and I were very stressed that he wouldn't make back in time and were glued to the window. With 2.5 minutes to spare he arrived with coffee, croissants, muffins and orange juice. PHEW! I almost got an ulcer and I swear Julia had held her breath the entire time.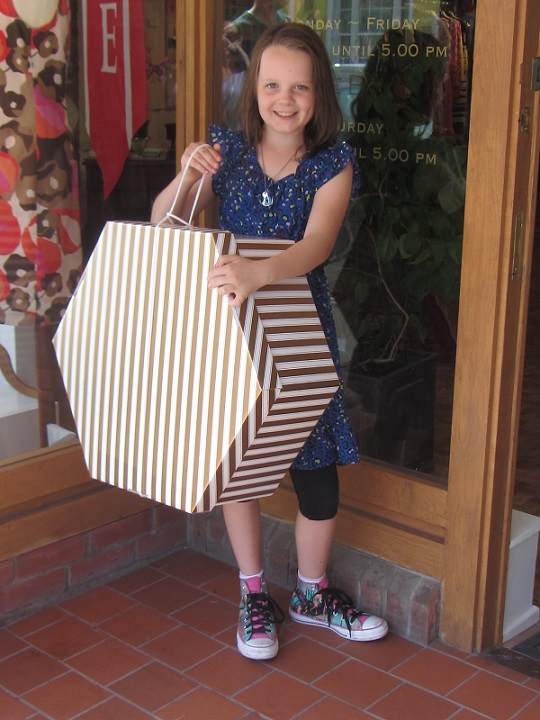 The train was only an hour and 15 minutes and all of a sudden we were in Salisbury being greeted by Jennie, the bride-to-be. It's amazing to be friends with someone for so long and have the ability to pick up right where you left off when it's literally been 2 years since seeing each other. We picked up our rental car, went to our hotel, and then spent a delightful afternoon eating, drinking, walking and shopping. Jeff needed to go for his kilt fitting and it was very entertaining to choose all the little bits and pieces that he needs to be (semi) official looking. Afterwards we had to go fascinator/hat shopping as I am in the market for a big fancy British/Scottish hat for Jennie's wedding. All the girls were trying on various head adornment's and I eventually settled on a large hat that is in the giant box Julia is carrying. Will I be fancy or what?!
After a fantastic Thai dinner we've retired to our hotel and are currently sitting in the courtyard using the wi-fi. We technically have it in our room, but considering the building is many hundreds of years old the signals don't seem to get to our room very well. We're all a little tuckered and are looking forward to getting to bed at a decent time tonight.
Goodnight from a cute little cathedral town on the other side of the pond!