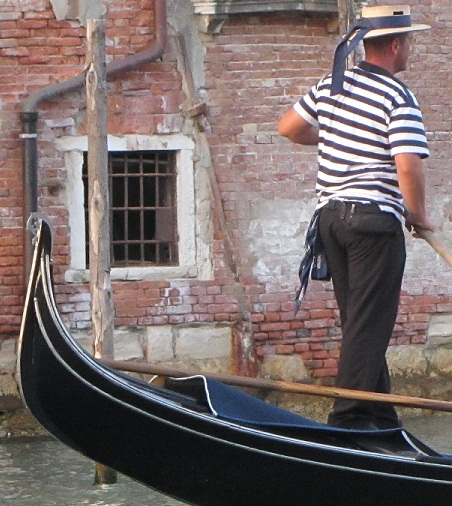 Wow, our last day in Italy is over.  No more gelato every day, or those excellent thin crust pizzas… sigh.  Of course I can get those things at home but not as easily and certainly not for the same price.  Tomorrow we fly to Amsterdam where we will spend 3 nights visiting with family and squeezing in a last few vacation days before heading back to real life.  I think we will all be happy to get out of the heat; it's nice for awhile but we really aren't built for it for extended periods of time.  The weather in Holland will be similar to Calgary and a nice transition before heading home. 
We got up this morning and went downstairs for our included 'breakfast buffet'.  We actually had to set the alarm to get up for it because it was only on until 9:30 am - unusually early in my opinion to end a breakfast.  We weren't alone in waiting until the last minute to head down because there were a lot of people and not enough food.  Whenever they brought out a new tray of croissants a horde of people descended on it - we had to use the kids as little mice to get in there and grab some for us!  They were excellent croissants and hot out of the oven, but there were definitely not enough for the  number of people there.  The yogurt was really good though and they had some nice fresh juices.  There was a single coffee maker (that makes individual cups) that was working really hard, and they definitely could've used a few more of those as there was a constant line-up for it.  It surprised me because this is a country that takes a lot of pride in it's coffee, and that was the worst stuff I've tasted in the last 2.5 weeks.  So, we weren't really excited that we got up to eat that breakfast, but it was funny to see the social dynamics of so many different cultures vying for too-little food.  One lady was actually yelling at the hostess about the lack of croissants - like there was anything she could do about it!  Plus it wouldn't have been easy to find anything else as we're located quite off the beaten path and the only thing around here is a gas station, which perhaps explains the croissant desperation.
Instead of heading into the main part of Venice after breakfast we decided to stay close by and do a little shopping.  Last night we inadvertently found a great area with lots of shops and restaurants so we hopped on the bus and off we went.  We first came across a fish market which was both gross and fascinating - Julia took particular interest in it so we spent awhile looking at (and smelling) all the different varieties of seafood for sale.  After the smell and heat got to us we went into the large shopping center with it's welcoming air conditioning.  The kids got a few clothes for school and I bought a shirt, while Jeff nicely indulged all the female shopping energy.  A quick lunch in a nice pizzeria and it was time for the pool.  We spent about 2 hours at the pool and Jeff and I tried Campari and soda for the first time; considering that it was the last day and we've seen people drinking them for weeks it was now or never.  Weird - we can't tell if we liked it or hated it.  It looks so pretty (and kinda girly) but it is very bitter.  I feel it's a 'been there done that' sort of thing so I never need to have one again.  I liked getting the little free bowl of potato chips with it - that was a nice touch.
We had a rinse and a rest after the pool then got back on the bus and went into Venice.  The girls really wanted to take a boat of some sort and it didn't matter what kind.  You can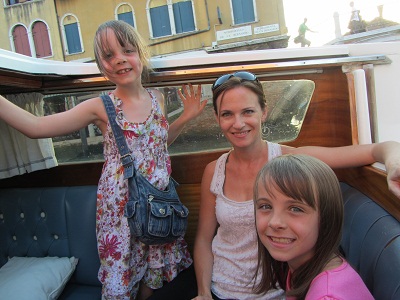 take a water bus, a water taxi, or a gondola - and that is the ascending order in price.  The water buses were jam packed and looked horrible, and every family we saw in a gondola had very bored looking kids.  So, water taxi it was!  It was very cool and we called it our own private water limousine as it was really big and we were the only passengers.  I felt like we were in a movie because the sun was low, the scenery was gorgeous and the whole thing felt surreal.  We took it to San Marco Square then wandered the streets until we found the most perfect restaurant.  What a fabulous way to end our stay in Italy - the food was amazing!  Everything was delicious, the waiters were so nice, the kids were so calm and self-occupied… it was perfect.  Then the gelato hunt ensued with gusto as it would be our last one of the trip.  We became thoroughly lost (which is sort of inevitable in Venice) and somehow ended up back in San Marco Square even though we were sure that we were heading in the opposite direction.  The little streets in Venice are crazy and a map is just a basic guide - but with gelato in hand everything is easier.  We were all pretty tired and decided to take a water taxi back instead of walking, and then got wild and took a real taxi to the hotel instead of the bus.  Last night's bus ride was so hot and crowded and the fast, cool taxi ride tonight was much appreciated.
As I write this I have a cold glass of white wine beside me and very tired feet below me.  What a great few weeks here in Italy… grazie mille!