After today, we really have a feel for Lisbon and its surrounding area. We hired a driver (Paulo) to take us out for the day, and not only was he excellent at maneuvering a large van on tiny, hilly streets, but he also was a virtual human encyclopedia. Jeff and I should've taken notes because everything he told us was fascinating, yet I fear that our brains only had room to permanently store 1/20th of the information he told us. Thank goodness for the internet to fill in the gaps!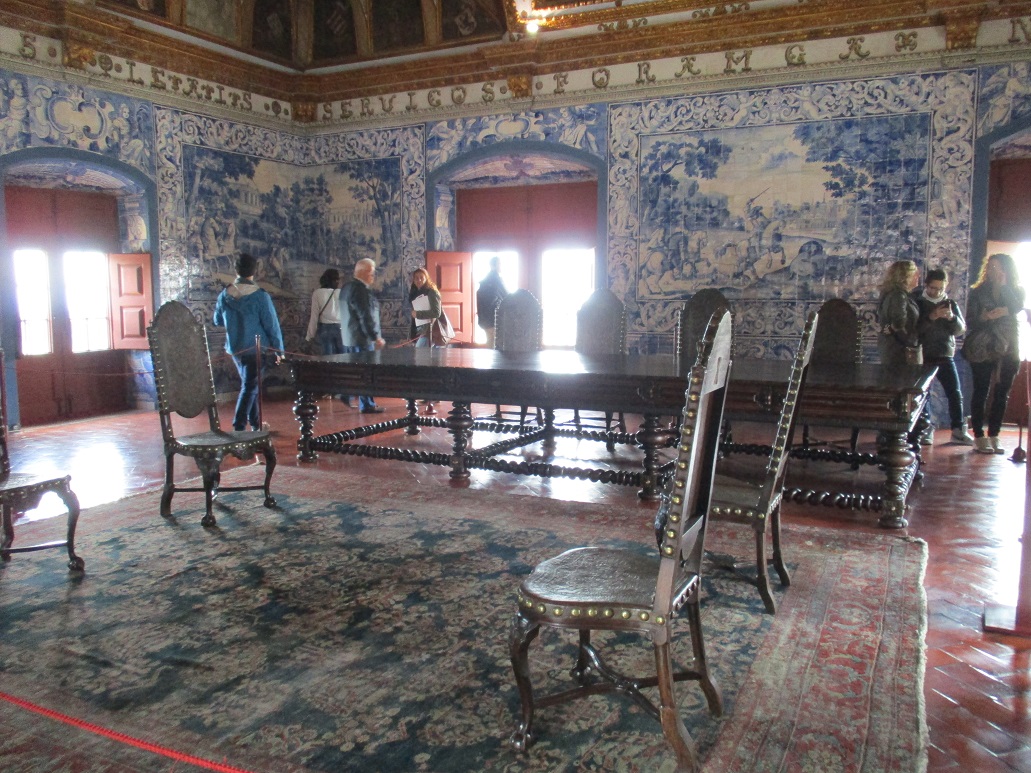 We started off with a trip to Sintra which is a 40-minute drive from Lisbon. This cute, hillside town is a UNESCO World Heritage site and has been occupied for a mind-boggling number of centuries - since Roman times for sure, if not earlier. Sintra Castle was continually occupied from the early 15th century until the late 19th century and is now a historical tourist attraction. Thankfully, we weren't there with a tour group because the rooms are tiny, and any more people than the few we were squished in with would've made it unenjoyable. The tiles on the walls were fascinating - they were intricately painted and extremely old, yet in remarkably good shape. To realize that many of the tiles are 500 years old is a tad mind blowing - obviously things can be made to last more than the few decades we are used to back in North America!
One thought that kept running through my mind was how chilly it must have been in castles like that during the winter months. Today was a rainy and chilly day, and those stone walls did nothing to add warmth to a room. We saw one giant fireplace in a big hall, but other than that there were no other obvious heating methods to be seen. I wondered if they had some sort of portable firepots to act as space heaters in those small, stone rooms. Just one more reason to add to the list of why I love modern conveniences.
After touring the castle, we walked up the windy streets of Sintra to a little bakery/café to sample some traditional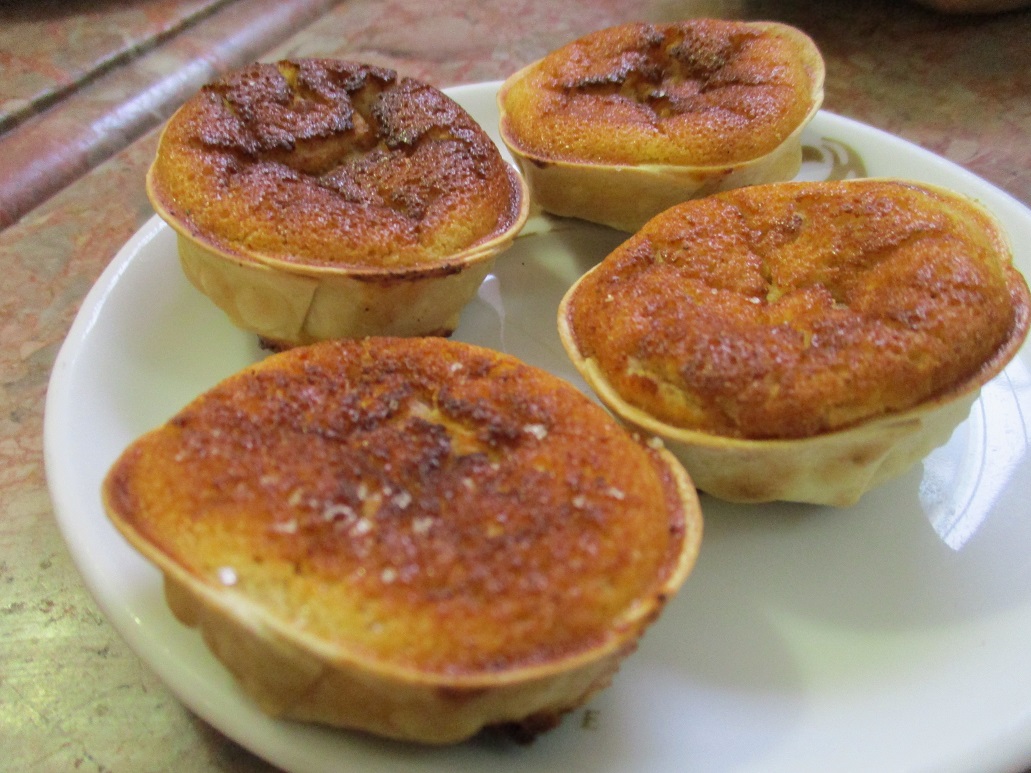 Portuguese treats recommended by Paulo. (He had written it down on a scrap of paper before we set out.) 'Travesseiros' are puff pastry treats filled with an almond cream; they were very light, flaky, and delicious. (Thanks to Google I discovered that they mean 'pillows' in Portuguese.) Alternatively, 'queijadas' are little custard tarts that were sort of crunchy on the outside and soft and creamy on the inside. Equally delicious yet completely different - they were completely worth trying. Just down the street from the bakery was a little shop specializing in port wine and a few specialty liqueurs. We were lured in by the sign, "1€ Sour Cherry Liqueur in a Chocolate Cup". Well, okay! I actually requested a plastic cup because I was over-sugared from the pastries, but the liqueur was smooth and really good. The shopkeeper was happy to chat and ended up teaching us all about port, how it is made, and the differences between the various types. He then plied us with various port samples as well as a shot of almond liqueur with fresh lemon juice squeezed on top. At this point, the kids got bored (I can't imagine why!), and they went next door to look at various trinkets and touristy goods. In the end, we only paid 1€ each for our initial cherry liqueur. All in all, a pretty great experience!
We hopped back in the van and off we went to Cabo da Roca, which is the westernmost point of mainland Europe. It was extremely windy and slightly rainy, so after a quick photo-op we returned to the comforts of the van. By this time we were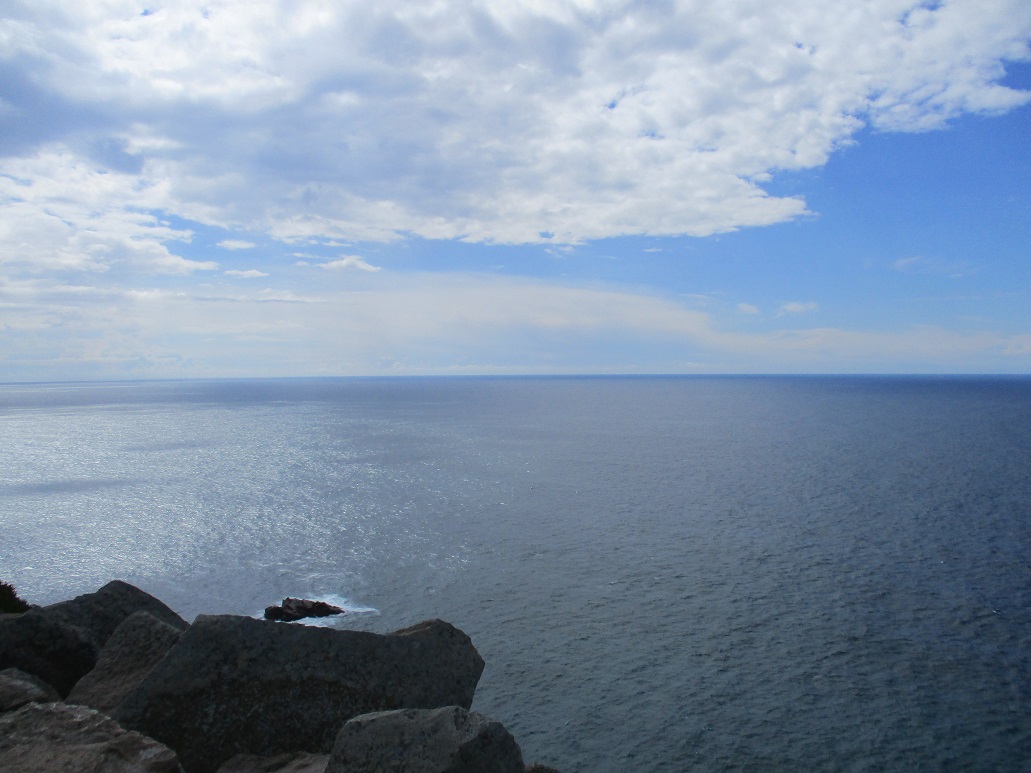 all pretty hungry so we stopped in the cute town of Cascais for lunch. At this point, the rain was steadily coming down, and the combination of a slight wind and temperatures around 12C made us seek shelter in the closest restaurant offering indoor seating. Indian food it was! We were wet and cold, and some butter chicken and garlic naan seemed like a good choice for warming us back up. Believe it or not, the kids still wanted gelato afterward, so they grabbed a cup each and we ran back to the safety of the van for our ride back home.
Paulo pointed out many interesting buildings and monuments along the way, but by that point our brains were packed full and I fear that most of the information fell back out of our ears and landed somewhere on the floor of the van. We stumbled back into our apartment and spent a few hours reading, resting, and waiting for the rain to let up so we could go for dinner. The only provisions we have in our apartment are a few pieces of fruit, some yogurt, milk, and a box of Corn Flakes. That would make for a disappointing dinner, to say the least!
We ventured out in a slight drizzle and wandered down our street hoping to find a hole in the wall as good as the one we ate at the first night. We walked into a tiny place that only had one table left unoccupied and were given small, handwritten menus. We felt that was a good omen, as that was very similar to the menu presentation at the first restaurant we ate at. Olives and bread were quickly delivered and they were delicious. Chloe was excited to find out that they had mango iced tea while Julia stuck with the predictably delicious peach iced tea. Jeff and I splurged on a jug of house wine for a whopping €2.75 which was admittedly fairly thick and sweet. We barely drank half of it and are now spending the evening with purple teeth. The food arrived and was okay. Yes, just okay, unfortunately. You can't win them all! At least we left with full bellies and almost as much money in our wallets as when we arrived.
Now we are settling in and getting ready to play a rousing game of Phase 10 before hitting our beds. We have a Lisbon radio station cranking, and it alternates between playing Pitbull, Meghan Trainor, Justin Beiber, and various Portuguese artists singing either their own tunes or badly covering English songs. We can't understand anything the radio DJs say, but it is obvious that you can call in to win a chance to see Justin Bieber play at Air Canada Place in Toronto. Wouldn't that be hilarious for us to win!
Time to go and beat my family at cards. Until tomorrow…!