We left Ottawa and undertook the semi-long drive to Niagara Falls. We decided to take the southern route (through the US) instead of through Ontario as the Pan Am games are currently on all over Southern Ontario and we wanted to avoid the traffic. This turned out to be a great move as the roads were free and clear for our entire drive. Our NEXUS cards still came in handy with driving across the border as we had our own designated lane! Sweet.
We ate lunch in a tiny town in upstate New York that had a delicious little local place with German food. Schnitzel – yum! Oh, and amazing homemade Italian Ice. Other than that we were in and out of the US in 5 hours, and it was funny crossing back in to Canada and stating that we were only in their country for 5 hours and bought nothing more than lunch and gas. Nothing to declare!
After a tiny snafu upon crossing the border and missing the turn in to Niagara Falls, we eventually made our way to our hotel. Jeff and I came to Niagara Falls in the winter of 2000, and I must admit that they have really cleaned the place up since then. My memory of that trip involved dingy 2-story motels, Ripley's Believe it or Not, and all-you-can-eat buffets. This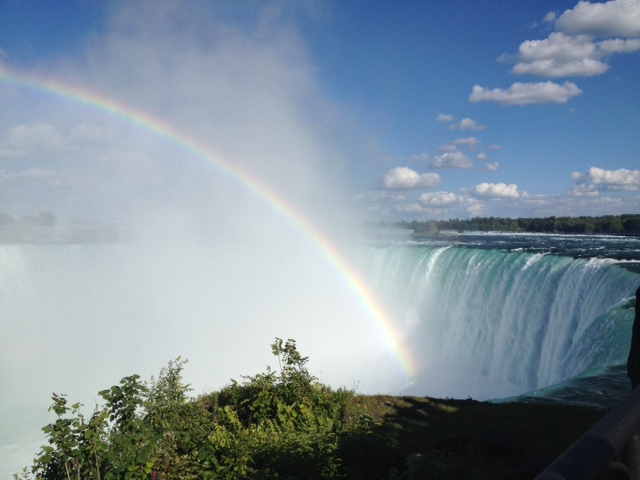 time, however, was much different. We stayed at the Hilton and they upgraded us to an awesome room because Jeff had so many Hilton points. Yay! We were on the 47th floor with an amazing view of the falls. Until we got up to the room the kids hadn't seen them, and we opened the curtains with a flourish and their gasps were just as you'd expect. Fait accompli!
We quickly headed down to see them in person, and we got tickets to tour behind the falls a few hours later. Jeff and I did this in the winter of 2000, and I still remember it clearly – this time, however was nothing like that. The falls have eroded more of the land and you don't get to walk behind them like you once did. We all got fancy yellow slickers with our ticket, but we were barely misted and nowhere near soaked! Underwhelming is all we can say about the experience. However, even with that said, we really enjoyed seeing the falls and the rainbows and just feeling the power of Mother Nature. Definitely something you must-see in your lifetime.
So, would I recommend going to Niagara Falls? Yes. But one night is probably enough. Gorgeous, powerful, but how long can you look at a waterfall? (PS – Canadian side definitely has the better view. If you are American, pack your passport or you hardly see anything!)