Okay, so maybe not shenanigans per se as that would imply some sort of deceit or prank, but when I booked our tickets for Europe I internally rubbed my hands together with glee while a slight cackling giggle escaped my lips.
Background - we use our visa points to book our airline tickets each summer.  We are lucky enough to acquire enough points throughout the year to subsidize a major portion of our trip.  We don't live like rockstars but we do charge everything that we can - even a $2 coffee.  We pay off our balance each month and the points really add up.  My husband also has his own business which allows us to use the points from his business visa in conjunction with ours which obviously adds a lot to the pot.  What I love about our card is that it is geared towards travelers; for every dollar we spend that is travel related we get more points than we do for regular purchases.  My husband travels a lot for work and every time he pays for a hotel or rental car the points (quite literally) fly in!  I can't recommend enough using your credit card to it's full potential, if you have one and pay a yearly fee you might as well get the perks!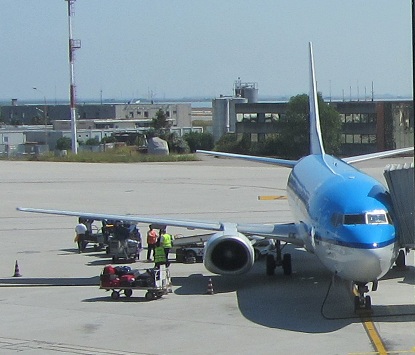 Our card doesn't have blackout dates - we simply find the flights we want and call the number on the back of the card.  They book it for us and pay the airline directly for whatever the listed price is.  As far as the airline is concerned the ticket is paid for with cash.  We 'pay' a set number of points for each type of flight, which in the case of an overseas flight is 65000 points.  Those points cover a base fare of $1300, so if we find a cheap ticket with a base cost of $800 we still use the same number of points.  Obviously it isn't to our advantage to take a cheaper flight, unless of course that flight is better for us.  In researching flights for this summer's trip I compared KLM, Air Canada, British Airways and the charter company Air Transat.  Air Transat was the cheapest by a few hundred dollars but they only flew to select cities on certain days meaning our trip would be two days shorter than we would like.  KLM had the best times and flights while British Airways was disproportionately expensive.  No matter what airline it was they all had close to the same taxes (about $450) which is never covered by our visa points.  If we were paying for the tickets out of our pocket Air Transat would be the best choice as their multi-city ticket (flying into Paris and out of Amsterdam) was $300 cheaper than KLM and Air Canada.  However, when I chose the multi-city ticket with KLM (into Paris, side trip of Paris - Amsterdam, then home from Amsterdam) the base ticket price was $1302.  Excellent!  Essentially that meant (aside from the taxes) we had to pay $2 each for our tickets on the perfect dates with perfect times.  That's what I call maximizing our points - we are flying during the most expensive part of the year on a major airline with a multi-city itinerary for $2 each.  Satisfying.
So with that job done I'm free to concentrate on planning the rest of the trip.  This morning I paid the deposit on a Paris apartment and now I need to finalize our Holland plans.  I have about 5 little scraps of paper scattered around with random numbers and websites listed as well as a zillion tabs open on my computer.  Time to make some decisions!  (Luckily I have a bunch of salty Dutch licorice on hand to help fortify me during my endeavors...)