As I type this, Jeff and the girls are in a competition to see who is the fastest at doing 50 jumping jacks, 10 flights of stairs, 20 sit-up burpees, and then another 50 jumping jacks. I am much too busy making sure that the bed doesn't fly away to join in on their shenanigans. They are now all breathing heavily and super sweaty, but I may be forced to join the competition tomorrow. We haven't gone out for dinner yet and my outfit is too cute to mess up - what can I say?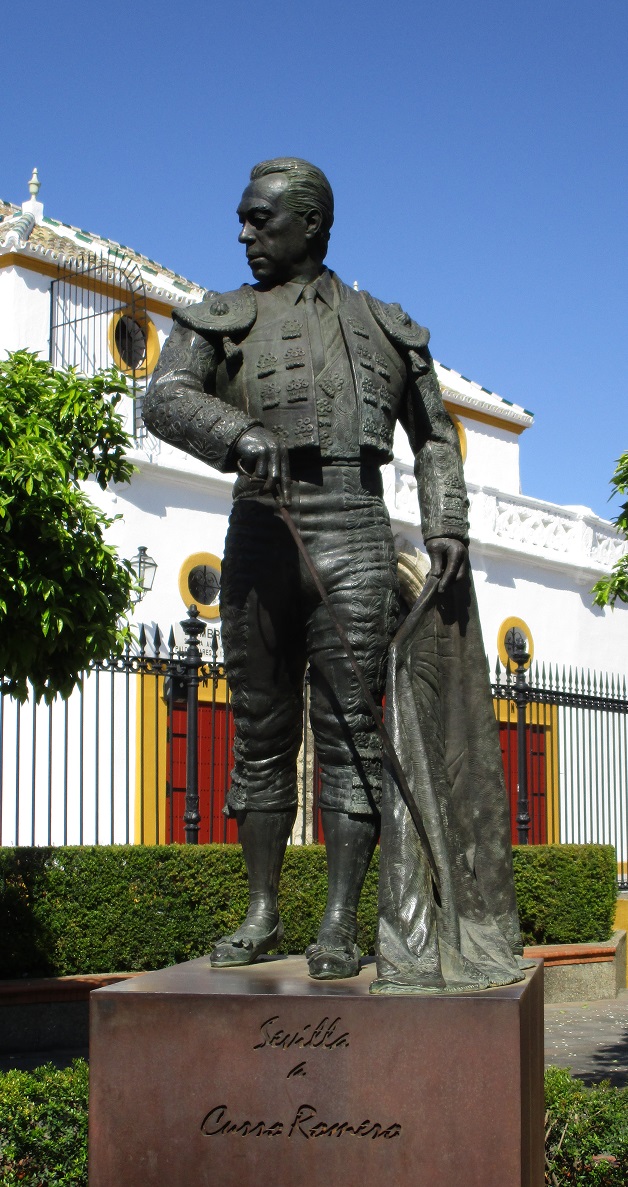 We had a great sleep in today and then went to a small café down the street for hot beverages (one espresso, one café con leche, one tea, and one hot chocolate). We needed just enough fortification to get us to a nice looking lunch spot, which we found after strolling for about 20 minutes. We found a plastic table in a back alley with a bunch of other people also looking for sustenance. The food was fast and really tasty, so after eating some paella, papas bravas, fried cod, and a chicken dish, we went off in search of nothing in particular. Our only goal was getting back to the bus station parking lot because Jeff left his sunglasses in the car. This allowed us to meander in a zig zag pattern down little back streets heading in the general direction of the depot, and just seeing what we saw along the way.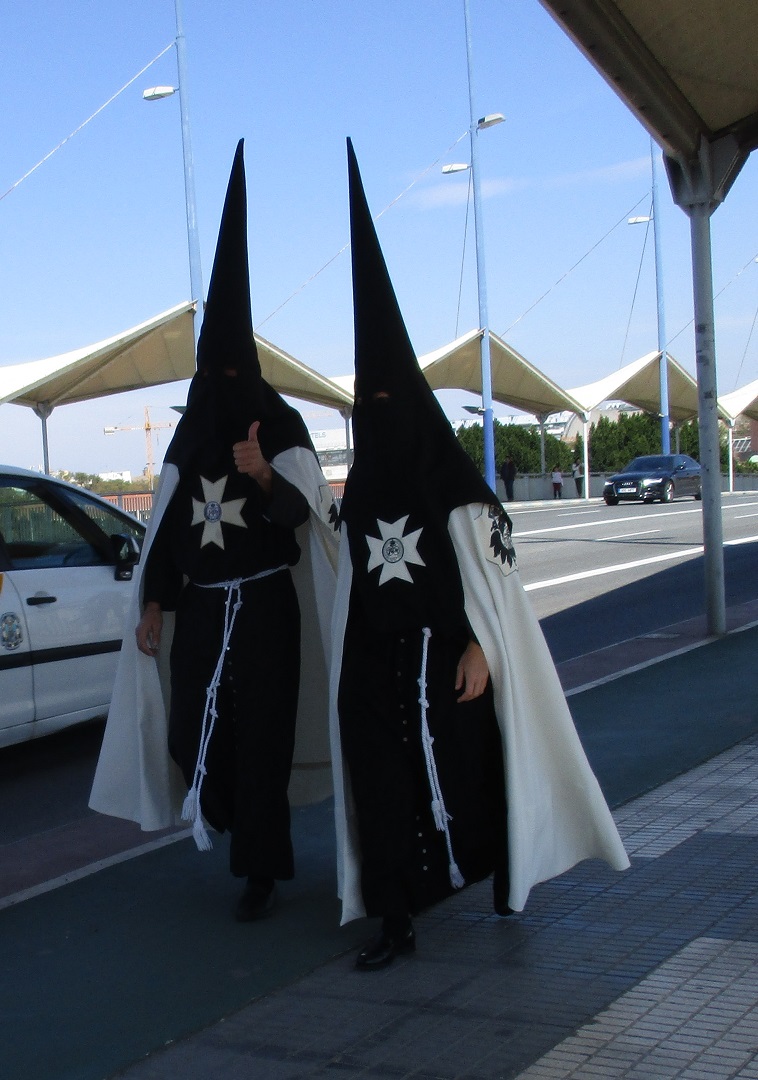 There were more men (I assume they are only men?) in robes and pointy hats, lots of families dressed up in their Easter best, and the occasional tourist in khaki shorts with a backpack.
We ended up walking for almost 2.5 hours (during which Jeff regained possession of his sunglasses). We went past the Plaza del Torres where the next bullfight occurs on Monday, and past many small churches where people milled around after attending Good Friday services. We went into two of them and saw some of the floats that were paraded around during last night's spectacle.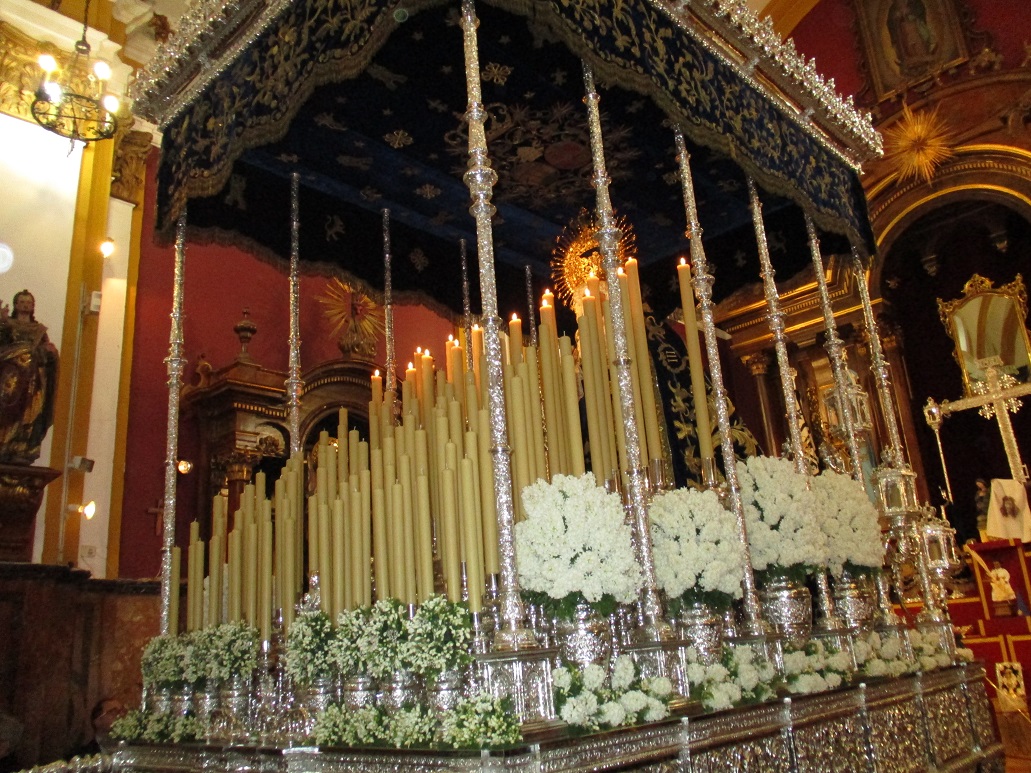 They are huge and very ornate, and it definitely would've been spectacular to see them being carried down the street last night. I can't comprehend how many people it would've taken to safely carry them - they look heavy!
Eventually, we took a break in a sidewalk café for some beverages and snacks. Our tired feet lead us back to our apartment for a rest, which somehow turned into the above mentioned athletic competition. I now have 3 people in an exercise-induced coma, and there may be stiff competition for the tiny shower in our bathroom. Next up, dinner!
Three hours later…
Apparently Good Friday is a quiet evening around here… There were a handful of restaurants open tonight, and we happened to choose a great one. The kid's Spanish came in handy, as the waitress spoke very little English. At the end of the night, she took them to a gelato room in the back of the restaurant with all sorts of hidden goodies. We ate delicious food and ended up having a great evening in a tiny hidden gem of a restaurant. (Seriously, their whipped goat cheese with honey and walnuts is craaaaazy!)
Today we went out without a solid plan, but tomorrow we have some specific destinations in mind thanks to some TripAdvisor advice. Now time for bed - we need to rest these feet that carry us all over this fantastic world. Buenas noches!
PS - This city smells amazing, and Lisbon smelled equally fantastic. (In between the smell of urine that comes from many alleyways...) I don't know what it is… orange blossom, moringa, plumeria… I'm not sure. We continually get whiffs of this delightfully soft, aromatic scent. Beautiful!!