It's hard to blog about your adventures when you really don't do anything. We had great intentions of getting up early-ish and hitting the beach before it got too crowded and hot. Everyone was finally up, dressed, and ready to go by about 11:30 am… this vacation thing is absolutely exhausting. We chose our beds over the beach!
The kids have wanted to eat lunch at the beach in one of those restaurants right off the boardwalk that border on the sand. You can eat lunch there, but you can also rent lounge chairs and umbrellas in their private beach area. The food was okay – nothing to rave about, but also nothing to complain about. It was nice to do once but we definitely don't feel the need to do it again.
After lunch we walked for a bit and went to the area that sells tickets for boat tours. I wanted to gather some information about different things we could do in the area, but it looks like most tours are just boats jammed with tourists looking at rocks. Not our idea of fun, and so we kept walking and checking out the various public beaches. (This city actually had 30 public beaches – what a nice city to call home!)
We went back to the apartment and got ready to head down to the beach. I think we were all a little naïve about what we were about to encounter, because I have never before seen so many people jammed onto the same space of sand. We walked for about 20 minutes searching for a spot and there was absolutely no where that 4, let alone 2, people could lay down their towels. Insane!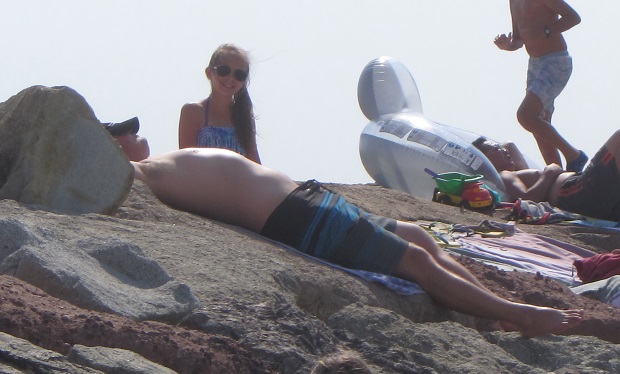 We ended up setting up a spot on some rocks, but I will admit that I went along with it but hated every moment. Jeff and Chloë seemed to enjoy it, and maybe even found it comfortable, but Julia and I were just tolerating it. For one thing, the wind was blowing from behind me, and even though my hair was in a ponytail the little pieces kept whipping my face. (Girls will know what I mean... its super annoying.) Plus, the rocks were hard! How can I lounge and read my book? I saw a couple leave their spot on the beach and I ran down with my towel to stake a claim.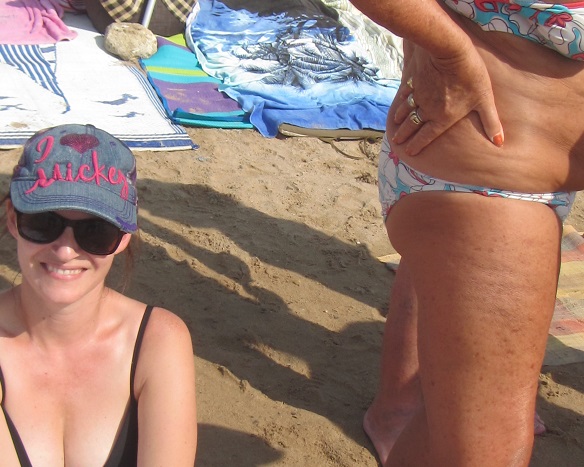 Eventually the whole family moved down and kept me company – and this older lady was standing with her butt in my face for a good 15 minutes. Jeff attempted photo documentation of this amazing event, but she must have sensed it because she took a step forward before the picture was taken. Imagine this butt a foot closer to my head and you will understand how crowded the beach was.
We called it a day after sweating and squeezing in with the rest of humanity, and after showers, cool downs, snacks, and naps it was dinner. We saw an interesting restaurant on our way home from the beach and thought we'd give it a try. The place had absolutely excellent food, but I think they forgot about us for at least 45 minutes between the appetizer and the main course. We couldn't catch anyone's eye, and eventually Jeff got up and found our waiter. He thought we wanted the bill – when in fact we hadn't even had our main course yet! He felt badly about it and our food came very quickly after that, and it was excellent! Then came dessert – Jeff had a giant soufflé and I had crêpes Suzette which was doused with Grand Marnier and set on fire much to the delight/horror of our children.
It's now bedtime, and we're gearing up for a day trip to Monaco tomorrow. Sweet dreams!