We had an interesting goal today, and that was to get the thermostat in our apartment to read less than 30C.  It is currently 11:11 pm here in Verona and our thermostat says 30.1C - we are so close!  These puny a/c units are doing their best but either they are pieces of junk (they look pretty good) or it's just the nature of the situation.  Cold showers and minimal clothing help, but it's still really hot today and either the temperature seems more manageable or we've somehow figured out how to adapt.  There is a separate A/C for the kid's bedroom and that combined with a fan makes it perfect in their room - they actually have a thin sheet over their bodies!  Our room, on the other hand, is insane and I'm pretty sure it will be naked sleeping.  (Don't get any ideas people - it is HOT!)
I took advantage of the excellent and fast wi-fi today to post pictures on Facebook.  Until this apartment the wi-fi has been okay but very slow, and uploading pictures is painful enough with a good connection.  It was nice to look over the pictures so far and review the first half of the trip.  I can't believe we still have one more week of this vacation!  The heat today made me have slight nostalgia for the crisp, fresh, Calgary morning air… but then I realized I'll have more than my fair share of it after we return so I tried to appreciate being hot and sweaty.  I need to channel this heat when I'm sitting on a frozen chairlift in February wearing way too much Gortex.  If I smell like maple syrup it's because my Canadian blood is boiling.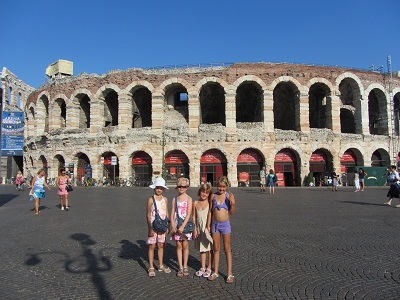 We had a nice visit today with Jeff's cousin Petra and her family.  They are camping close to here so we arranged months ago to meet up with them here in Verona.  Of course we didn't anticipate the heat, and I had envisioned us all strolling the lovely streets and lingering over lunch.  We still did those things but I hadn't pictured the sweaty foreheads.  It was nice for the kids to be able to hang out and play with two of their Dutch cousins and to try and maneuver through the language barrier.  They were able to play, draw, do gymnastics routines, play UNO, and enjoy gelato without speaking a single word!  We are driving out to their campsite tomorrow on Lake Garda to visit with them again and will also meet up with Jeff's aunt and uncle and another cousin and her boyfriend.  It's great to be able to meet up in Italy with family from Holland!
One of Verona's 'must-do' sights is to see Juliet's balcony.  Shakespeare's famous first line from Romeo and Juliet, "Two households, both alike in dignity, In fair Verona, where we lay our scene, From ancient grudge break to new mutiny, Where civil blood makes civil hands unclean."  There really is nothing concrete to tie this particular balcony to Juliet per se, but this 13th century house was home to a family that somewhat 'resembled' the Capulets.  Whether or not they actually inspired the story is hard to say, but it's a nice thought and a pretty picture.  The courtyard was
actually closed and we were able to sneak a peak through a kind man's back window in his shop.  It's quite the treat to get a picture without the crowds of tourists but we were unable to rub the right breast on that statue of Juliet - supposedly that brings you good luck.  We felt pretty lucky to get a quick glimpse without the crowds so who needs to rub a golden breast?
Although the sun went down the temperature stayed up and we actually opted to eat dinner inside tonight.  We came across a cute place that actually seemed full of locals and it was excellent.  For an appetizer I tried polenta with gorgonzola and it was a really nice change.  I must admit it also went really well with the local Valpolicella we had.  (We have moved out of Chianti-land and into Valpolicella-land.  Yum.)  They also had a whole page of 'giant salads' which was perfect for this hot day.  There haven't been a lot of salads up until this point - aside from small 'insalata mista' which don't get me very excited.  This is a good time to note the difference in carrots here - I am used to very sweet carrots - maybe it is the soil or perhaps I am lucky to have such great farmer's market produce, but the carrots here are quite bitter in comparison.  When you see them in the store they are thicker and drier looking and, although they look the same when grated on your salad, they have quite the bitter taste.  Hmm, now I'm craving a sweet, thin carrot!
Now it is time for bed and we are ready to hit the pool and beach tomorrow with some of our Dutch family.  We heard some bits of another opera tonight and saw all the people decked out in their opera clothes; some people were really dressed to the nines and I felt bad for the men in suits - how hot would that be?!  I'm sure there isn't air conditioning in a 2000 year old arena and the hard marble seats don't help cushion your Versace clad butt.  Still, it's cute.
Over and out for tonight… goodnight!