Today was a gong show. An all-out, no holds barred, completely exhausting gong show. Not that absolutely everything went wrong today, but a lot of it did. Maybe it was just the end of it, but it's funny how your brain makes you remember certain things and forgets the other stuff. That's why recounting the day is important for me - I need to remember the good stuff!
It's weird, because I woke up this morning feeling a bit discombobulated. (My kids love that word.) I felt uneasy and I wasn't sure why; when I looked at Facebook and the news I felt sad. Sad, and mad, and wishing that my family was all together in one place. This is really unusual for us to be spread out on three different land masses (is Great Britain a land mass?), and I was missing our togetherness chaos. I knew that moping wouldn't do me any good, so I shook it off and looked forward to a new day of exploring.
Julia and I decided that a day trip to Florence would be fun - it's only a 34 minute train from Bologna and sounded perfect. We checked the weather and it said 27C and sunny - gorgeous! We planned our walking route from the apartment to the train station with a stop at our new favourite smoothie/juice bar for sustenance along the way. We arrived at the juice bar ready to confidently order our drinks (we had studied the menu and used google translate to make sure we knew what we wanted), and alas it didn't open for another 30 minutes! That was disappointing, but not devastating, so we headed on knowing we'd come across something good. We found a little café and had fresh pressed orange juice and a cappuccino (well, only I had the cappuccino!) and kept heading towards the train station. The streets here are windy and tiny (like most old cities in Europe), and it took us quite a while to get to the station. We went through a crazy busy market that I think we will try and check out tomorrow when we have more time.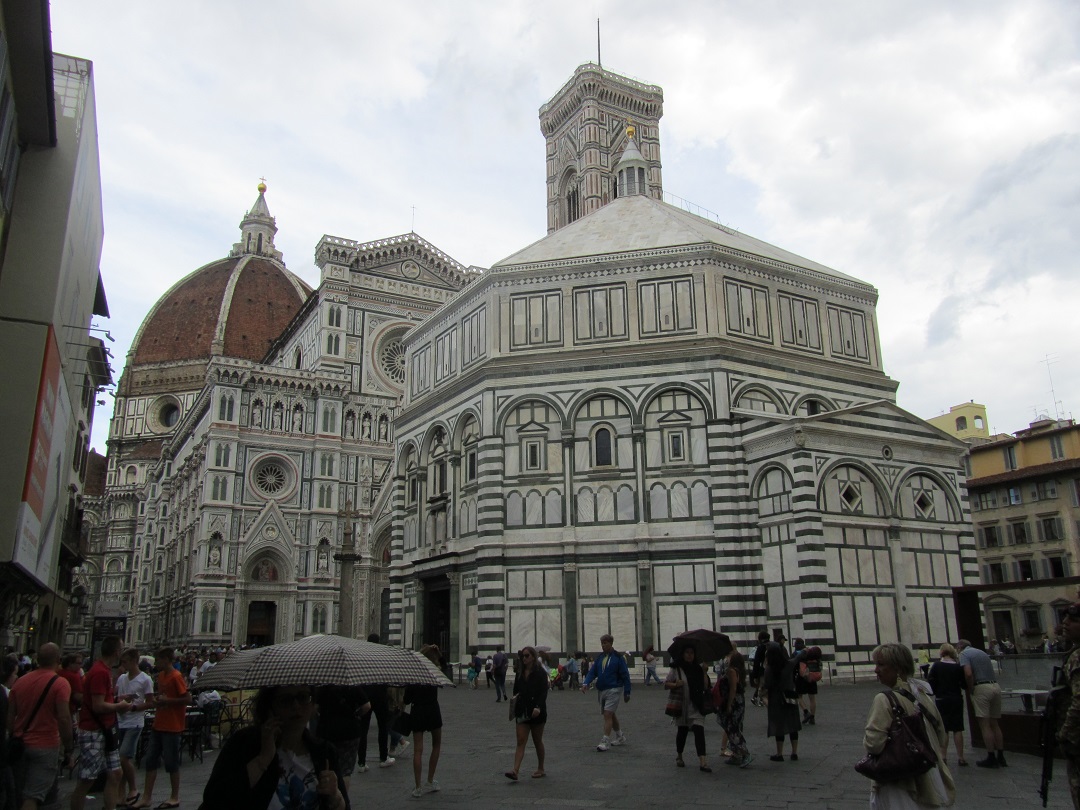 At the train station we easily got tickets to Florence from a very helpful ticket agent. We made our way to the platform to discover the train would be delayed 20 minutes - no problem, we were full of energy and explored the station (they sell the most delicious popcorn!). We had to buy first class tickets for our short journey because otherwise the train was full, and we were happy to get snack and beverage service in that short 34 minutes. (They poured the smallest glass of wine into a tiny plastic cup - I swear it was 2 oz. Julia got a huge glass of peach iced tea.)
Once we arrived, we were surprised at how chilly it was - we had dressed for the expected weather and we were freezing! There were dark clouds, gusty wind, and the occasional sprinkle. Umm… what the heck weather.com? We were quite hungry by this point as we had only liquids for breakfast, so we followed our rule of never eating on the main drag and found a spot in a side alley. The ambiance was great, and the waiter was friendly. I ordered the tortellini soup because I read that it is a specialty of the area, plus I was cold and thought soup sounded perfect! Julia got her standard pizza margarita. I ordered a glass of the house red wine, and I was beyond happy to have a beautiful wine glass for the first time since being in Italy. I have had a short stubby glass, a thick stemless glass, and even a small tumbler the size of a shot glass. But today at lunch - perfection. I wanted to steal it in my purse, but that's not cool when you're an adult. So - things were looking great for our day! My soup was delicious, Julia's pizza was mediocre, and the bathrooms were clean. As far as lunch goes, we did okay.
The whole goal of today was to visit the Galileo museum. Jeff and I stumbled across this treasure on our honeymoon trip in 1997. AGES ago. We re-visited it about 5 years ago when we were last in Italy, and we loved it just as much. It seemed like a great destination for today, and I was hoping that Julia would enjoy it. It is NOT an easy place to find. Even with google maps and my little moving blue dot it took us quite a long time to find it - and that is with having been there before and having an idea of what I was looking for! By the time we found it we were very tired, slightly cold, and a teensy bit irritated. The saving grace was the free Wi-Fi in the museum (they want you to download their app), so we took some time to rest our feet and surf the net. We WhatsApp(ed) with Chloe a bit (she has been sending pictures of every meal she eats at her ballet intensive) and caught up with stuff back home. I was excited to see the museum - that place is nerd heaven for me.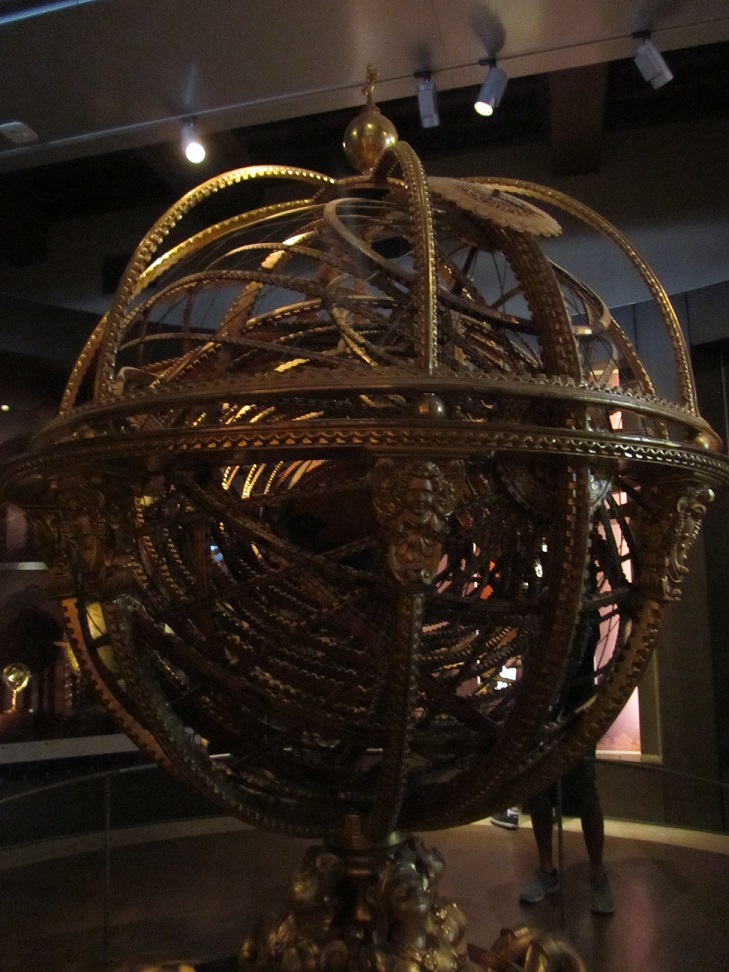 Unfortunately, Julia did not feel the same. I now realize that she hasn't yet learned any of the physics or other science-y stuff that is displayed. Seriously, who doesn't love 400 year old barometers? Or crazy old globes from 300 years ago? I can look at these things for hours. The tools they used to map the world hundreds of years ago, crazy old telescopes, funny chemistry beakers and a zillion things drawn in every science textbook I've ever read? It's all there in that museum. If your heart skipped a beat a bit while reading this, you really have to go. Fellow nerds unite! If this sounds boring to you (as it did to Julia), skip it. So much history in that building, it's crazy.
So, the museum was a bust. Julia was bored, and even my excitement and explanations didn't do anything for her. Okay, she's 12 and not interested. I get it. We decided to aim back towards the train station and stop for a snack along the way. I became very distracted by a purse (Florence is known for their leather), and I ended up buying something that I probably didn't need (but really, really wanted). I got the price down enough to where I was comfortable, and I ended up buying it. Hopefully I like it as much when I get home as I do right now!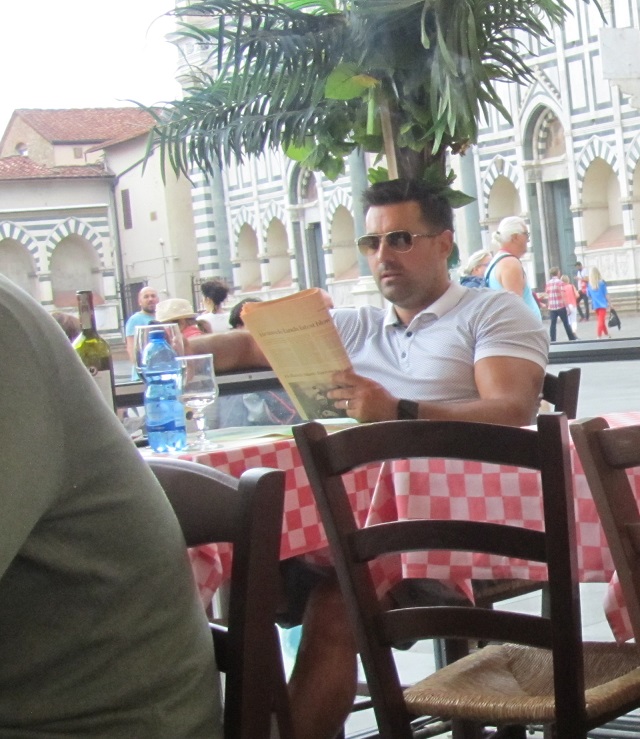 We had a snack in a place that we knew was a tourist trap, but we were willing to pay extra for the great location and interesting people watching. The picture on the left is a man who sat smoking a cigar and drinking an entire bottle of wine by himself. I got Julia to pretend to take a picture of me and then move the camera to get him. He was fascinating. I wonder who he is and what he does? He is certainly living a good life at the moment. Either that, or he is incredibly lonely and sad. I prefer to think of him as contemplative and introspective.
By this point in the day we were pretty tired and very cold. We were hoping to change our train tickets to an earlier time, and so we went optimistically to the station to do so. After seeing the size of the line, we decided to just wait the hour until our train departed by looking at a bunch of shops in the area. When we returned half an hour later we were dismayed to see that our train was delayed by 75 minutes. Yuck! We were already very tired, and so we got in line to see about changing our tickets. Unfortunately, all trains going to Bologna were delayed and there was no point. We wandered some more, and when we returned about 40 minutes later we saw that our train was now delayed 95 minutes! That is a huge delay for a train that only takes 34 minutes! Okay, I will admit - we were close to losing it by this point. If we were toddlers we would have been screaming and crying and kicking the ground. But, we aren't. Instead, we put on our brave faces and barely expressed our annoyance, even to each other. It was what it was. We killed another half an hour having a drink at the only café with chairs, but we had to limit our beverages as it cost 1€ every time we needed to pee! I really hate that system.
FINALLY we got on the train. It was comfy, and quick, and as we pulled into Bologna the cheery lady announced that we were 100 minutes late. As in, 1 hour and 40 minutes… that really added a lot of time to our day trip! We thought we weren't hungry, but as we got back to our apartment we realized that we were, and so we grabbed a mixed plate of (shawarma?) from a place around the corner. We were almost giddy opening the giant doors leading into our apartment building - we were almost home! As we walked in, we could see our apartment - the Wi-Fi connected because we both heard sounds from our phones. Then, to our dismay… there was a giant wooden, locked door that we had never before encountered. There was an extra key on our key chain, and it fit in the lock. I could wiggle it around and hear it doing something, but the door would not budge. NOT BUDGE. After ten (10!!) minutes of trying we were both about to cry. Seriously, we were so tired, hungry, and frustrated. I put my head against the door and begged the key to work. I actually begged it. I wiggled it around until it finally made a noise. I asked Julia to help me push it - and it popped open!! It was amazing. We were so relieved and I think we both almost started crying. I wasn't sure if we were going to be sitting outside of our apartment on 500 year old marble slabs all night. At least we would have had Wi-Fi! I have no idea why it didn't work before - I did nothing differently that time. It was the craziest end to a super long night.
We devoured our food (we were hungrier than we thought), and I had a long, hot soak in the bath. We are now tucked into our beds. It was an insane day! Julia said, "Florence did nothing but take our time, take our money, and give us sore feet". I'm sure it did more than that, and this will be a hilarious memory to recount years from now. For today though, we are glad it is over.
We are sticking close to home for the next two days - no more day trips for us! Good night from two girls with very tired feet. :)