This will be short and sweet because I am very tired tonight!  We set our alarm this morning to get up bright and early and go to the Anne Frank House.  We had a group reservation for 20 people (family and friends) and it was great that Jeff's dad had pre-arranged it because the line up was already snaking around the corner, even that early in the morning.
Almost everyone in the world is familiar with the story, and it was really interesting to be inside the actual hiding place.  Chloe had read the diary earlier this year, and Julia had read a book about Anne Franks life (more of a summary) so she was also very interested.  The liked the tour but I'm not sure they actually 'get' it yet.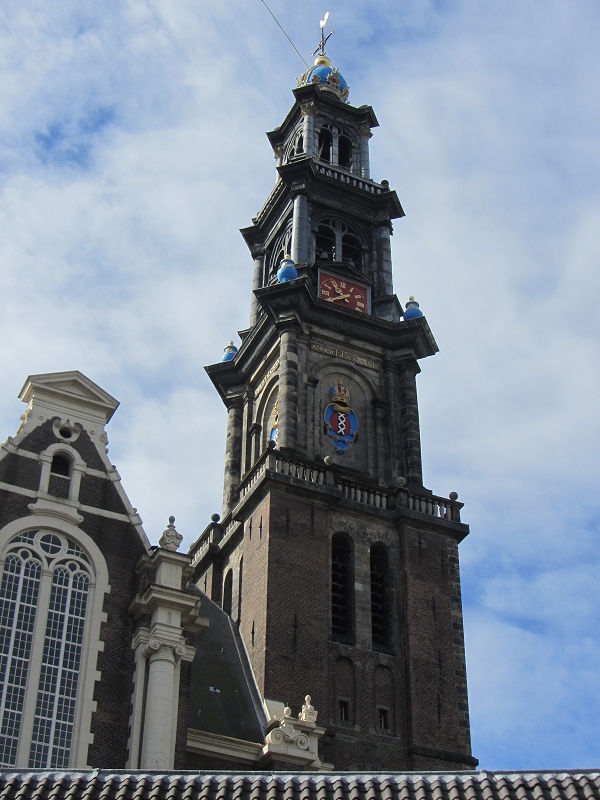 There was a room about the round-up of the Jews and pictures of the concentration camps but Jeff and I just grabbed a hand of each girl and quickly led them through it - there isn't any need to plant those pictures in their minds quite yet.  Jeff and I visited the concentration camp of Birkenau 15 years ago and we are still affected by the absolute feeling of desperation and gloom that the land gives off.  The structures are no longer there, but the gates  and a few landmarks are standing and the whole place just feels depressing.  I'm glad to have gone and paid a small tribute, however small, but I don't think that small kids need to think about that quite yet.
<- This is the tower that Anne Frank could see out of her attic window (but not taken at the same angle!).  No cameras were allowed inside.

After that we did a little shopping and had a nice lunch in Rembrandtplein.  We got home hoping to have time for a little rest before heading out to a large family party, but we barely had time to change our clothes and freshen up before running out the door again.  Jeff's aunt had a large portion of the family over for a huge feast and it was a great time as usual.
Good night from Amsterdam!  Zzzzzzzzzzzzzz