It feels like there should be a universal rule that it is impossible to get sick on a vacation. Sadly enough, today I succumbed to a ridiculous head cold that started showing its tentacles yesterday afternoon. I figured that if I completely ignored the signs, it would move on. Not so! Arrrrrghghghgh! The good news is that everyone else in my family is healthy and full of vim and vigour while I sadly sit with pounding sinuses and a Kleenex at the ready. The worst part is that I really don't want to miss anything - which makes the whole 'resting' thing a bit annoying.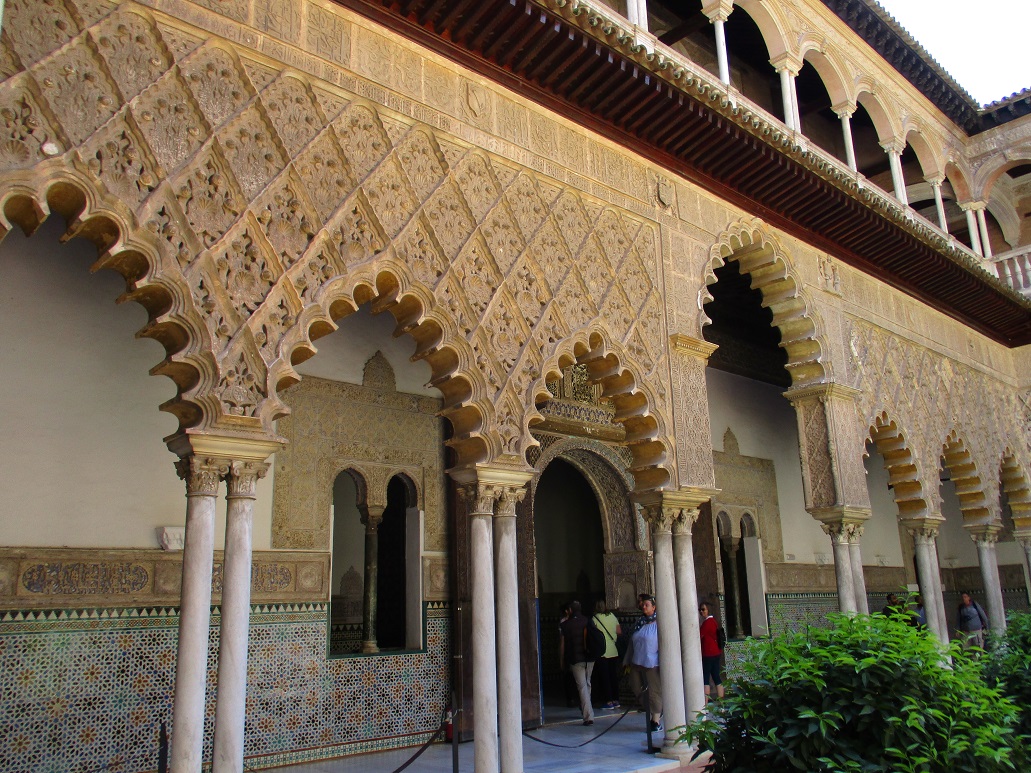 Our plan today was to tour the Royal Apartments of the Real Alcázar in Seville. Jeff bought tickets online yesterday for the very last tour of the day, as everything else was sold out. The upper levels are still used by the Spanish Royal family as their official Seville residence - how often they stay there is another question. (But one I want to know the answer to!!) We had to first put our bags through a security machine and then lock them in lockers - no pictures allowed - before being escorted through the various rooms. Some of them had the original flooring from the 1500s, which is in remarkably good shape. The rooms, compared to tastes nowadays, are small, cold, and more ornate than I would personally enjoy. The views, however, are fantastic, and I can imagine that at the time it was extremely impressive to both live there, and be invited to visit.
The dining room was interesting, and after watching Downton Abbey I can actually picture the whole 'procedure' taking place. One thing we wondered about was how the food actually got to the dining room, as it was nowhere near the kitchen and we couldn't see any obvious openings for the food to appear from. Also, where did they go to the bathroom? These things are important to me.
It was pretty interesting, but as we weren't allowed to take any pictures inside, I have instead included a picture of the outside grounds. We walked around the outside of the palace a few days ago, but with a ticket today, we had the opportunity to see a lot more. The gardens were really beautiful, and I was happy for the royal children from hundreds of years ago because there were actually open spaces where I could imagine them running and chasing a ball. Typically gardens are so formal, and I always wondered how kids let off steam.
We stopped for lunch afterwards at a tiny hotel that advertised a rooftop patio overlooking the cathedral. It was really pretty, but this head cold of mine rendered me unable to both smell and taste, and so eating was not quite as fun as it usually is. For a foodophile, this was very disappointing!! The view (and company) was still very pleasant, and Jeff continued his addiction to oporto sauce. (I must figure out how to make it - he will order anything with it in the description!)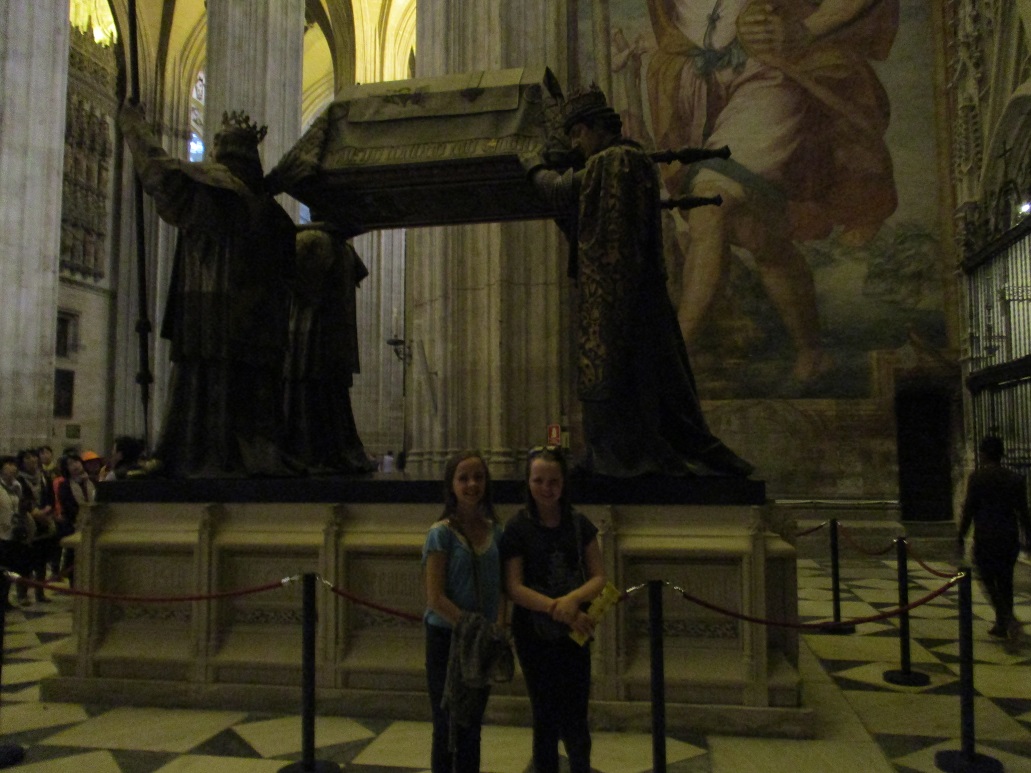 At this point, I had to make the decision of whether to return home to the apartment to rest (a prudent decision), or continue on with the family to enter the chapel and see the tomb of Christopher Columbus. I had a huge FOMO (fear of missing out), and so I pushed through and tromped through the streets lagging slightly behind the rest of my healthy brood. Shout out to Jeff, who discovered through some internet digging yesterday, that we could buy a ticket for a small church (El Divino Salvador) and with it, get access into the Seville Cathedral. Genius! There was literally no line-up at all at the small church, and after a cursory look through it, we headed back toward the Cathedral and the masses of humanity lined up in never-ending queues. We walked right in! I almost felt bad, except that I didn't. (Jeff said he Googled, "Skip the line Seville Cathedral.")
We saw Columbus' tomb (sorry, it's a bit fuzzy because when I turned off my flash, it also turned off auto-focus). We wandered around, but I think we may be a bit Cathedral-numb and didn't spend much time in there. To be truthful, compared to the one in Cόrdoba yesterday it didn't even come close. This may be considered a first-world problem about 15th-century structures.
By this time of the day it was obvious that I really needed to get back to our apartment and get horizontal. However, on our way back I realized that I was STARVING because I had barely eaten all day! We went to a small tapas place near our apartment that has the absolute best empanadillas in the whole world. We have actually eaten them three times - they are crazy good! I felt revived after afterwards, and we all went home for a nap and rest. Zzzzz.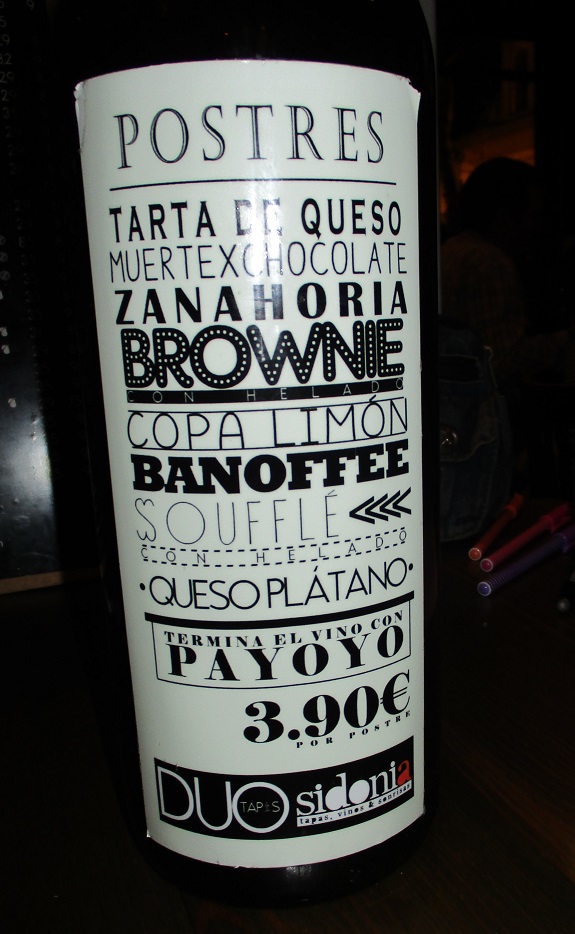 Dinner tonight was discovered through Google Reviews, and it was amazing! We lucked out and got the very last table, and the place was hopping!! Super busy, great energy, and unbelievable food. It was all tapas, and we ordered chicken wings (kids declared these the best ever!), chicken curry, patatas bravas, vegetable spring rolls, mushroom risotto, and stir fried noodles. Quite the eclectic mix of food, but everything was amazing. The kids needed to try dessert, and it was presented printed onto a giant wine bottle! Julia was beyond excited to get zanahoria cake (carrot cake) that came with a mini Hagen Daaz bar on the side. Chloe nearly exploded when she learned that the Banoffee was a combination of vanilla ice cream, mango mousse, fresh bananas, and dulce de leche. Those are pretty much all her top ingredients in a dessert. Win!
Today was a fantastic way to end our time here in Seville - we have a real feel for the place and absolutely loved the food and the people. We are so glad to be here in the beautiful springtime temperatures, as opposed to the oppressive summertime heat. Even today (at 24C), the sun was intense and you can only imagine the insanity of summer. Time to move on to Madrid and our last few days in Spain. Olé!