We are sleeping professionals! For the third night in a row, we have all slept completely through the night without so much as a nap during the day. Jet lag didn't really exist for us this time - we always have a 'plan' when it comes to managing jet lag, and it seems like we may have perfected it. It's amazing how much more enjoyable the first few days of a trip are when you are properly rested.
After I awoke and laid around lazily for half an hour, I woke up Jeff and the kids who were all surprised that it was already 10:47 a.m.! Both kids were actually quite disappointed to be missing so much of the day, but I didn't mind at all as in a few days we are heading to southern Spain where dinner doesn't even start until 10 p.m.; I don't think we will be seeing the clock much before 10 a.m. our whole week there, so we may as well start adapting now.
We completely slept through breakfast, and to compensate we each had a quick glass of orange juice before heading out in search of lunch. Jeff had found an interesting looking place on TripAdvisor that had really good reviews, but when we found it in a back alley we decided to continue walking by as it looked a bit strange, and the neighbourhood was less than ideal. Also, a lady was playing fetch with her mangy dog right outside the door and the dog looked a little… slimy. Spit everywhere and chewing on a half-deflated ball; not really appealing in front of an eating establishment.
As I have mentioned before, the hills in this city are insane and unavoidable. We kept going up, and up, and just before passing out from low blood sugar we came across a flat little area with a few restaurants. We decided to be wild and crazy and sit at one that looked fairly fancy and had a pretty view. The place had white tablecloths, beautiful wine glasses and cutlery, and a really nice looking menu. Well… we should've checked TripAdvisor before we committed to it because looks can be deceiving! The waiter eventually came over to us and delivered menus, but not before setting up a table at the other end of the restaurant for non-existent guests. We were literally the only people in the place! Without going into all of the details of the gong show we called lunch - suffice it to say that this waiter will never win any awards, and the management must wonder why their gorgeous establishment doesn't have repeat customers. The waiter actually came by with a fancy bread basket and offered some to everyone at the table but me, and then walked away! It was so weird. It turns out that bread was randomly distributed to tables with no rhyme or reason - a couple across from us sat without water, food, or bread for a very long time while another table that arrived at the same time had their entire meal served to them by the time the first couple received their water! I will say, however, that the guy had a friendly smile, but he was completely clueless.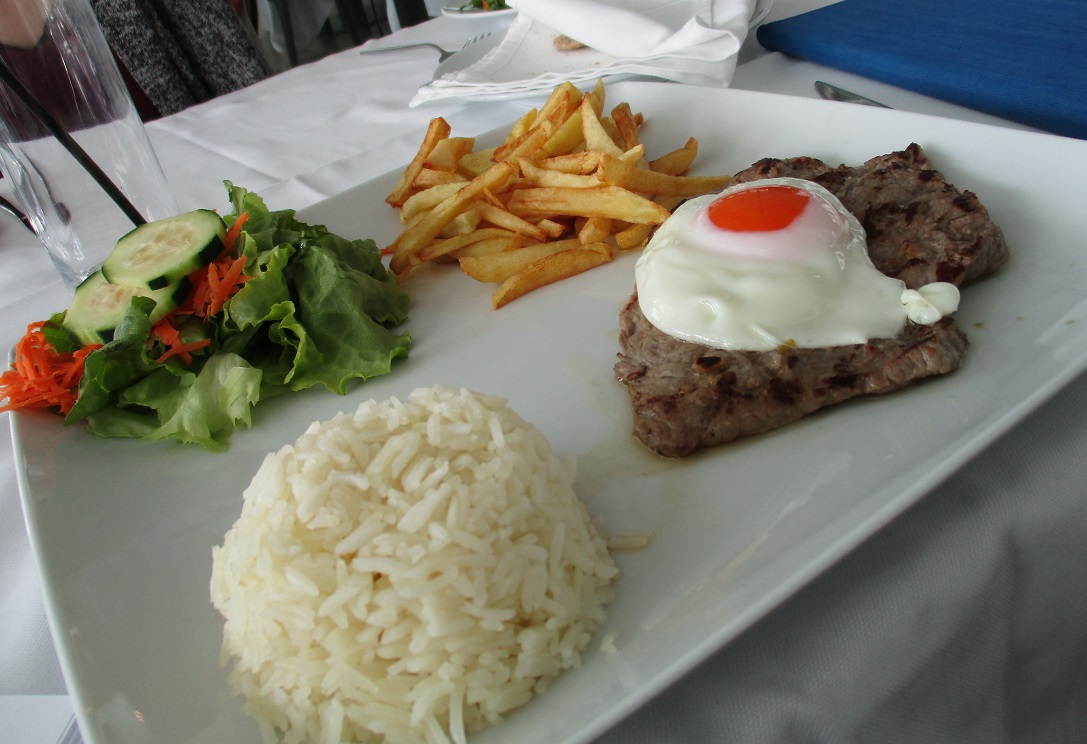 This is a picture of Julia's kid's meal, believe it or not. All it said on the 'menu junior' was 'grilled steak'. Imagine her surprise (and slight horror) when it was presented with an egg on top! The food was actually very good, but the way it was ordered and delivered really ruined the experience. After paying more for a meal than we have at any point on this trip so far, we left and started heading up yet another hill in hopes of reaching the castle you can see from almost everywhere in Lisbon. Success! We paid a small fee and entered the grounds of Castelo de S. Jorge which was built by the Moors in the 11th century. As always, I am boggled by the engineering and ability of these monuments to withstand time. As our driver Paulo yesterday stated, "They must have had very good whips back then." No kidding. We spent an hour or so exploring little rooms and hidden alcoves, climbing the ramparts, and admiring the views from the top. An interesting tidbit I learned from this outing was that Portugal has been a kingdom since 1147. 1147!! (Seriously, can you imagine the personal hygiene and lack of food and public facilities that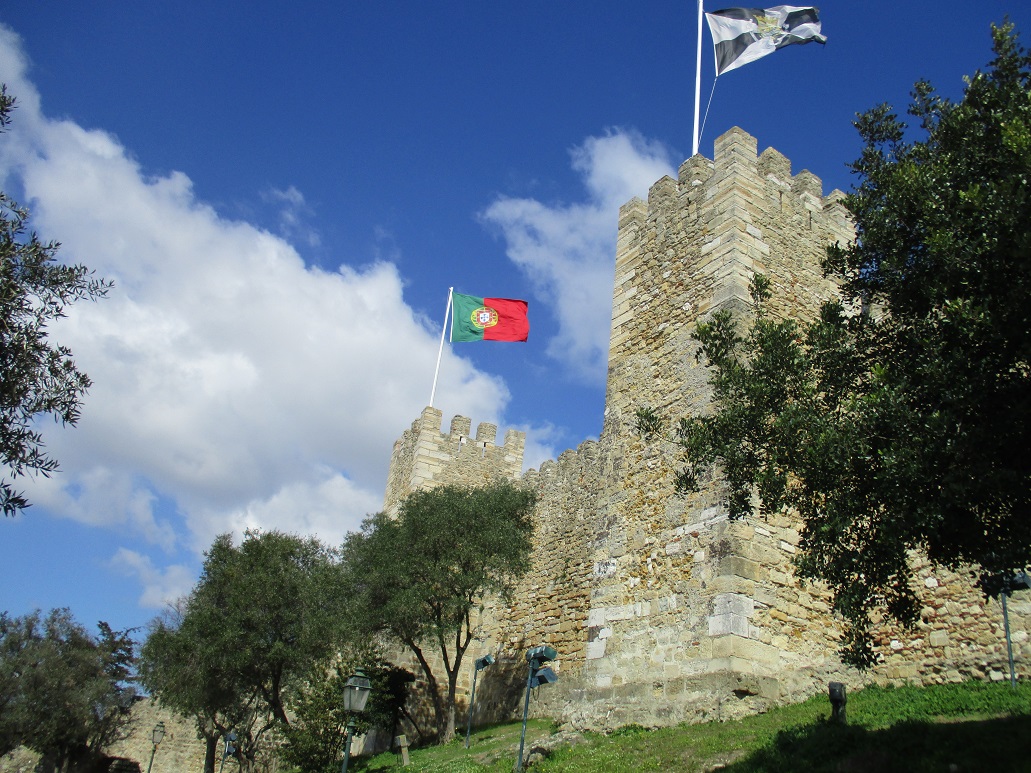 existed back then?!) The kingdom came into existence after a dude named Dom Afonso Henriques conquered Lisbon on October 25th of that year, which means that Lisbon already existed at that time. Again, I'm not sure my brain can input information like that, although I swear I saw a doorway today that looked at least 500 years old. Still, we are talking almost 900 years, which makes Lisbon a wizened senior citizen next to anything in North America. I find this kind of trivia so fascinating, and it fuels my need to read every single placard on any building or monument I come across, much to my family's chagrin.
After finishing our castle tour we walked down about 193482 steps in search of gelato. There is a certain chain of gelato shops in western Europe that we have encountered many times, and the gelato and sorbet are unforgettably delicious. Unfortunately, I am blanking on the name right now, but you can choose three flavours on a small cone, and they make your choice look like a beautiful flower. If you get fruit sorbets your flower looks even more beautiful, but today we all were in creamy moods and devoured those gelato flowers like our lives depended on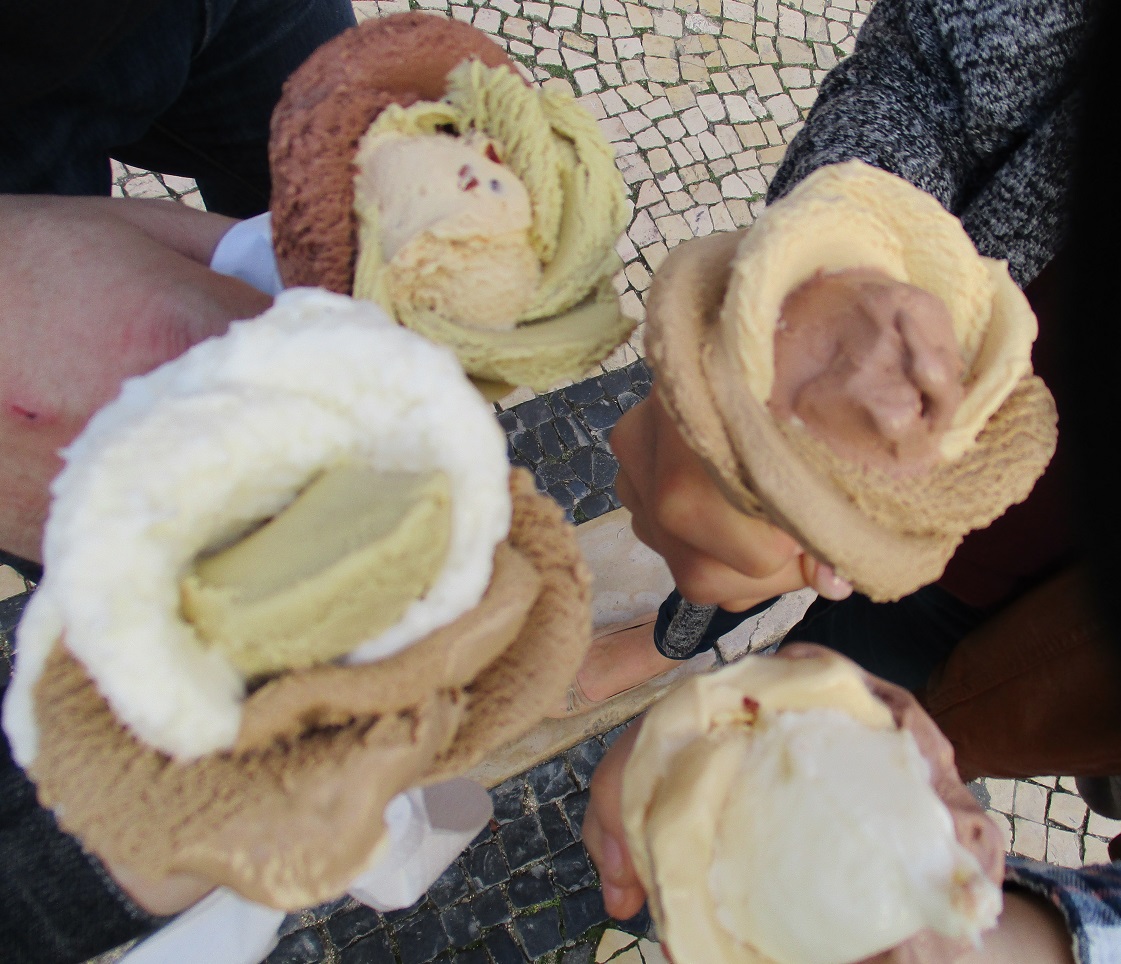 it. I'm not sure there is a better pistachio gelato sold anywhere!
Julia has been wanting to cook since we've arrived, and today she finally got to hit a supermarket to get the ingredients for Portuguese sweet rice. It's basically a rice pudding, but she got the recipe from a Portuguese recipe website so that makes it authentic (along with actually buying the ingredients in Portugal, of course). She spent about an hour measuring, mixing, and cooking, and we were all presented with a warm bowl of sweet, milky rice. It was quite delicious - well done, chef Julia!
As we have now been travelling for 3 days, today was also laundry day. Packing only carry-on sized bags necessitates fairly frequent clothes washing, and with these tiny European washers and only a drying rack, you have to account for the time to hang dry. We encountered a small blip when I accidentally put bleach in the soap area instead of detergent, but after (thankfully) figuring that out before starting the cycle, we adapted by tossing in the apartment's provided white towels so we didn't ruin the load of darks we had intended on doing. Together, Jeff and I looked at that bottle of bleach for a long time, and even after we figured it out I'm not sure how we were supposed to know what it was. It didn't even smell like bleach, but the watery consistency gave it away. It any case, disaster was averted and I located a small, pink bottle of detergent behind a bunch of house cleaning products. We chose a cycle that we hoped was correct and pushed the button. Success - clean clothes came out 1.5 hours later!
Dinner occurred at a tiny place down the street, and this restaurant once again proved that a small, mom and pop place that seats no more than 20 people is where the authentic, local Portuguese food is to be had. When a menu has 100 items on it and they all have a picture, walk away. When a menu has a handful of items written in messy male handwriting, eat there! And eat there specifically when they have a little counter at the front displaying the fish they will cook for you - various kinds lying jumbled together with the odd lettuce leaf sporadically placed to somehow keep their dignity intact. The harried owner quickly showed Julia and I the various fish and explained which ones were which, but by the time I returned to the table I had completely forgotten everything he had told me. So, I ordered bass, and it was delicious. Julia had grouper, Jeff chose red snapper, and Chloe went wild and ordered grilled pork ribs. I made sure she knew they most likely were not going to be BBQ sauce inspired Tony Roma style ribs, and true enough they weren't. They were dry-cooked beautifully, had chunky rock salt, and were cooked to perfection. These people really know what they are doing!
You must forgive me if the majority of posts are about the food we eat, but quite honestly one of the main reasons to travel, in my opinion, is to experience the food from a different culture. I love history and architecture, but food is one of the driving forces for any place I set down my suitcase. Perhaps this is why I don't have any desire to climb K2 or Everest - can you imagine the food? Gah, not worth my time. Gorgeous fish in Portugal, handmade pasta in Italy, sauces to die for in France, heart attack inducing fried bitterballen in Holland, dim sum in Hong Kong, and the ever delightful Schnitzel in Germany. Life is good - eat it up!!
With a full belly and a happy heart, I bid you goodnight. :)