I don't want to jinx things, but we are jetlag rock stars! Last night we all went to sleep around midnight and woke up between 9:30 and 10 a.m. - amazing! I was the only one who woke up during the night to *ahem* answer Mother Nature's call (sorry, but I chugged a bunch of water before bed). I was worried that I wouldn't go back to sleep, but the next thing I knew I awoke with a start because I thought I had slept until 2 pm. After a quick look at the clock, I realized that it was 9:30 a.m. and was relieved that the day had not been wasted! Everyone felt fantastic and normal today, which was a really pleasant surprise. Fist pumps all around! ;)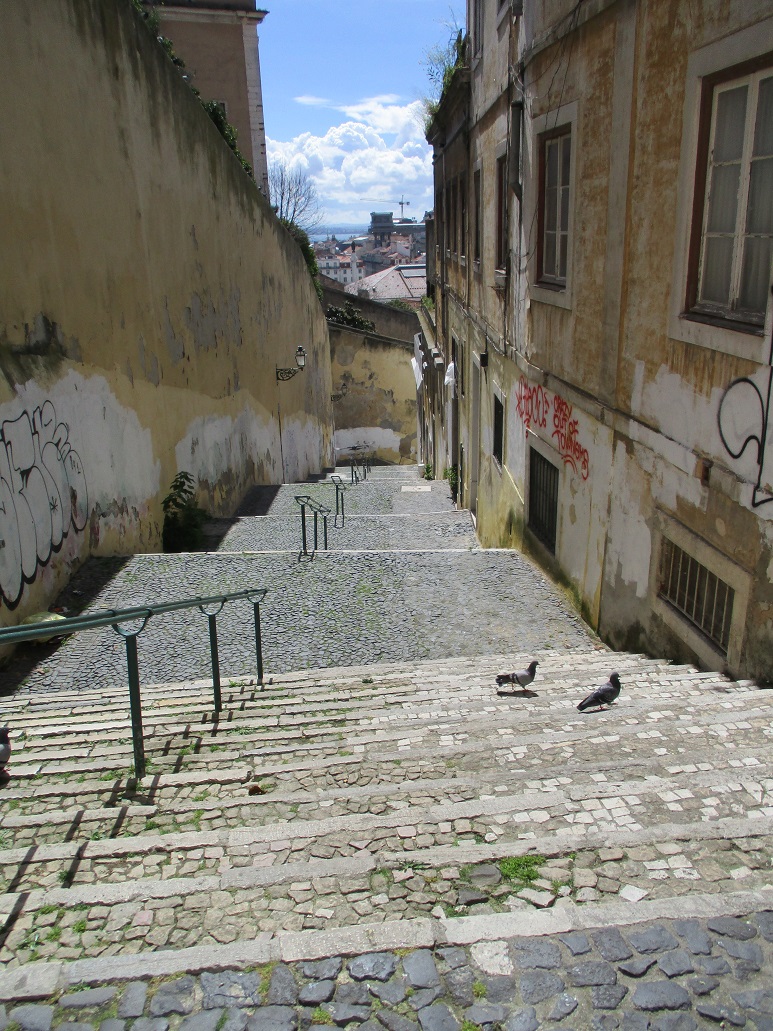 Last night we stocked up at a little store close to our apartment with fruit, milk, and cereal, so we had a small breakfast at home before heading out. We didn't have a destination in mind and just wandered the streets. This city is HILLY!!! Wow. The upside is that we will have very perky glutes by the end of this trip. Lots of cobblestone staircases tucked into tiny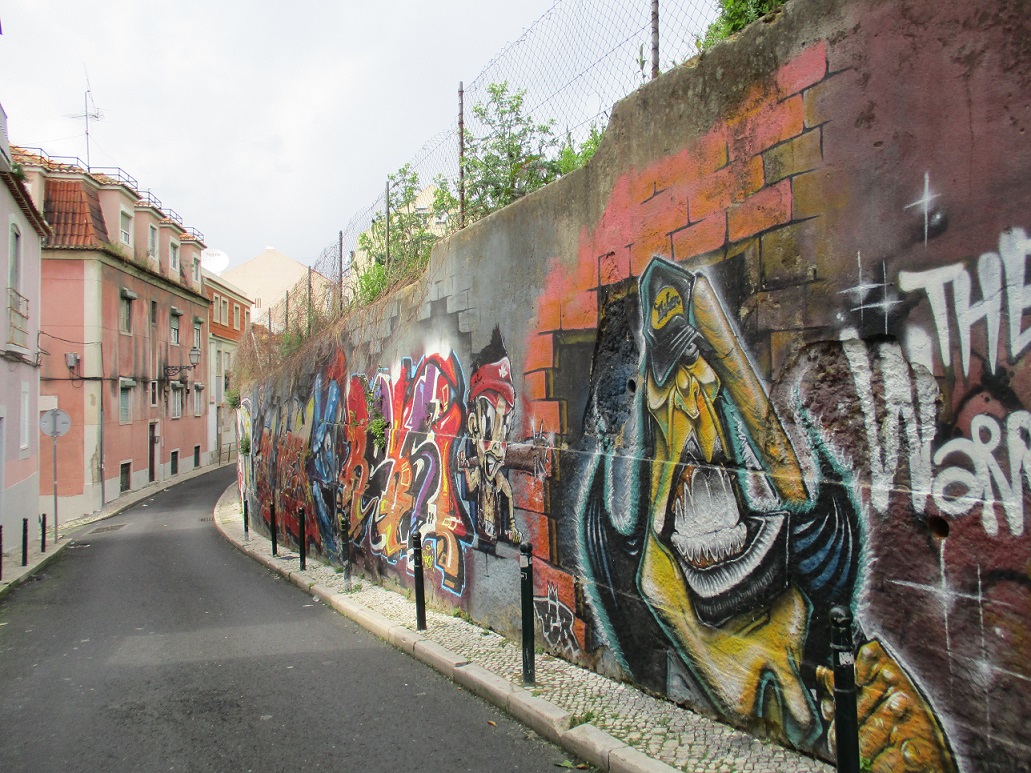 streets and hidden alleyways - it is so interesting and quite unlike anywhere I've been before. Even the graffiti is beautiful - no gang tags, just spray painted artwork on ancient hidden walls. There are surprises to be found everywhere.
We found ourselves in front of a large, interesting building and went in, only to discover that it was the train station. There wasn't a prominent sign on the outside to indicate what it was, so it felt like quite the discovery to us. In this same fashion, we found the ferry terminal (again, no obvious signage), which we thought was going to be a fish market! It's not like we are novice travellers, but this city is very different from many others we have been to in Europe. It has been a fun day just wandering around and finding treasures along the way.
We had lunch in a big square featuring a statue of King Joseph I - he was instrumental in helping the city and people of Lisbon with the giant earthquake of 1755 that pretty much decimated the city. It was boggling to learn that the statue was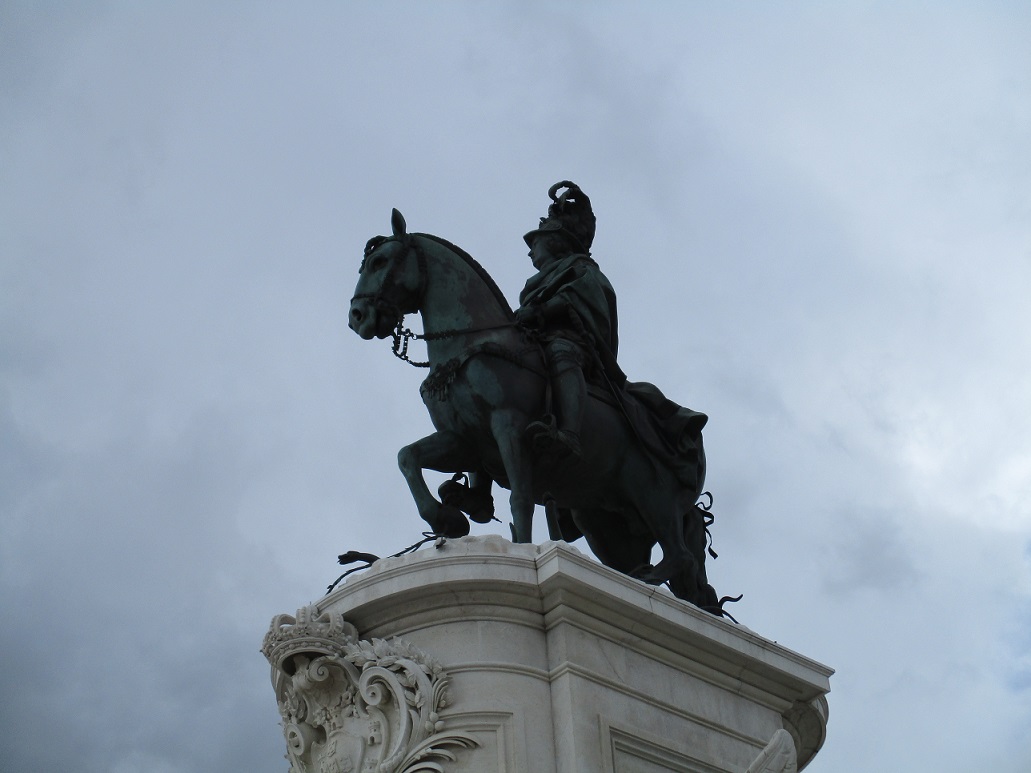 commissioned in 1770 and erected in 1775 - that statue has seen a lot of change over time! In the shadow of the monument we had a delicious lunch in which the temperature fluctuated between t-shirt weather, then adding a sweater, then adding a coat, and finally adding a scarf. I am very glad that we all took many layers with us today - shout out to Jeff for making us change into warmer clothing.
After trying out the metro in an attempt to avoid a major hill, we ended up back at our apartment after climbing a different hill than the one we avoided. This city is determined to make you skinny! We had a little quiet time (but no napping!) and then headed back out into the wilds of Lisbon. The kids were on a gelato mission, and after perusing many sub-par establishments we ended up back in the shadow of King Joseph I where they (and Jeff) enjoyed gelato while I indulged in mojito popsicle. Super delish!
Our next goal was the soccer stadium for the Lisbon Benfica - Jeff saw that they played tonight, and we thought it would be fun to see if we could get tickets. We were all up for the adventure, so off we went! The metro station delivered us to the wrong side of a major roadway, and unless we were willing to scale a 10 ft fence and run across 6 lanes of traffic, we were going to have to figure out an alternative route. We walked and walked and walked, and after a little off-roading and some side streets we were successful!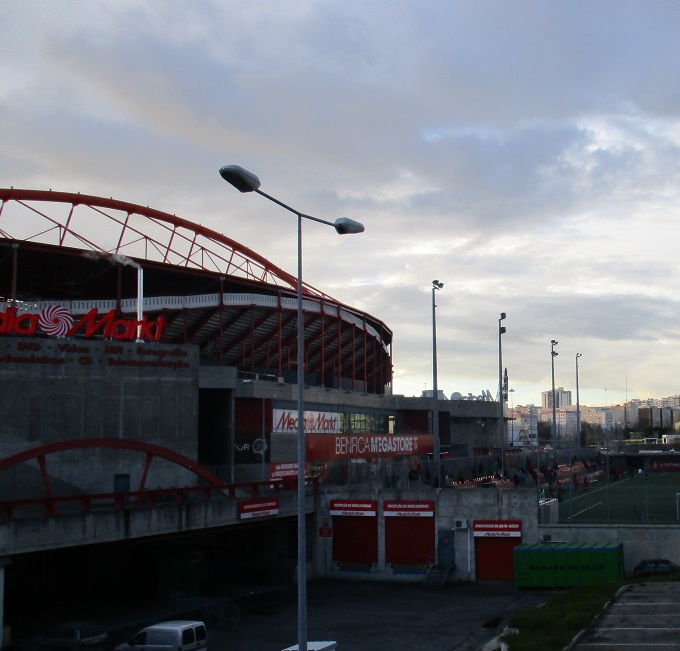 The strange thing was that there weren't any other fans walking around, and although we recognized that something was wrong, we still maintained hope. The gates were open, and in we went! Instead of professional soccer players and throngs of fans we encountered a bunch of 7-year-old boys playing on the practice field to the delight of their parents and friends. We discovered that the Benfica were indeed playing tonight, but it was an away game. I guess that's what happens when you try to figure things out from a Portuguese website… In any case, it was an interesting way to pass the time, and we bought some hot roasted chestnuts for €1.30 and watched the little kids play for a bit. It's always fun to see people experiencing 'real life' when we are somewhere else - it's easy to forget that they most likely had to rush around gathering things, feeding kids, and finding parking, just to get to their seven year old's game. To us, it was just another interesting scene from a vacation.
Dinner tonight was in a little combo Portuguese/Italian place that was pretty good, but it was nothing compared to the little hole in the wall we found last night. From now on we want to find those tiny places with only 8 things on the menu - not a place on a main street with pictures of the food and a menu in English. Authentic is always better, but you run the risk of communication errors and a lack of people watching. The food tonight was decent, so I can't complain. Julia devoured her margarita pizza, and Chloe thoroughly enjoyed her spaghetti, but last night's grilled fish with salad and potatoes was unbelievable. Cheers to the tiny restaurants of the world!
We are calling it a (slightly) early night and came back to our apartment to relax and get ready for tomorrow. We have hired a driver to take us out for the day and tour around the area and central coast of Portugal. We are looking forward to seeing parts that we otherwise wouldn't get to, as well as not have to think and plan for the day. A patient of Jeff's hired the driver last year and highly recommended him, so we feel confident that we will have a great day tomorrow. Right now the adults are sipping port while tapping away on their computers, and the kids are happily playing on their iPads. It's the same as at home, but in a different place. :)