We are still having a bit of trouble dragging the kids out of bed before 10 am, so after may snooze buttons (a.k.a parents tickling their feet) they finally got up and begrudgingly ate a few bites of a delicious melon that Jeff had cut up. He had also made some super-strong coffee in one of those fancy pots that you very rarely see in North America. We didn't have any cream so I winced as I drank it, but it was still delicious and very fortifying!
Today's destination: Nîmes. We did a basic overview of this city 5 years ago and it was on our to-do list for returning to this area. We used the very handy GPS in our rental car combined with a map found in a basket in our apartment and, fairly easily, found a parking spot. Before hitting any of the tourist spots we found a delightful café in a shaded square and had a really delicious Greek lunch. Chloë was the one who really wanted Greek, but after sitting down she was disappointed to realize that they didn't have souvlaki on the menu. Instead the kids had the menu d'enfant which was Greek meatballs (they were delicious with cinnamon and nutmeg in them) and some fancy rice with mint. I think the highlight for them was the homemade ice cream terrine which had layers of vanilla, rose, pistachio, and mango ice cream. I had the appetizer plate which was delicious but made a garlic bulb grown out of my tongue for the rest of the afternoon. No vampires came my way today!!
We left the restaurant, and instead of finding Roman ruins we found ourselves in a shoe store. All the girls were excited, and Jeff didn't seem to be having the worst time of his life so we spent a good 20 minutes in there. Julia came out with hot pink sandals (disclaimer – they eventually caused a blister on her heel) and I almost bought a really cute pair of black and beige heels with a bow. They were the last pair in my size and unfortunately had a mark (looked like from a Sharpie) on the beige part, and so I sadly left them behind. Wasn't meant to be. They were super cute though, such a pity.
Onwards we went, and I realized that I had the unfortunate problem of a full bladder. So annoying! Thankfully I spotted the entrance to a mall (hmm, accidental or intentional?) where I knew there must be a public bathroom. In we went, and I must say it was a nice mall regardless of the lack of Roman ruins. Another 40 cents later and I was good to go. (Paying for the bathroom is strange, but it ensures they are large, clean, and have toilet paper. All a plus in my book.)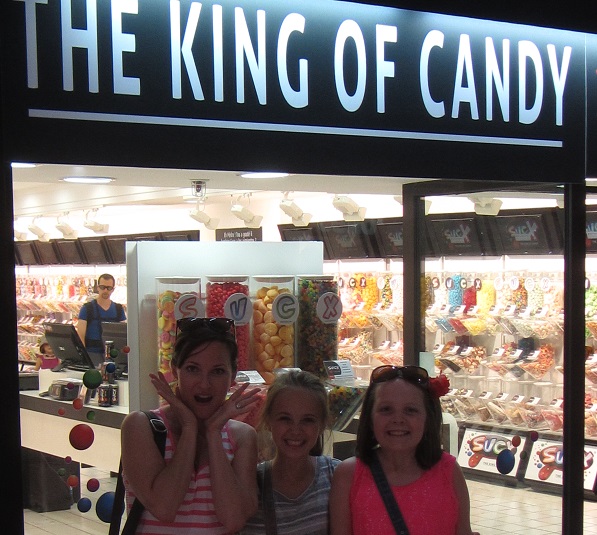 We did not enter any other stores in the mall aside from a very exciting candy store – yes we had to get some. I like candy. Actually, I like looking at it and having it in my purse, and knowing it's there but very rarely eating it. There must be a name for this affliction?
It had been about 2 hours and we still hadn't reached any of the places that we had intended on seeing. So far the kids thought this was the best day yet. (Ice Cream! Shoe Shopping! Candy!) We eventually got to the (slightly) underwhelming Maison Carrée which was in a sunbaked plaza with people lined up to enter it. I'm glad to have seen it, but I don't need to make a special trip for it if I ever go there again. It is actually considered one of the best preserved Roman temples to be found anywhere in the territory of the Roman Empire! This shows just how jaded I have become…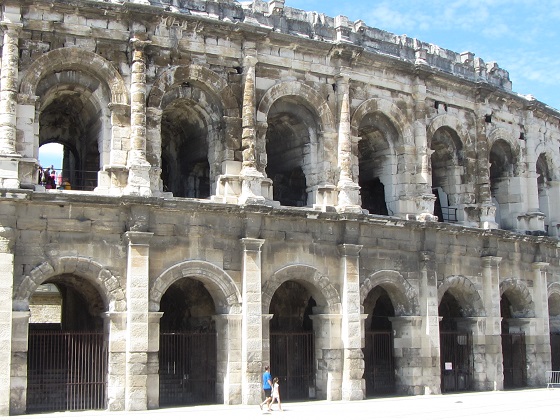 Next up, the Arena. Now that is something to see! It's a Roman amphitheatre built around 70 AD. The engineering is remarkable – they had the ability to use poles and ropes to cover many sections in shade and had very easy access to the seats through a series of tunnels and stairways. It could/can hold 24000 people! That's a lot of togas. We intended on going inside but we got confused by the line we were standing in. It felt like a line for a museum so we left, and after walking around the perimeter of the arena in crazy hot sun we gave up. Who knows, we feel a little unsatisfied and may go back there again before we leave this area. (**Note - that is Jeff and Chloe in the picture walking around the Arena as if they own the place!)
Feeling like our day was complete we made our way back to the car and headed for home. Small detour for coffee cream and a fresh baguette for tomorrow, and next thing we knew it was snack and drink time on the veranda. We are getting pretty good at this routine and see no reason to change.
Dinner was at a lovely place in a square with 3 waiters who looked like they just played a game of basketball, lost track of time, and then hurried in to work. Jeff volunteered to take a picture of me with one of them but I was too chicken. He (the waiter, not Jeff) was wearing bright (glow in the dark!) green high tops, skinny green jean shorts, and a tight shirt that had a pattern of multi-colored roses on it. And a baseball cap angled up high on his head. They were very professional, despite their attire, and it added a certain 'je ne said quoi' to the evening. And my salad was enormous.
Bon soir!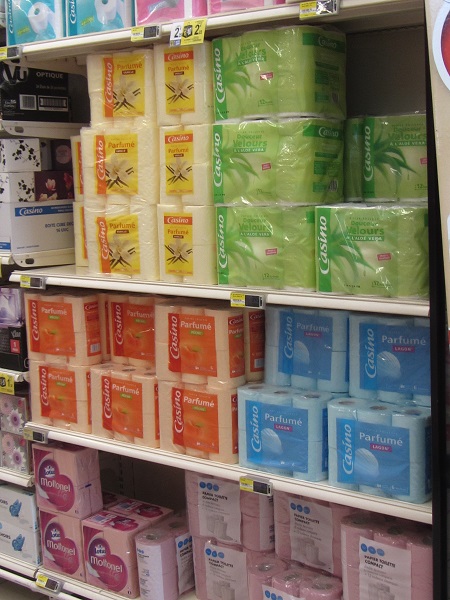 PS - This is a shout out to Tracie! She asked about the toilet paper and so I'd like to include a little something I found today in the grocery store. This is the colored section (and does not include the cartoon/random drawing section). I thought you may enjoy this variety of colors and smells! Apparently you have to make a choice - either solid color with 'parfum', or white with a fancy pattern. Life is full of decisions! :)