Well, it was a giant 'whoopsidaisy' for Julia and I this morning, because when I rolled over and looked at the clock it said 11:19 am! (Disclaimer: this would be 10:19 London time, and 3:19 Calgary time - we have an excuse!) Julia was still fast asleep which was incredible, so we both got ready quickly and we headed out the door. It was obviously well past breakfast time, but we had noticed a nice juice/smoothie place last night so we went for a quick and healthy drink. We struggled a bit with some of the ingredients, but I had brought along a little Italian translation book and we looked up what we could. I could only figure out 3 of the 6 in my juice, and I watched the girl put in carrots, celery, and apples. There had a be a solid chunk of lemon in there as well as it was very zippy!! Julia's sounded sweet (we understood peaches and oranges), but hers was insanely tart! We took a picture of the menu so we could figure out what we wanted before we go back tomorrow. They were like a vitamin infusion!
We had a very general idea of a destination in mind - Piazza Maggiore. We wandered down the old streets and popped into a few stores along the way. As we'd only had a juice for breakfast, we were quickly ready for lunch and found a great little place on a side street. The waiter was really nice and friendly, and with his little bits of English and our Italian book we managed to get everything we needed. Fully satiated, we hit the streets of Bologna in search of postcards and stamps (Julia wanted to send a few to her friends). We even looked up stamps in our book, and I felt very professional when I ordered them confidently from the lady behind the counter. (I used a full sentence and everything!) Ta-da!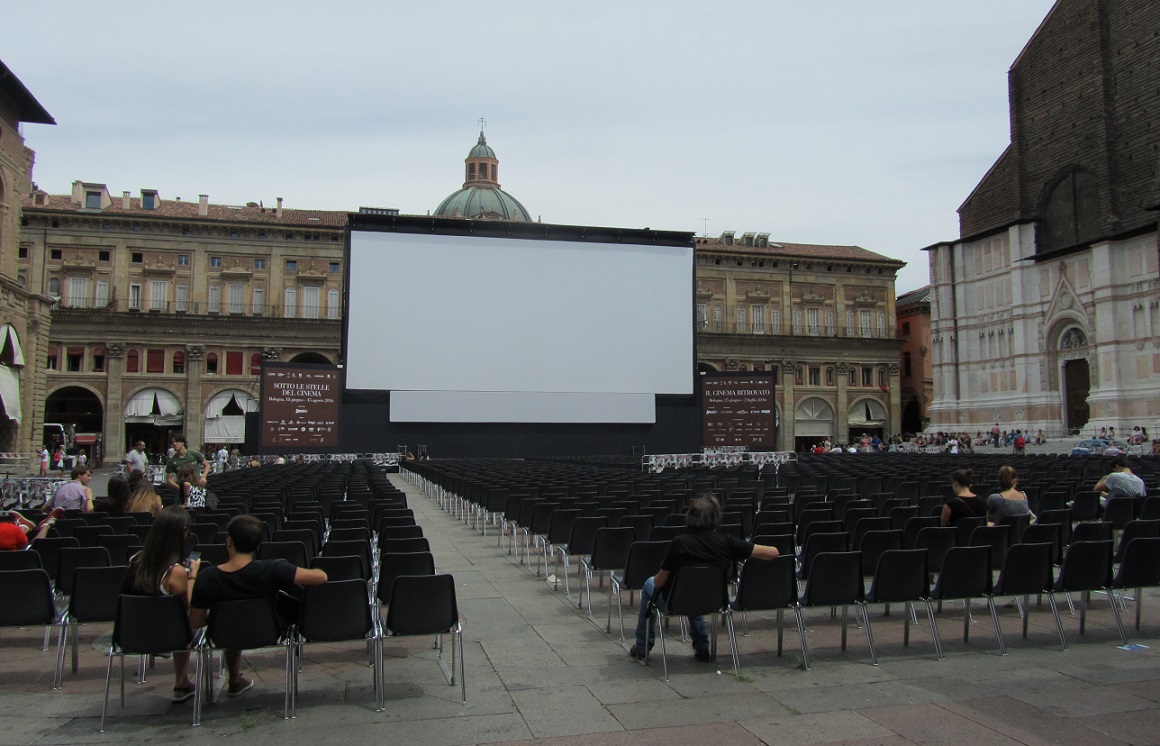 Piazza Maggiore was nice, but the best part was the outdoor cinema set up in the middle. How fun is that? Julia said that it's like a drive-in theatre without the car! They had a huge billboard advertising which movie is playing each night - tonight's movie stars Clint Eastwood, but other than that I didn't understand anything else. Sounds like great fun if we could speak Italian.
After walking for half an hour we were in desperate need of gelato (because otherwise why be in Italy?). I got all crazy and ordered a pistachio granita against Julia's warnings. She was right - it was kind of gross so I threw it away. I love pistachio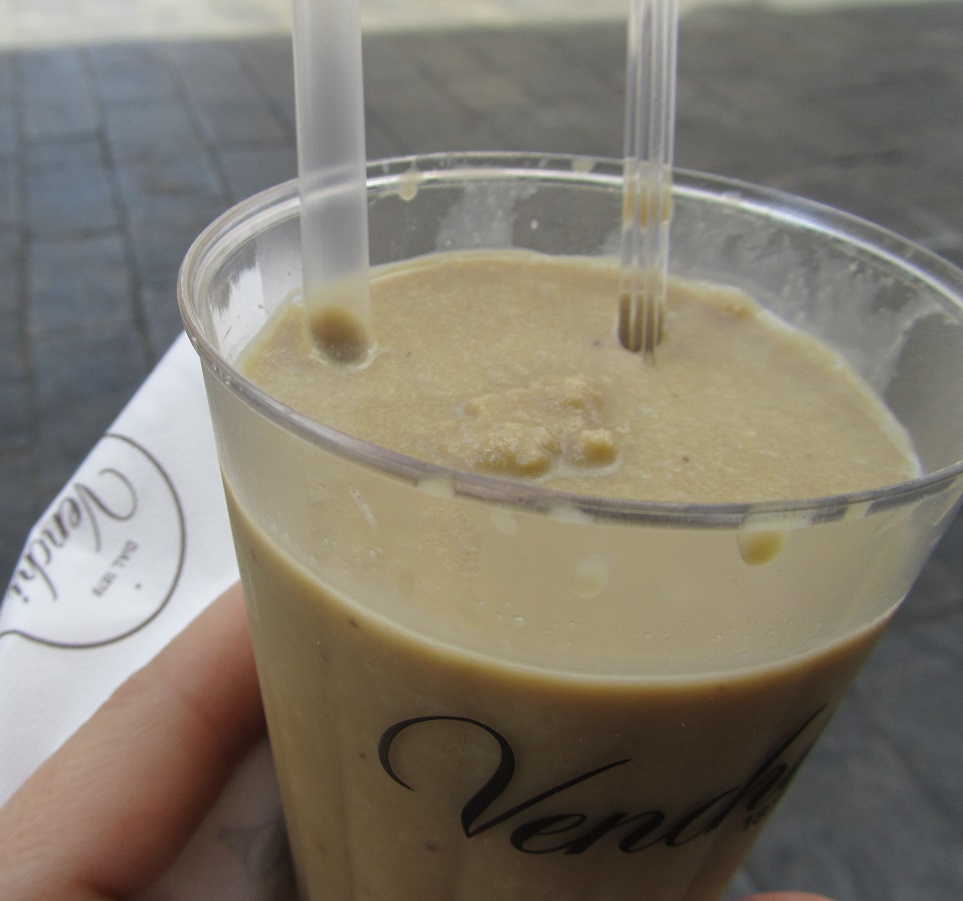 gelato, but because I wasn't feeling like anything creamy I thought a granita was a good choice. Nope. I won't make that mistake again! It was very sweet and didn't taste anything like pistachio. Sob.
We stumbled upon a really cute cooking store and spent at least 15 minutes looking at the various spice blends, fancy nougat, and other delights. When we last went to Italy I bought a delicious spice mixture for pasta and I was so disappointed when I finished it. Today I bought one that looks similar, and I am excited to amaze people with my kitchen prowess upon my return. ;)
We spent a few hours back at our apartment doing some laundry and resting - it is a vacation after all! We were able to chat with both Chloe (in London) and Jeff (in Calgary) through WhatsApp (which is so easy and free!), and it's funny to think that Jeff was just starting his day as we were figuring out where to eat dinner! This super old building has limited cell service, but its wifi is fantastic - which makes free internet calling a blessing!
We ended up eating dinner at a Greek restaurant even though this is only our second day in Italy. We had noticed this restaurant was really busy last night when we walked by, and although we had no idea what type of food it was we decided to take our chance on it tonight. We arrived fairly early for dinner (7:15) so had no problem getting a nice table outside. The food was amazing - I think it was the best spanokopita I have ever had; Julia isn't the biggest spinach fan, but even she loved it! We also shared a mixed meat platter with tzatziki and greek salad and it was excellent. Dessert was equally yummy (can't remember what it was called, but it was custard baked in phyllo pastry with cinnamon and powdered sugar on top. Very light and delicious, especially when served with espresso! We ended up sharing an appetizer, main, and dessert between the two of us, and it was more than enough food. Yum, yum, yum.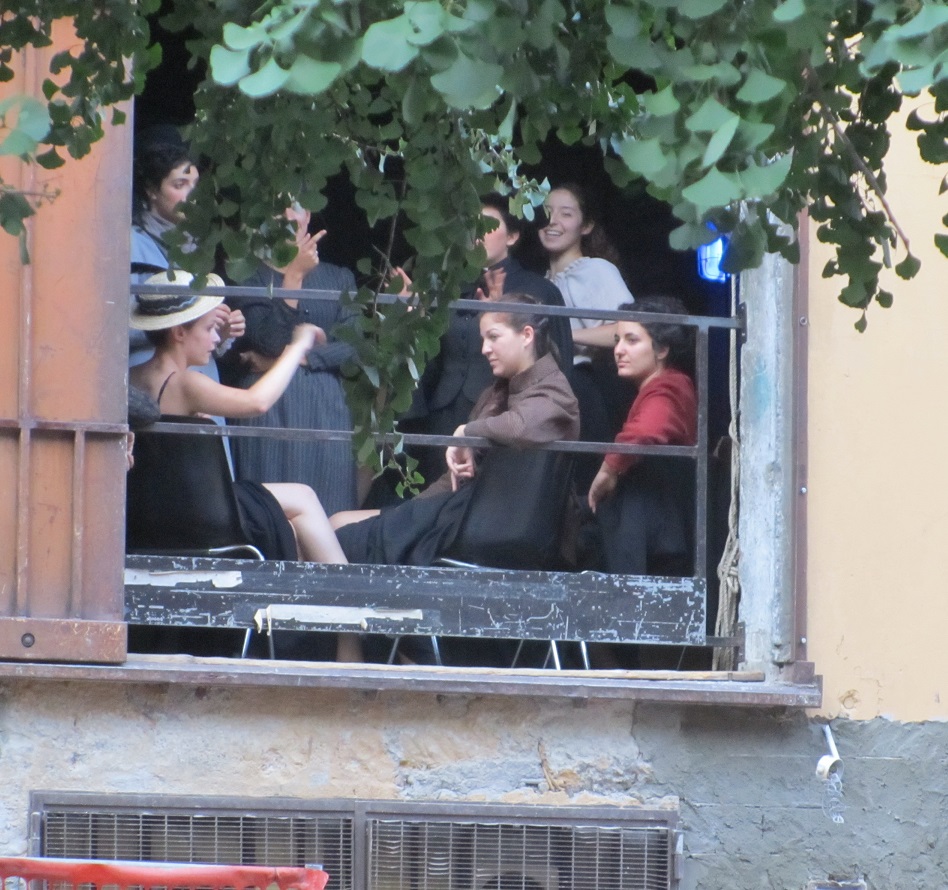 While we were eating dinner there were a bunch of people in crazy costumes hanging out of a window hooting and hollering and having a very good time. It was quite entertaining, but slightly perplexing. Before we had dessert the window mysteriously closed, and it became quiet. Julia figured that they must be from a play, and after dinner we walked by and saw a sign advertising the musical 'Titanic' that is playing there tonight. If the moods of the actors were any indication, the play is probably fantastic! This city is definitely full of fun, young people. Fun fact of the day - did you know Bologna is home to the world's oldest university? 1088! Insane. Supposedly the university library is gorgeous, and with my propensity for old books I may need to check it out.
We are back at the apartment and relaxing before bed. Unfortunately, the full day cooking class we had booked weeks ago (for tomorrow) was cancelled because our teacher is really sick. She emailed yesterday and was very apologetic about the fact that she is coughing and has lost her voice! Not ideal, and although we realize that she is human, we are both very disappointed as we were really looking forward to it. Now we must fill our day tomorrow - I'm hoping to hop a train to somewhere interesting. Stay tuned!
PS - Please excuse the strange spacing. I don't know why it has been so wonky lately, but I don't have the mental fortitude to spend the time to figure out what is going on. Pretend it is perfect! :)