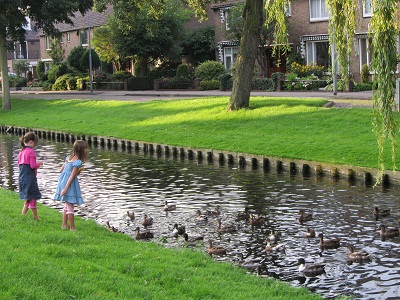 I'm writing this wearing jeans for the first time in weeks so that tells you something about the change in weather we just experienced!  We went from about 35C to 18C with a 1.5 hour plane ride, and I actually think all four of us are feeling a bit relieved.  The heat was nice but it's feels great to not be constantly coated in a sheen of sweat!
We went down for our included breakfast again this morning, and unlike yesterday, there was a lot of food!  What a pleasant surprise - and although the coffee was still pretty bad we had our choice of various types of croissants along with many other things I didn't even see yesterday because of the hordes of people.  Granted, I didn't really want to eat most of it (undercooked bacon, gummy scrambled eggs, hot dogs disguised as sausages, etc) but at least there was variety!  I stuck to what they do best which is juice and baked goods and threw in a canned peach for good measure.
We were packed up quickly and headed for the airport earlier than we needed to simply because there was nothing else for us to do at the hotel.  The Venice airport was surprisingly nice, especially when compared to the Florence airport which was tiny and dingy.  Venice had really nice floor to ceiling windows with lots of light and some really nice stores.  Some were 'too' nice (think Prada and Bulgari) but there was a lot to see and do and we had some delicious panini for lunch.  We were impressed by the crew on our KLM flight - they were extremely friendly and their cookies were delightful!  I sat next to an American couple who have lived in Naples for the past 11 years - he's with NATO and they were going to Holland for their holidays to escape the heat.  Sort of the opposite of any summer holiday I've ever taken!
We landed at Schipol and collectively felt comfortable - it's our European home away from home and we're always happy be here.  Our friend Bart met us at the airport and drove us to Jeff's aunt and uncle's house where we'll be staying for the next 3 nights.  They are in Italy (and we saw them two days ago!) and they were nice enough to lend us their home while we're here.  Jeff actually lived here in this house for the year after high school and we've visited many times so we feel  right at home.  The first thing the kids did was grab some bread and run out to the canal to feed the ducks - they've been thinking about doing that all year!  We visited with Bart for awhile then he went home to his family and we took a walk to the grocery store to get some provisions.  Aside from the Dutch breakfast staples we stopped at a snack bar and picked up a very unhealthy dinner.  It was sort of the antithesis of the meal we had last night; instead of fresh, natural ingredients prepared with care it was a bunch of frozen things thrown in a deep fryer.  But, it was pretty darn good I'll admit.  We had frikandel, krokets, fries with peanut sauce and chicken satay.  Stuff that is fantastic at 2 am after way too many Heineken, our only downfall was that we ate it at 6 pm stone sober.  Still yummy though, just a bit greasy.
We're taking it easy tonight; Venice was very hot and we got up pretty early both days so we're looking forward to a very quiet and calm evening.  Tomorrow our friend Jennie comes in for two nights which we're looking forward to, and we're also having a get together in the evening at the house of one of Jeff's aunts.  The kids just came back from feeding the ducks a second time and the ducks were getting very bold and kind of chasing them!  This led to some great excitement and a bit of high pitched screeching.  (I don't remember if the sound came from them or from me…)  Quite a change from what we were experiencing a mere 24 hours ago… but a very welcome change.
Tot ziens!