As I sit and type this I hear bagpipes out the window, and this is not something I hear in my normal day to day activities. Bagpipes are an interesting instrument - either you love them, hate them, or tolerate them. I kind of love them, but I'm sure that view would change if I was trapped in a room and subjected to continual bagpipe playing as a form of torture. That holds true for almost any music though - who would want to listen to anything on repeat? (Except for Bryan Adams' "Summer of '69", which is nostalgic and borders on perfection.)
We spent a lazy morning hanging out and managed to make it out on the streets at 10:30 in search of breakfast. We ended up at an "American Bistro" which is cute because they were taking the type of restaurant that we take for granted and making it into a 'theme'. So all the music was American (or so they thought, as half of it was Canadian), they had Budweiser BBQ sauce (does anyone really eat that?), you received a little bowl of mini Oreos on your table, and they had all the classic drinks like root beer and things that you don't normally find in Europe. (Almost every native European we know thinks root beer is disgusting and tastes like cough syrup. I guess it's an acquired taste?) It's funny to find your own culture as a theme restaurant like we have 'Mexican', 'Greek', or any other ethnic (a.k.a. Not North American) restaurant. It made me realize how strange it must be for a foreigner to visit our country and eat at one of 'their' restaurants.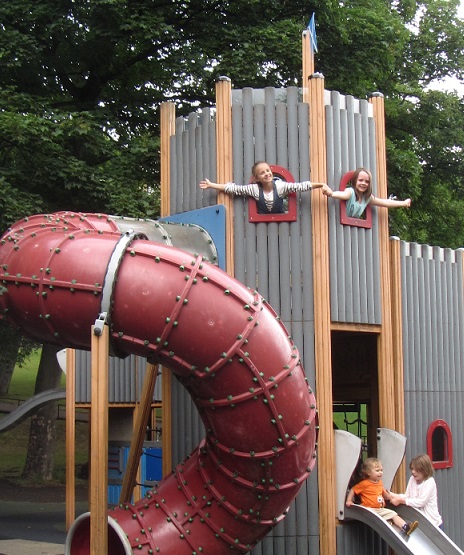 After breakfast we wandered a bit and found a cute playground where the kids ran around for about half an hour while Jeff and I made sure the bench didn't float away. It's not often that you watch your kids play while in the shadow of a 12th century castle!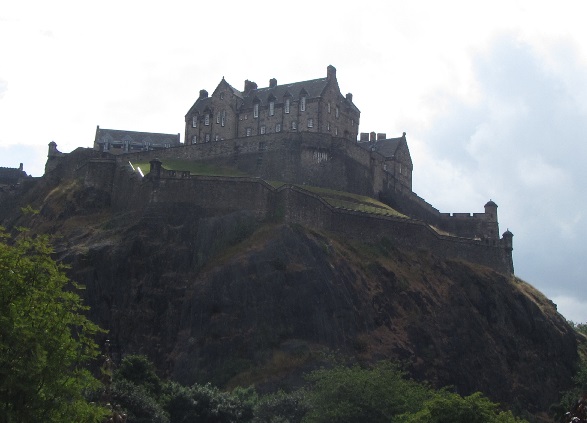 We were planning on meeting up with my parents, but as my mom was feeling under the weather she wanted to take the day to recuperate and rest so we met up with a solo Hap instead and headed for Edinburgh Castle. What an impressive structure when seen from below! I thought there must be a tram, gondola, or funicular to get up there, but apparently it's just foot power. So off we went in search of history. On the way we were distracted by a fascinating tartan weaving facility and watched them making them on very old, yet effective, equipment. We then went into the Castle and wandered around for a few hours reading plaques and taking pictures. After thoroughly exhausting ourselves we made our way back home (with a stop for an ice cream cone) and collapsed on the couches to muster up enough energy to go for a late dinner.
We met up at my parent's hotel (The Tigerlily - very nice!) and had a really delicious dinner. Everyone's meal was great and we left stuffed with food and great conversation. We had to make a hasty exit (a mere 3 hours after arriving) to get to the grocery store in time to get a few provisions for tomorrow's breakfast. The security guard informed us we had a 'tight 5 minutes' when we entered the store, and that was more than sufficient to grab some strawberries, muffins, water and a wee bit of tipple for tonight. ;)
I think all of us have achy feet and tired bodies, but we have all thoroughly enjoyed the city of Edinburgh and the hospitality of the people in it. Everyone has been friendly and helpful which always makes a visit that much more pleasant.
Tomorrow is wide open aside from Jeff needing to pick up his rental kilt and helping my mom pick out a fancy wedding hat. Only one full day left here in this beautiful city and I'm looking forward to what we find ourselves doing! (As of yet, we are at the whim of the weather and our energy!)
Guid nicht! (Get oot of hare, that's how ye say goodnight!)