Sometimes your plans don't work out the way you intended, and something better comes up instead! Today was a bit of an odd day, as once again we woke up to very strong wind. We had the idea of taking the train to Cannes for an excursion that didn't involve crazy traffic and parking, but when we looked at the train schedule we didn't feel like being tied in to a certain time period. What if we loved it and wanted to stay longer, or what if it drove us a little crazy (like St. Tropez) and we wanted to leave? None of us felt strongly about seeing Cannes anyway – it was just another little town that you hear about all of the time that would've been interesting to see.
Instead we got in to the car and headed along the coast in the direction of Cannes, with the intention of finding a cute little place to have lunch. I think everyone else had the same idea, as for 20 minutes we never exceeded 15 km/hr. We eventually came to a small town that, along with many beaches, had a large area set up with military vehicles and displays. At least this explained some of the traffic... As we continued down the coast we came to a beautiful cove approaching the town of Agay. It was surrounded by picturesque red rocky hills and there many sailboats in the harbour making quite an idyllic picture.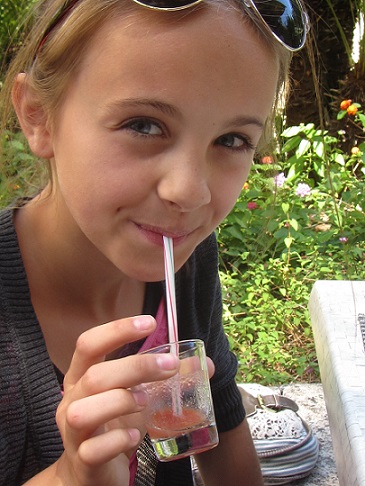 I would've taken one, but the vantage point was never very good and it was about this time that we did a U-turn because the speed (or lack thereof) was getting a bit ridiculous. Apparently it wasn't just the military display, but massive amounts of people trying to get from one pretty place to another! On the way back in to St. Raphael I noticed a little restaurant that looked interesting, so when we got back to the apartment we googled it and it had great reviews. Our plan for lunch in a neighbouring town didn't work out, but we had an amazing meal in a place we never would've found otherwise – and it happened to be a 7 minute walk from our apartment! This is a picture of Chloë sipping the teeny gazpacho in a shot glass that they gave us at the beginning of the meal. (Candice – I thought you'd like this picture… its gazpacho AND a mini glass with a straw!)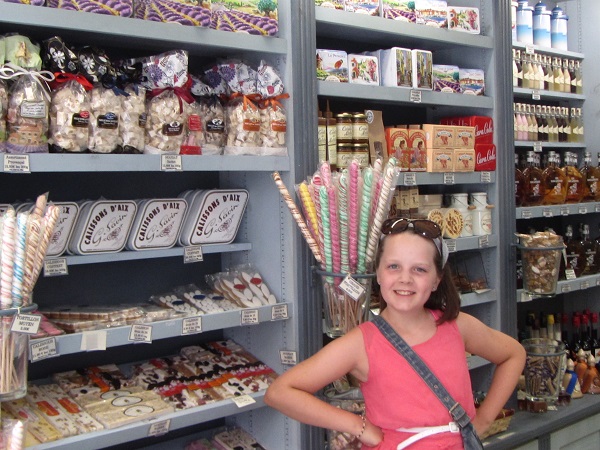 On the way back to the apartment after lunch we came across a super fancy candy store that we HAD to go in to. We spent a lot of money on fancy lollipops, nougat, and violet candies. All four of us were a little caught up in the frenzy and we hadn't even consumed any sugar yet!
One of the most interesting things to happen today was an impromptu (to us) military parade on the road by the beach that went right past our apartment building. All of the military vehicles and personnel were driving by with horns honking and flags waving. Everyone was wearing old uniforms, which included women dressed in old nurse outfits as well as infantry men. It was quite the sight to see, and so I googled, "St. Raphael World War 2" and discovered that on this very day 70 years ago there was a huge Allied operation called Operation Dragoon; on the very beaches that we see from our balcony the Allies invaded and caused the Germans to abandon Southern France and retreat! Both Jeff and I spent a long time reading about it because to be so close to something so huge and to see these vehicles parading down the streets, wow, it really put things in to perspective.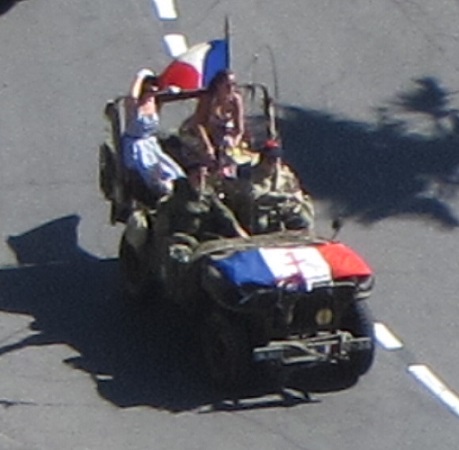 During the invasion they first had hours of aerial bombing before the troops disembarked on the beaches. The aerial bombing explains why this city has relatively new buildings in it compared to other cities in this region – there is only a small section of cobblestones and old buildings and the rest of it is fairly modern. Most of it would've been destroyed by the bombers, and I can't imagine knowing that you are targeting your own cities in order to save them. What a bizarre world.
We hit the beach around 5 pm, which seems late on paper but is very reasonable around here. It was still very hot and crowded, but the wind that had previously been crazy strong was now just perfect for keeping us from melting. It was hard to leave the beach as we knew it was our last day here, but eventually showers and dinner beckoned us home. We packed up, and we are ready for a 10 a.m. checkout tomorrow morning. Tomorrow we fly out of Marseille for an easy flight up to Amsterdam where we will visit with friends and family for a few days. The Amsterdam area is like a home away from home for us, and we are really looking forward to seeing everyone.
Goodnight/bonsoir from France… we have had such an enjoyable two and a half weeks!