Absolute perfection. This is the place we have in our minds when we think of old, historic France; cobbled roads, quiet streets, and warm people. When I booked this apartment I had high hopes but tried not to expect too much (there's no need for extra-anticipatory disappointment!) and this place has more than delivered. The town itself is quaint, but quite small and sleepy – its real draw is being smack in the middle of the major historical towns of Nîmes, Arles, and Avignon. We did a road trip to this area 5 years ago and hit all 3 cities in one very long day, and all 3 of them struck a chord with us. So much so, that because of that we specifically looked for a place in this area to capitalize on the amazing history all around us.
The apartment itself is spectacular. We are built in to the side of a rampart leading up to the 'back door' of a castle. As I sit and type this on our top floor veranda I hear nothing but the sound of crickets and look over the vista of this amazing spot we call home for the next week. This place looks unassuming from the outside, but once inside you are greeted with a huge living room, kitchen, and full bathroom. An old stone staircase takes you upstairs to a large area surrounded by comfy (yet historic) looking chairs with tables filled with art books and other interesting pieces, off of which are two bedrooms and another full bathroom. This owner takes some serious pride in his place and it really shows.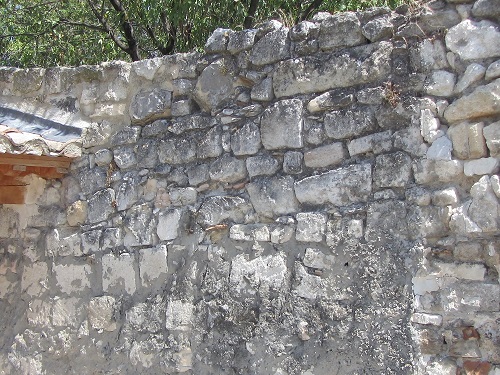 And then the veranda at the top of another stone staircase… what a treat! Multiple chairs and tables and a hammock surrounded by very, very old stone walls. Makes me wonder who put the mortar between these very irregular stones hundreds of years ago.
Getting here yesterday from Paris was a breeze. We left the apartment, had a nice lunch, and then headed to Gare Lyon where we had a train booked to Marseille. We have taken this route before and it's a very easy 3.5 hour high speed train on which I ate a croque monsieur washed down with some Burgundy wine. Umm, that's the way to travel!! We picked up our rental car and patted ourselves on the back for only bring carry-on sized suitcases because our trunk was fully maxed out. I wonder how many people get there and try and figure out how to carry all the people AND the luggage. My computer bag had to sit under my feet because it couldn't fit in the trunk! It's times like these that I am thankful that we are all on board with this carry-on only policy. Oh, and also when we are dragging our bags down the street and up and down the metro stairs… having older children now make that a lot easier!
Jet lag has been virtually non-existent for us, aside from the very first day. The kids slept about 2 hours each on the plane, I slept about an hour, and I think Jeff may have snuck in 4 minutes of shut-eye. So…, we were a tad sleepy upon arrival, but the excitement usually gives enough adrenaline to carry us through the day. We landed in Paris around noon and didn't go to sleep that night until about 9:30 pm. I win the record because that night I slept straight through until 9 am, while Jeff was up at 5:30 and the girls were up at 6:30. They were very nice and quiet and played Rummy in the living room until I roused from my slumber. I felt great that day, and only Jeff had a nap that afternoon – the kids stayed up until about 9 and then slept straight through until almost 10 am! Last night we went to bed normally and woke up super late (like teenagers, it was 11 am!). Anyway, we feel great and are ready to hit the ground running. I feel strongly that the key is not to nap if you can avoid it, and if you do you have to keep it to less than an hour. It works for us, and I would be scared to try otherwise!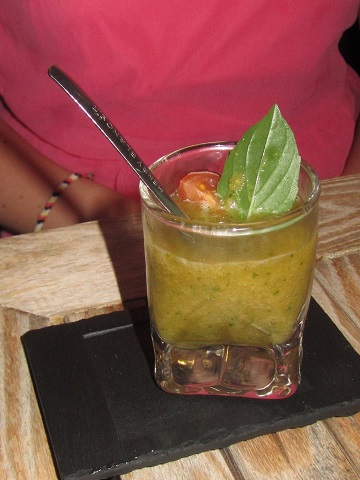 Last night we walked down to a little restaurant for dinner and were treated to a beautiful lightning display accompanied by a torrential downpour. We ate outside under an awning and it was warm and beautiful despite the weather. Actually, the weather added interest and excitement as we felt like we were crazy people living on the edge. ;) We weren't the only ones, as apparently insane rain doesn't stop people from eating outside! I think we are wimps in North America. (PS – the photo is of the amuse bouche they gave us at the restaurant – melon basil gazpacho. The kids thought it was 'okay', but Jeff and I loved it. I particularly enjoyed the shot glass and mini spoon it came with! This picture is a shout out to my sister who requested food photos. Hi Candice!)
After finally rousing ourselves from our beds this morning we walked down to the market to get provisions for the week. We were excited to hear that Sunday is market day here – how convenient! We stocked up on fruit, veggies, olives and tapenades and came home for a makeshift lunch. And now, on this lazy afternoon I look around and there are two adults on their computers, one child engrossed in a book, and the other child doing a quiz called "Are you Sun Smart?" from a magazine. To each their own!
I look forward to what's to come.