Mountain goats – that's what we felt like today! Today's destination was the principality of Monaco – the second smallest, most densely populated country with the lowest poverty rate in the world, and the highest number of millionaires and billionaires per capita. This explains the harbour full of huge, shiny yachts!
Our GPS led us to Monaco and, after a slightly harrowing toll experience, we made it relatively unscathed. (We had to throw €3 in a little bucket and for an unknown reason it wouldn't accept our €1 coin. It also wouldn't accept our credit cards and the line-up was getting longer and the horns were getting louder! This was very stressful and Jeff repeatedly tossing the coin in didn't help. I eventually ignored the signs about staying in your car and grabbed it and ran to the car behind me where I somehow - in a panicky manner - told the lady about my broken euro. She traded me, it worked, and off we went.) Not going to lie, we did not enjoy that experience. Every toll station after that caused us a little bit of nervousness, but we eventually made it through them all and arrived in Monaco. (Why do they have people sitting in a booth outside of public bathrooms to take your 40 cents, but they don't have real people sitting in the toll booths??)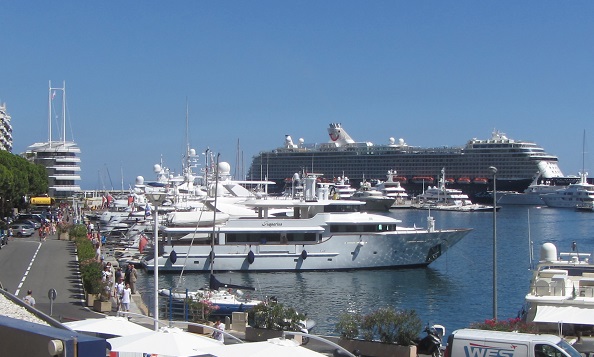 We did not have a tourist map, or any map to speak of, so after parking on a random hill we used our spidey senses to lead us in the right direction. It was really hot, and there wasn't a cloud in the sky, so we did the most natural thing we could think of and sat down in a shady spot for a drink – plus the little café had wi-fi! We looked up some maps and made a plan. By this point we had already walked down the equivalent of about 5 stories, and then used a parking garage elevator to go down another 14. (Did I mention how hilly it is?!?!). We saw a bunch of people with cameras and backpacks coming out of a little cement box… this was another elevator which would save us 5 more floors of switchback roads/crazy stairs. Finally – the harbour! This was filled with yachts of all sizes – small, medium, big, and massive. Even the small ones were huge, but they looked like runts next to the ones with hot tubs, dance floors, and spiral staircases. If you so desired, you could have a simple fish plate at a beautiful restaurant overlooking the harbour for a mere €27 (about $42). (I hadn't mentioned that we ate a homemade cheese and butter baguette in the car on the way there. There are places to spend, and places not to spend. We opted for €3 ice cream cones instead.)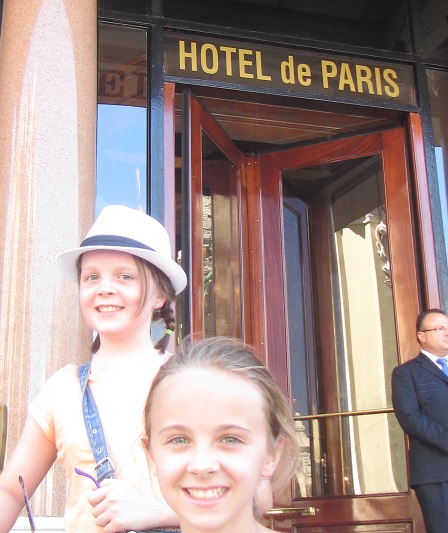 One of the main reasons the kids were interested in going to Monaco was because of the Selena Gomez movie 'Monte Carlo'. I think they have watched it about 10 times and they really wanted to see the Hotel de Paris where the movie was filmed and based out of. Jeff and I were willing to give up on our destination way before the kids were – the heat and sun didn't seem to bother them today as they tromped up gigantic hills to the top of the city where the real rich and famous hang out. The casino is right across from the Hotel de Paris and all the jammed streets were full of Range Rovers, Bentleys, Ferraris, Rolls Royces… it was quite the sight to see. The kids cared nothing about the cars, but the hotel… well… that was exciting. As we walked in the lobby they were talking about what scene took place in what hallway – and we of course took a picture outside of the revolving doors that Selena used all the time in the movie. Fait accompli!!
After the hotel we had the interesting task of returning to our car. We were like Hansel and Gretel and, instead of bread crumbs, we had taken pictures with my iPhone of landmarks so that we could remember our route back.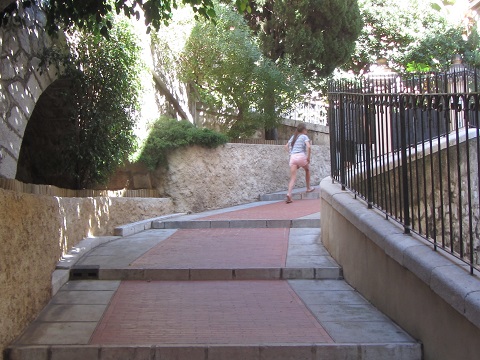 Up some hills, elevators, more hills… we made it! We were all so happy to have our cooler bag with ice packs in the car so we had cold water, juice, and Perrier ready to re-hydrate us. I think we each lost about 2 L of sweat today – who needs a gym membership?
After coming back to our apartment both Jeff and I spent considerable time reading about Monaco – what an interesting little piece of history there. I could cut and paste Wikipedia, but if you have any interest in the history I will avoid plagiarism rules and encourage you to read about it yourself.
All four of us really enjoyed ourselves today despite the heat, sweat, and excessive climbing. The city had a fun and vibrant energy, and it's a place I wouldn't mind going back to someday – but with a platinum American Express card. ;)