Just as with the previous post, I am doing this later than it occured. Darn technology!
Written August 1, 2014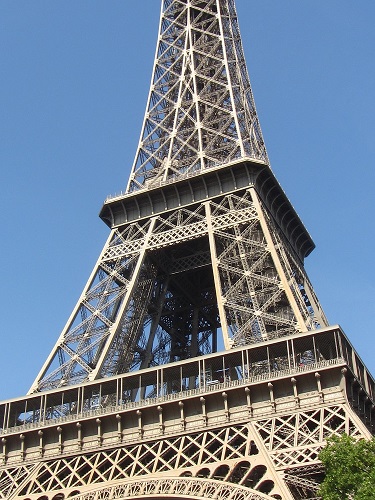 After a decent sleep had by all of us, we got ready for our one and only full day in Paris. We didn't have much on our to-do list besides walk around and soak up the atmosphere – a task that we easily accomplished. First stop – the bakery for a warm croissant and fresh pressed orange juice. Feeling fortified we hit the metro and took it to the Arc de Triomphe. We toyed with the idea of going up it, but the line-up was long and we weren't feeling strongly enough about it to wait. We went up it a few years ago but it was drizzly, and the only reason I would've liked to go up it today was because there was a gorgeous blue sky with only a sprinkling of clouds. Instead, we took a few pictures and then off we went to the Eiffel Tower. We approached it from a different angle than we've seen it in the past, and I must say it was gorgeous. I don't ever get tired of looking at it!
It was getting close to lunch time so we walked around waiting for the perfect place to call our name. After sitting and ordering our food Jeff and I realized that we had eaten in that same restaurant before! As he ordered the "Quiche du jour" I had a strange feeling and at almost the same time we both said, "We've been here before!" I think he even ordered the Quiche du jour last time too! (Yes, real men eat quiche.) This restaurant is not in a highly touristy area which is what made it so unusual.
At some point after lunch Julia's sandals started rubbing her toes so we launched "Operation New Sandals". We looked in many stores and even went into a mall, but unfortunately our mission was unsuccessful. Our nearby apartment beckoned for shoe-changing and an afternoon rest, as we were all feeling a little peaked by that time. After a few hours of rest we were back at it – jet lag be gone!!
Destination: Luxembourg Gardens. We've walked through it a few times in the past but have never done more than a passing glance. Both Jeff and I read "Paris" by Edward Rutherford earlier this year, and we learned a lot about the history of Paris over the last 300 years. We re-checked out the Place de la Concorde (site of the Guillotine during the French Revolution) and had a pull towards the Luxembourg Gardens for a reason that we couldn't quite remember. The lack of google in the apartment has really thwarted our research (and made us look less smart to our children). It's annoying me and I can't wait to re-remember (is that a word?) why I needed to go there. In any case, we sat in a lovely café under a canopy of trees drinking over-priced (but lovely) rosé with an assorted cheese plate and just soaked in the atmosphere that is Paris in the summer. That atmosphere is happy children speaking a language you don't understand chasing a ball around a tree, and crazy loud young Portuguese 20-somethings enjoying life and drinking wine, and a waiter who is so nice but a little tired and stressed because it's his first day on the job and it's all a bit overwhelming but he's doing his best. It's your own children contentedly making friendship bracelets out of embroidery thread while you sit and relax for an hour just enjoying what's around you. This is why we keep coming back. For no particular reason at all… just a joie de vivre that exists only in this special city.