Our legs are tired today!  I can feel every muscle between my knees and the tips of my toes and what I wouldn't give for one of those awesome leg massages you get with a nice pedicure.  (On a side note - I saw an old man walking down the street with red toenails today!)
The morning came earlier than expected due to the construction of scaffolding outside of our window.  The work started at 7 am (?!?!) and the loud banging of pipes and the two workers yelling at each other continued until 10:30 which is when we left the apartment.  They look like they've done a sturdy job and I just hope that they don't need to start working again at 7 tomorrow morning; thank goodness this is at the end of our stay at not at the beginning when we were contending with jetlag!
Our plan today was to meet up with Marty, Jen and the kids and conquer the Eiffel Tower.  It was really important to all of the girls (Jonah, being 1, didn't really care) that they go up it.  Our family has gone up it before so neither Jeff nor I cared if we did it again, but the kids were desperate to even if it meant climbing the stairs.  The line-up for the elevator was insanely long, yet the one for the stairs was quite short - maybe 10 minutes and then you could head right up.  Jennifer and I stayed down with Jonah and the stroller while the boys took the girls up to the second level.  Our plan was to meet at the bottom in 1.5 hours so Jennifer, Jonah and I took off to explore the area.  We walked down the Champ-de-Mars which mostly contained tourists of all nationalities attempting the perfect pose with the Eiffel Tower.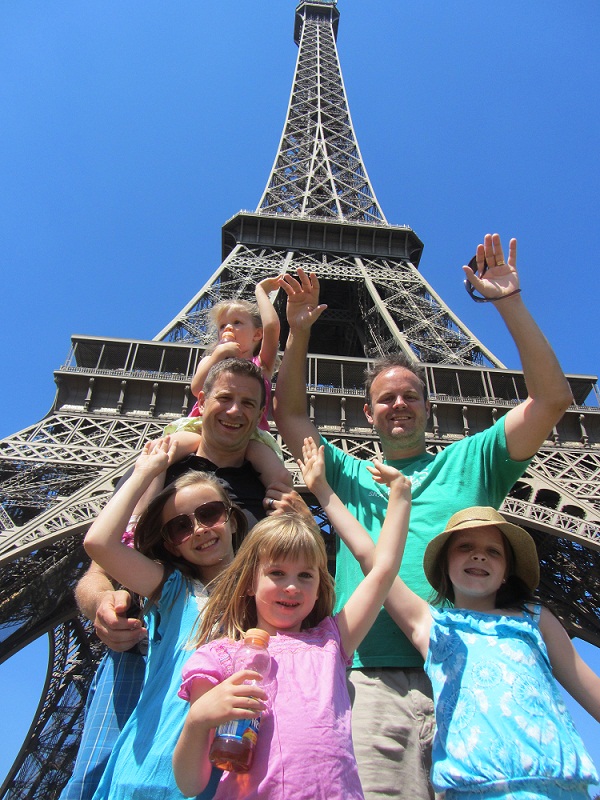 At the end there is a large peace monument with the word 'peace' written in 49 languages, but the ironic part is that someone had shot it (you could see the bullet hole) and the glass was shattered.  At first we thought it was supposed to be that way (it was actually very beautiful) until we noticed the glass on the ground.  The peace monument is right across the street from the very stoic and imposing Ecole Militaire; you could picture the soldiers standing in front of it hundreds of years ago saluting and stomping and doing whatever it is that soldiers did back then.  (Interesting fact - Napoleon studied here as a teenager.)
<- The tower climbers!
While standing in front of the Ecole Militaire we could see a golden dome a short distance away.  When I looked at my map I mistakenly read the name of the metro station instead of the monument and couldn't figure out how I had never heard of something that is so big and shiny.  We decided to investigate and lo and behold it was not a nameless building but Hôtel des Invalides!  Whoopsidaisy.  The place is gigantic and very impressive, and is possibly best known in present time for the fact that it contains Napoleon's tomb.  It was built in the 1670's by Louis XIV to house the wounded soldiers from his never ending wars.  At the end of the 17th century there were 4000 residents within it's walls and it functioned as it's own town having barracks, a convent and hospital among other things.  The church itself is really amazing and the chapel was built in such a way that the King and his soldiers  could attend mass at the same time but still enter through different entrances.  (People were very particular back then!)  In any case, we were happy to explore what we could from the outside and then headed back towards the Eiffel Tower to meet up with the rest of our family.
The kids were so excited about their trip up the tower yet the littlest ones were feeling a bit tired, so we decided to go our separate ways for the rest of the afternoon with the intention of meeting up for dinner.  Jeff, the kids and I went in search of a café for our final Parisian lunch.  We found a great little place and the food was not only delicious, but very well priced.  I was telling them about Les Invalides and Julia was very interested in going inside to see Napolean's tomb.  (The rest of the building is now a museum dedicated to French Military History.)   We decided to at least go and check out the gardens and the grounds, so after finishing lunch we walked over and approached from the north side which was filled with cannons and other interesting memorabilia.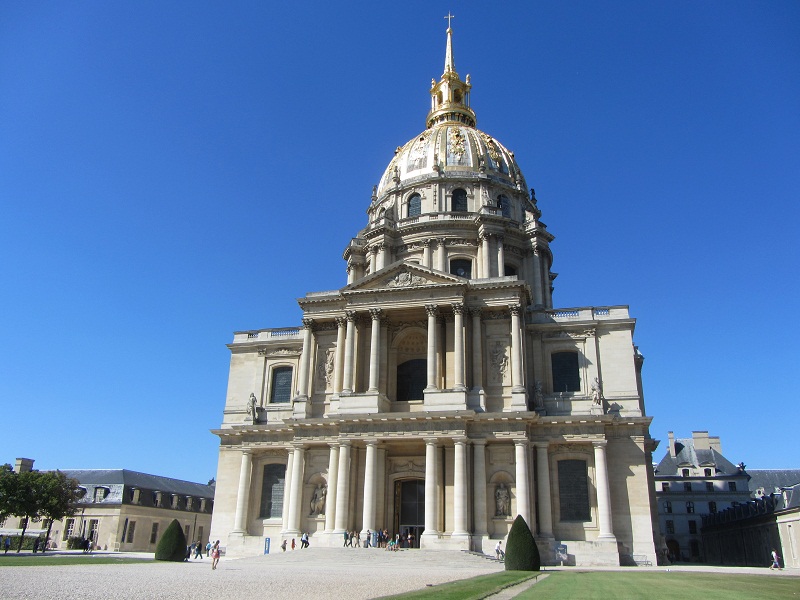 There was absolutely no line-up for tickets so we walked in and were pleasantly surprised to discover that adults were 9€ and kids under 18 were free!  We weren't sure we had the energy to do the entire museum (which looks very interesting) but we definitely wanted to see Napoleon's tomb.  After seeing the tomb (very nice) we took our chances and entered a few other parts of the museum.  We saw the armor of a very young Louis XIII (so small!) as well as some ornate swords from the 1600's.  I'd love to go back sometime and explore the whole place, and at that cost we didn't feel badly about not spending more time there.We started heading our weary bodies towards home but stopped in a few souvenir shops to pick up the final trinkets deemed necessary by the kids.  We walked in the door and there was a message from Marty that they were still out and maybe we should just skip meeting up for dinner.  That was perfect for us because we didn't have the energy to quickly rally and head back out as our feet and bodies needed a little recovery time.  It was a hot and sunny day today; we all got a tad pink and we drank a lot of water and iced tea when we got back!
Last event of the evening - dinner.  Julia has been dying to go back to an Italian place two doors down from us that has really comfy red velvet couches.  We all agreed and sat down to order a meal reminiscent of our trip to Italy last summer.  Chloë wanted her pasta sauce on the side and the chef actually refused!  "That is not the way it is done in Italy".  No problem, she rolled with it and ate almost the whole bowl so it must have been satisfactory.  (It was delicious and very light - tasted as though they took a fresh tomato and blended it with a basil leaf and olive oil.)  We must've been hungry because by the time we were all finished we had absolutely no food left on the table!  We needed to cap off our Parisian week with a stroll and some dessert and we had the most delicious gelato (Italian, I know, not French) while walking our neighborhood and feeling grateful for such a nice week.  We passed our local homeless guy (he lives on our tiny street) and he seemed to be having a jolly time with a few of his other homeless friends; what a happy neighborhood!
Now it's time to pack up as we need to leave the apartment by 10 am tomorrow.  It's been such a great week… merci Paris!