I have Wi-Fi success! It turns out my internet difficulties yesterday were because you can't have more than three devices connected at one time - that would've been really helpful information to know when we were given the code upon check-in!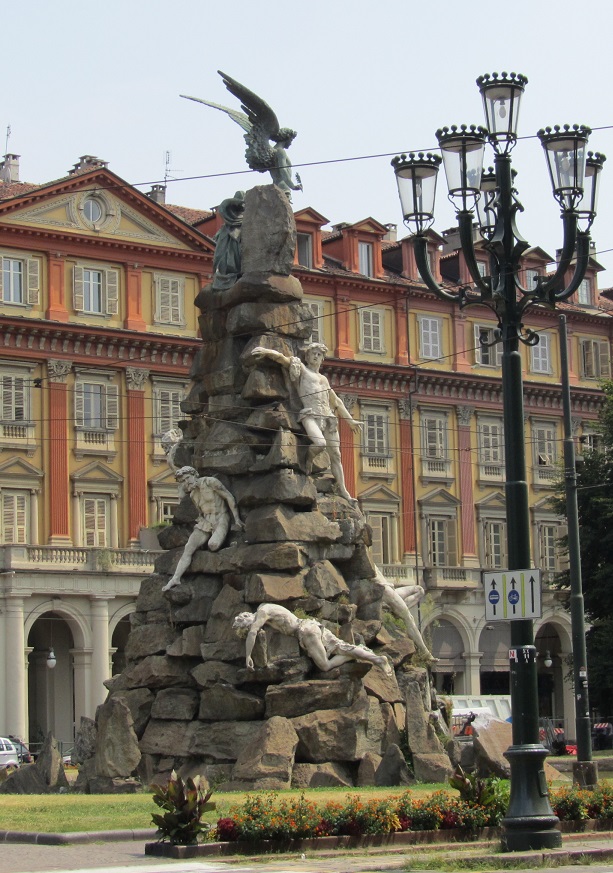 As a quick re-cap, yesterday we needed to leave our B&B at 11 am, and our train to Milan wasn't until 5 pm. Our hostess offered to drop us off at the local train station (super small and quaint) so that we could go into Turin for the afternoon and then would meet us in Turin at the main train station with our luggage before our departure. That was so helpful, and it allowed us to spend about 4 hours seeing the sights. We started walking, but hunger soon drew us in to a Japanese restaurant that looked really good. We've been craving sushi, but a few people have warned us that 'Japanese' restaurants are usually just Chinese food with a few bad sushi rolls. This place looked legit, and through the window we watched two Japanese men make expert rolls. The sushi was really good, although the edamame was way overcooked. I blew out my sinuses with super strong wasabi and cried happily. I have been missing heat and spice, so it was perfect! (The picture is of a statue very close to the Japanese restaurant that I thought it was interesting.)
We walked the streets of Turin stopping in a few shops along the way, drinking espresso, eating gelato, and tiring ourselves out. When Francesca met us with our bags we were happy to spend the 45 minutes before our train in the Italo Train lounge. We had first class tickets (they were an extra €8 each), and they more than paid for themselves! The lounge had air conditioning (the rest of the station didn't…) and free snacks and drinks. Heaven.
We arrived in Milan and were happy to walk the short 3 blocks to our hotel. It was so hot and humid, and if it had been any farther we may have melted right into the sidewalk. The lobby was beautiful and air conditioned, and it felt like a little slice of heaven. We were so happy to plop onto our soft, cool beds; we worried we would never get out of them if we tested them out before dinner, especially with the comfy robes on!
Julia found a place on TripAdvisor with fantastic reviews and it was only a ten minute walk away. It was a Chinese/Thai restaurant, and it was fantastic! The place was beautiful inside, and I must say it was the best Hot and Sour soup I have ever eaten. Julia ordered Pad Thai, and we shared some dim sum style shrimp dumplings. Super yum.
Today was a lazy day for us. In Castalborgone we needed to get up relatively early in the morning for breakfast and cooking classes, so it was nice to not have a timeline that we needed to stick to. In the lobby they have big bowls of fruit, so last night we both took a peach to enjoy when we woke up. We lazed around for hours this morning wearing robes and watching Netflix. The peaches came in handy! By the time we rolled out it was close to noon - oops. We bought a day pass for the metro and figured out where we wanted to go. While waiting I spent 70 cents in the fanciest vending machine I have ever seen! I bought an espresso macchiato and it was made with freshly ground beans and steamed milk. We watched it happen through a glass panel and then it was delicately delivered to me through a fancy rotating window. Super cool.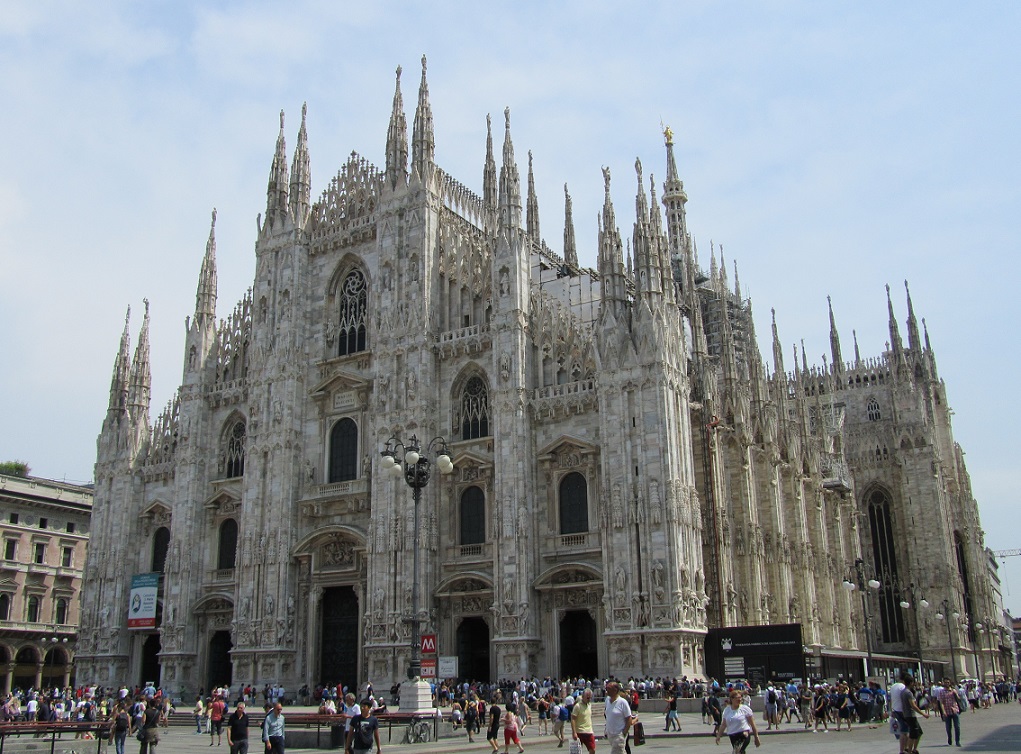 We arrived at the Duomo metro stop, and we were completely wowed when we turned around and saw the Duomo. I have seen (what feels like) a zillion cathedrals, but this one literally took my breath away. It is absolutely gorgeous. I'm not sure what makes it feel different, but I was amazed. I could've stared at it for hours. After tearing ourselves away we walked through the impressive Galleria (I tried to take pictures, but nothing could capture its magnificence - you will just have to go there yourself!) We walked past the Leonardo Da Vinci museum and Julia asked if we could go in. Totally! I am always interested in museums, particularly science related ones, and I was so happy that she asked. They had a lot of interactive exhibits and computerized renditions of many of his inventions. They also had models of a few of his 'flying machines' and a lot of preserved pages of his journals. There was an interesting breakdown of the Mona Lisa and how he was able to achieve such interesting and effective usages of light and shadows. Julia particularly enjoyed an exhibit in which you put on 3-D goggles are were able to actually 'enter' the painting of The Last Supper. We spent about an hour looking around and left feeling a little bit smarter. He was a remarkable man, and can you imagine what he would've been able to achieve in a society with calculators and computers?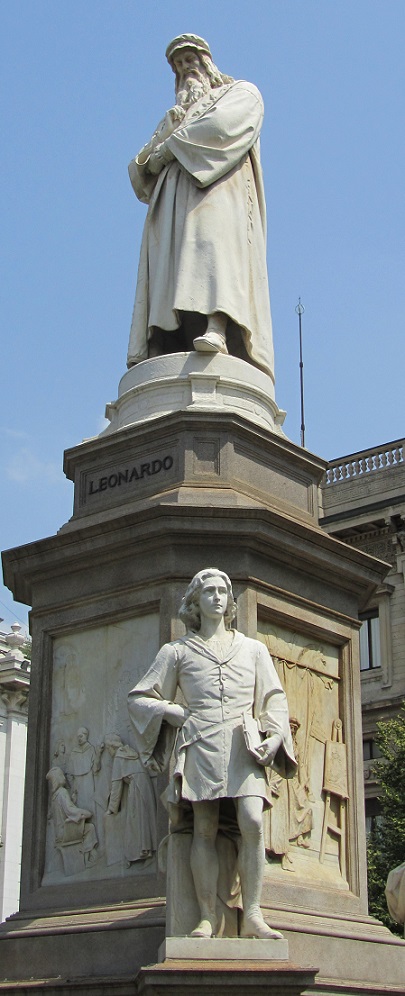 We walked out and were greeted by a large statue of Da Vinci. After snapping a requisite photo we started walking without a strong destination in mind. It was so hot and sticky so we popped into a metro station to go just a single stop. When we got out at the next station ten minutes later the weather was grey and drizzly - we felt like we had travelled through time! We popped into a pizzeria for lunch and loved the cool breeze. By the time we were leaving it was raining so we decided to head back to our hotel. We took the metro two more stops, and when we walked out it was once again hot and sunny! This was very perplexing… it seemed as though we had entered a small Twilight Zone at lunch.
Figuring that we had enough excitement for one day, we continued on with our earlier lazy morning and changed into our robes to watch a movie. We ventured downstairs for dinner, but we made the bold choice of walking 4 blocks to a gelateria for dessert. These are tough times.
Jeff met up with Chloe tonight for dinner and tomorrow he will pick her up from the Royal Ballet School. He will be able to watch a few of her classes and then they will head to Heathrow to fly here to Milan and meet up with us. We are soooooo looking forward to seeing them. One more sleep! :)