Today we intended on staying in Seville and catching a few more of the sights, but when Jeff discovered that we could only buy tickets for a tour of Seville's Real Alcazar for tomorrow, we switched plans and decided to make the hour and a half drive to Cόrdoba instead. Cόrdoba is one of the places that I really wanted to see on this trip to southern Spain, and it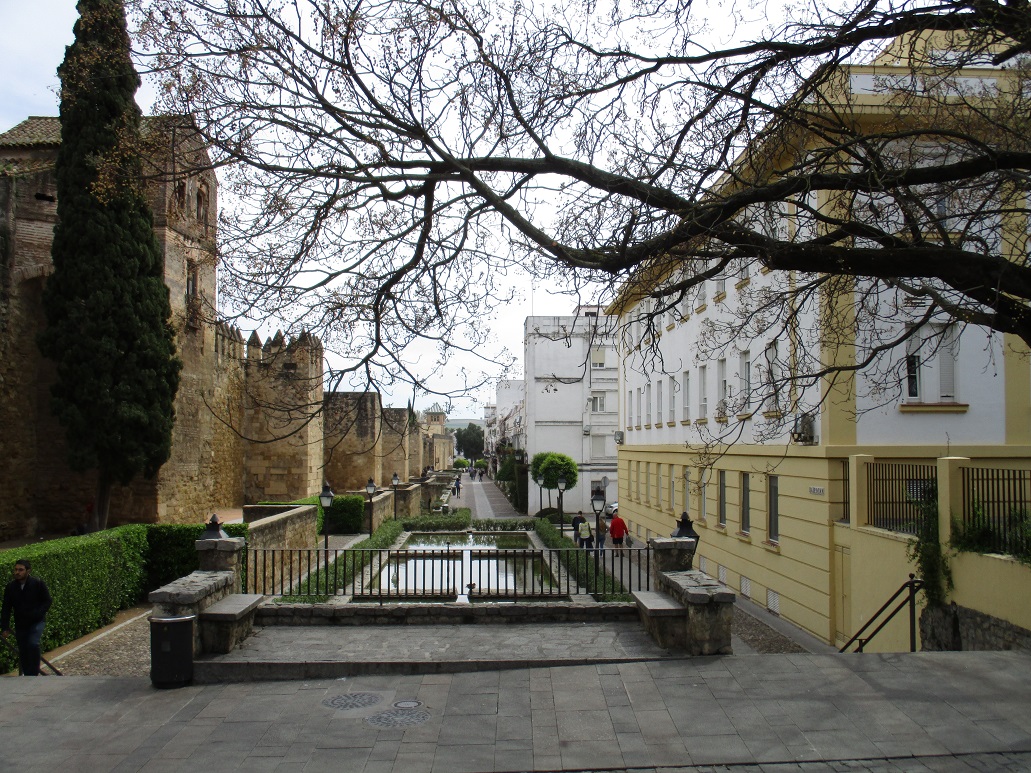 didn't disappoint. It was a gorgeous day for exploring, and we were so happy to see it in the spring, as opposed to the oppressive summertime heat.
Before leaving our apartment, we wanted to get a quick load of laundry done to ensure that it would have time to dry before we leave here on Wednesday. European washing machines always cause me a bit of stress - we have had many different problems occur with them. I often feel like I'm taking a shot in the dark by pushing various buttons after putting soap in random slots. One time I needed to watch an entire YouTube video on how to actually make the machine work, despite having read the poorly translated manual, and then there was the time our clothes were locked inside and Jeff literally had to take the entire machine apart with a butter knife. I may have a mild form of PTSD from that last incident, but as we regularly require clean clothes I do my best to manage the situation. Today I had a small panic when, after the wash cycle finished, the door didn't open. NOT AGAIN! We re-set it to spin again and hoped for the best. After some deep breathing, I had no luck when pulling on the handle. Just as my panic increased, Chloe tried - and VOILA it opened!! Angels sang and rainbows appeared. Phew. Our family has clean underwear, and we can once again walk with confidence for the next 5 days.
The drive to Cόrdoba was easy and we found great parking close to the major sights. Before experiencing any of the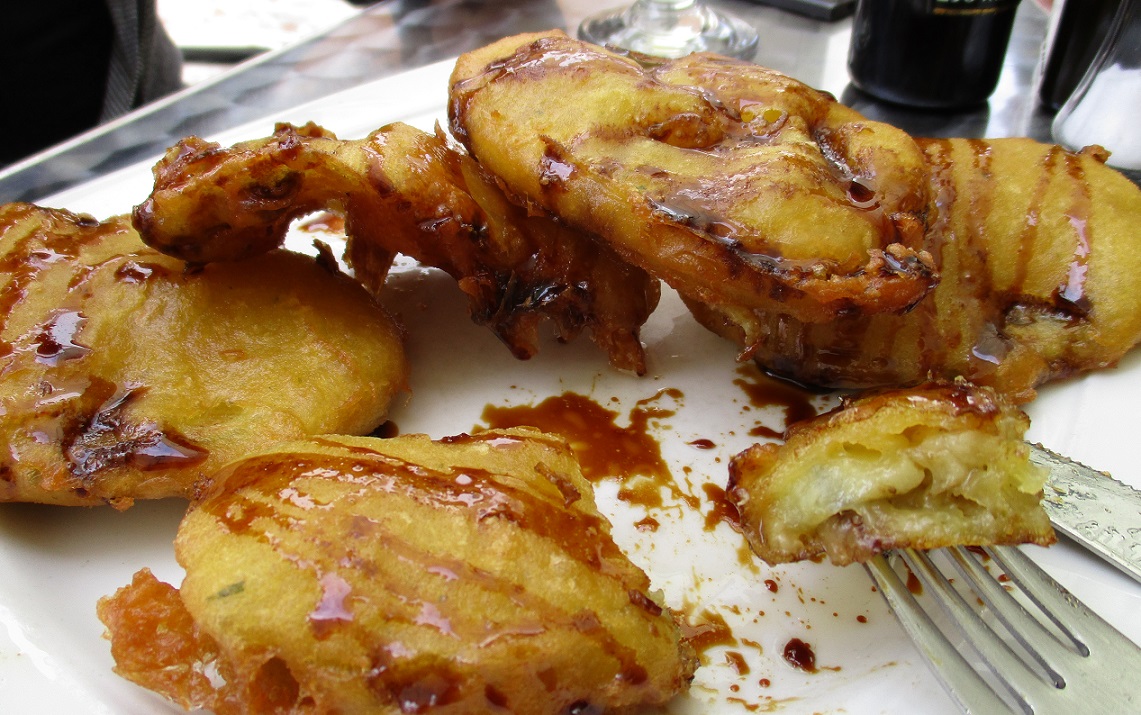 guidebook worthy sites, we had to first eat lunch. We stumbled across a cute place in a tiny alley, and it was fantastic. I will spare the details of every dish, but the deep fried eggplant with molasses-honey was crazy good. It was so delicate and unique, and it was a fantastic introduction into this really cool place. We started off on the right foot for sure - as good food is the sure way into our hearts!
The unique history of Cόrdoba is the main reason why we wanted to visit; from the 8th to mid-13th centuries, Cόrdoba was the capital of the Islamic Emirate and was a center for Islamic education. Before that time, it was a Roman capital, and so you can still see their handiwork with The Roman Bridge across the river. The main attraction though (and the reason we made the drive), is the Great Mosque of Cόrdoba - and great it is. Unbelievably enough, there wasn't a line-up to get inside, and it was a very reasonable price to visit. It truly is fantastic, and it is unlike anything I have ever seen before. The site was originally a Catholic Basilica, and when the Muslims conquered the area in 711 the church was divided into Christian and Muslim halves. (That sounds so civilized, but I'm sure it wasn't all peaches and cream at the time!) That sharing arrangement didn't even last 100 years before it was all torn down and they built the structure we see today. Cόrdoba returned to Christian rule in the mid-1200's,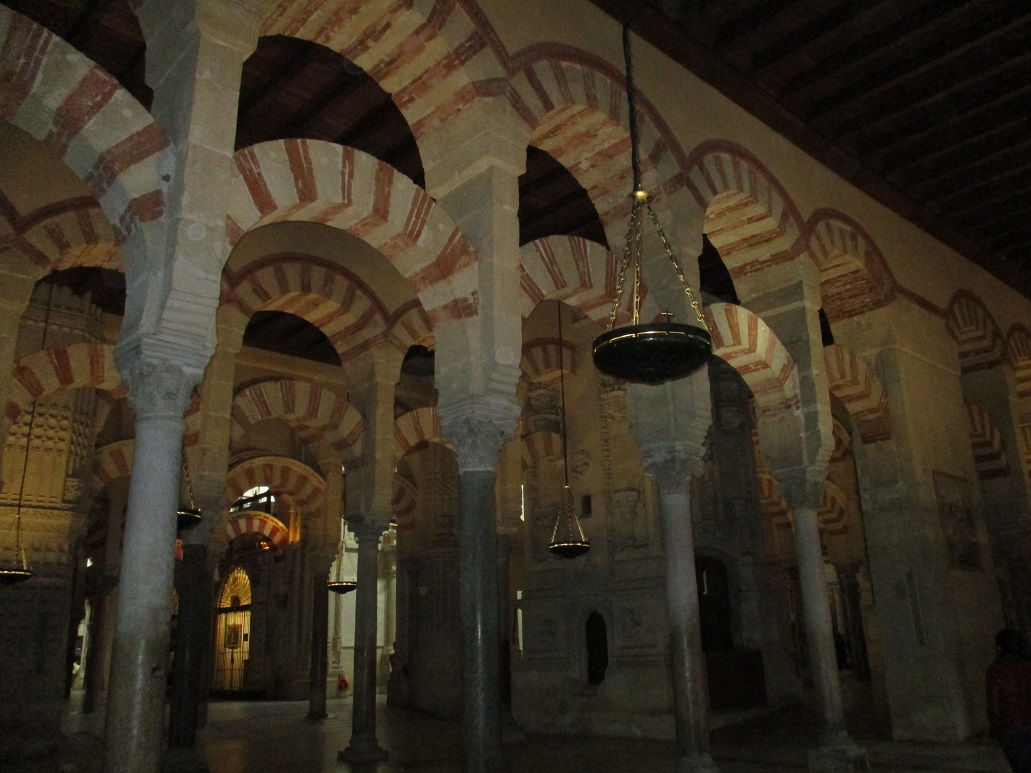 at which point the amazing Mosque was converted to a Roman Catholic Church. However, when you enter the space there is no denying that it used to be a Mosque, and a breathtaking one at that. The space is so calm, and the play between the Islamic architecture and the Christian elements is really unique. There is so much more to say about it, and quite honestly I think it deserves a 20-page essay - but I will leave it at this. If you find yourself anywhere close to the area, this is most definitely a must-see!
We came back home for an hour or so of rest before heading out to a very important event: dinner. We take this event very seriously! We tried to get into a restaurant a few nights ago, but because it was the Saturday night of Holy Week and located right across the street from an important church, we were denied entry. (Due to lack of a reservation, not because of any other physical or spiritual trait.) Tonight we were lucky enough to score the very last table, and it was a fantastic experience! After placing our order, we were given our own little dishes of amazing olive oil to dip the fresh, warm bread into. To make things more exciting, they brought a little clothesline of salami - sounds crazy, but they literally had chorizo clothes-pinned to a fancy little metal laundry-line! I didn't have my camera with me (low battery, and full memory card), so I could only photo-document it in my mind. We were thoroughly amused. Then came test tubes of sangria for the adults, and juice for the kids. The pleasures continued with the presentation of our appetizers in rock bowls and a phyllo pastry extravagance. It was so fun! Dessert was equally amusing, as Julia's brownie was served with a cotton candy cloud that evaporated when the waiter poured chocolate syrup over it - seriously, we were all so gleeful! Finally, wrought-iron artistic masterpieces came holding limoncello and chocolate truffles. Quite the experience, and very unexpected. If in Seville, go to Az-Zait (it means 'olive juice' in Arabic!). You won't be disappointed.
Now it's time to get to bed and prepare our last day in Seville. Time has gone both slowly, and incredibly fast. What a great problem. :)