I'm not going to lie, my feet are tired! My entire body is pretty tired too even after a fairly decent sleep last night. I'm happy to report that our second night went much better than the first and absolutely everyone slept straight through. Chloe gets the record for 13 hours - impressive! We had pre-arranged to meet Stefan and Valentijn at Borough Market at 1 pm, and thankfully it wasn't any earlier because we would've been late due to half of this family still sleeping at noon. So, we had 'breakfast' at 1 pm at the market - what a fantastic place! There were so many amazing vendors and we had to make some tough decisions as we wanted to eat everything in sight. We settled on some amazing homemade pasta, fresh juice, tiny delicious coffees, gingerbread, Turkish Delight, and some amazing fresh fruit (strawberries, raspberries, and peaches). Everything was amazing and I could spend days there just eating my way around!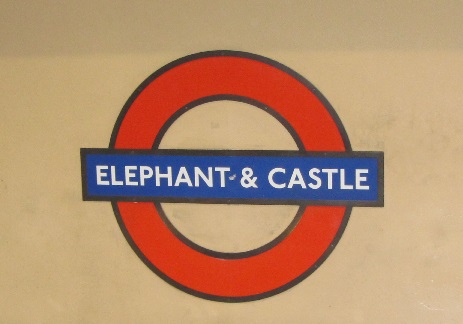 With full tummies we were off in search of Julia's 'must-do' which was to ride a double decker bus. Considering we didn't have any specific destination in mind we decided to just get on the very first one we saw and be surprised by our destination. We were beyond pleased to find that the very front seats on the top level were empty - score! Well, we thought it was a score until we'd sat there for 2 minutes and almost melted… perhaps they were empty for a reason. We found ourselves nearly off of our map so we hopped off the bus at Elephant and Castle. We weren't sure what to expect; almost every city seems to have an Elephant and Castle pub so we assumed there would be something of interest. Well, not really. There is a dismal shopping centre filled with cheap shoes and phone stores and a small market around the outside of it peddling suitcases, cell phones and strange undergarments. We were underwhelmed to say the least.
So, doing what any inquisitive person does in 2013 I used Wikipedia to help me understand it when we got back to our apartment. It turns out that the shopping centre at Elephant and Castle was the first covered mall in Europe and was considered pretty fancy back in the day. That's not where the name gains prominence around the world though - I think it just sounds British and cool so people just go with it.
We jumped on the tube and went to Piccadilly Circus for no reason other than to see it. It's funny because Stefan actually thought we were going to see a circus (lions and elephants!) but all we saw was a lot of hot and sweaty tourists walking around. It was time for some sustenance so an air conditioned pub called our name and we happily obliged. More fish and chips for the kids (I think it's their 3rd time already) and a baked potato for me. (It was really good, even better than I'd anticipated. These Brits know their potatoes!)
We decided to stroll through Soho (only because the name is familiar and it seemed like something we should do) and happened upon a delicious gelato place. Very authentic and exactly the right texture. Yum. We stopped at Soho Square Garden for a little rest and were completely amazed at the sheer number of cigarette butts all over the ground. It's a fairly small 'park' and people were sitting around having a drink and (most of them) a smoke. Apparently when they're done with their little nature break they feel comfortable just disposing their cigarette butt right there on the grass. Quite honestly there were about 10 butts in each square foot of space which made for a less than ideal break from walking. So, off we went - destination The British Museum. What's so nice about the British Museum is the fact that most of the exhibits are open to the public for free, and they truly have some amazing things. I have a weakness for really old books and they had more than I could ever look at. Shakespeare's complete works that were printed in the early 1800's and Some Voltaire books from the late 1600s. Amazing. What astounded me was the quality of the leather and printing on the covers - there were some very talented book makers back then and I can only imagine the pride you'd have had in owning one back then as they would've been very expensive. (Not like now where we all buy them at Costco and Chapters and have more than we know what to do with! Or e-books! Don't get me started…)
About half an hour into the museum my feet decided they no longer wanted me to stand on them so I gave up and headed to the bench next to a very old Roman statue of Cupid. We decided the best move for us as a family was to head back to our apartment for a rest before dinner. We left Stefan and Valentijn in the museum and spent a very restorative hour and a half sitting on the couch doing nothing. It was much needed; sometimes checking a few more things off of the tourist 'list' isn't as important and maintaining sanity.
-- hours later ---
I am so full I may explode. And if I did explode you would find insanely delicious mushroom ravioli and some pinot grigio thrown in for good measure. (Simply to cut the heaviness of the mushroom sauce, of course.) I'm human, what can I say.
After meeting up with Stefan and Valentijn at London's oldest pub (which is literally across the street from our apartment) we had a drink and then made our way down to a delicious Italian restaurant. It was very authentic (the waiters barely spoke English and they were cantankerous to say the least). Our waiter eventually warmed up to us after all 4 of us adults joked with him over and over again. We finally cracked him! The food was delicious, the company was excellent, and it was a great way to end our time in London.
Tomorrow we catch a train to Salisbury to meet up with Jennie (one of my bestest friends in the whole world and a bride-to-be next Saturday!).
We look forward to new adventures awaiting us!