Parting is such sweet sorrow…
**Note - This was written yesterday, but we got to bed very late and I didn't have the mental ability to play around with wi-fi. Please excuse my tardiness! :)
We had such a great time in St. Raphaël and, as usual, it's hard to leave such a beautiful place. Waking up this morning to blue skies and boundless sunshine made it even tougher! Thankfully we still had the entire day before needing to be at the Marseille airport, so after leaving the apartment at 10 a.m. we drove to Cassis – the beautiful town we spent a week in 5 years ago. Cassis really has held a special place in our hearts; we had such a magical time that we haven't wanted to return to the area for fear of tainting the experience. You know when you have a fabulous meal somewhere and decide to go back the next day? Sometimes it's just as great, but often times it pales in comparison. Sometimes it's better to leave a memory as a memory.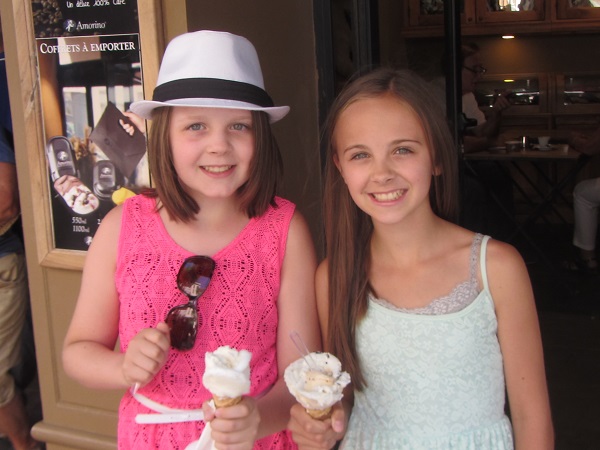 From the moment we arrived in the small town we were pulled right back in. It felt like we had never left as we immediately felt the same connection and warmth that we did the first time. The tiny cobbled streets filled with cute restaurants, the little harbour that would have men pulling fish fresh off the boats in the mornings, the amazing gelato stand, and the lighthouse on the pier surrounded by giant boulders that the kids loved to climb. We only had a few hours to spare, and so we ate a delicious lunch and then went for a little walk down memory lane. (Literally, and figuratively!) First stop was the gelato shop where we had the first cones ever served as a flower. (Each petal is a different flavour – how enjoyable!)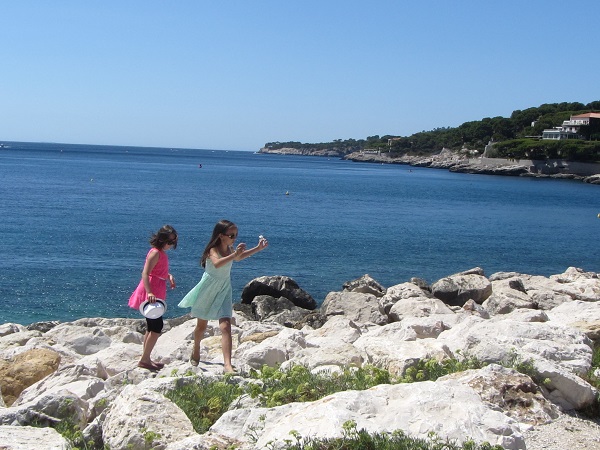 So pretty, and just as delicious as we remembered! Then we walked out to the lighthouse and just enjoyed the view back in to the harbour. Finally, right before leaving the kids had a minute or two to hop around on the giant rocks that form a big portion of their memory of the area. When they were here last they were 7 and 5, and every night after dinner we would go to the rocks and have them climb off their pent up energy!
It was eventually time to bid adieu, so off we went to the airport. It was a relatively easy process of dropping off our car and getting through security. So easy, in fact – we were the only ones in security! Weird. The Marseille airport is a haven of cleanliness and calm; I don't think I've ever had a more pleasant experience. The carpets are clean and soft, and they pipe in beautifully calm music! There is a lot of natural light, comfy chairs, and docking/charging stations all over the place. Very, very civilized.
The Air France flight was also very civilized. Picture very pleasant ladies wearing jaunty scarves around their necks serving you chilled white wine and pesto flavoured bread sticks. It's a nice way to get from point A to B, that's for sure!
**I wrote the above on the airplane, and it's now almost 3 a.m. and I am just heading to bed. We had such a warm welcome from family, and quite the impromptu party! What a blessing to be on the other side of the world and feel like you're at home. Good night!!