What a long day! Considering we have been staying up late and sleeping in on this trip, today's 7:30 am wake-up call was a bit tough. Our flight to Madrid was on a gorgeous, new, gigantic Iberia plane that was barely half full. It had adjustable head rests and touch screen seat-back TVs, but they never served us any snacks or drinks! Kind of strange. I was so distracted by my movie that I only realized it as we landed, but I don't think I have ever encountered that before. In any case, it was an enjoyable flight on a very nice plane. We picked up a car at Hertz from the most friendly and helpful lady ever, and to make the interaction even sweeter, she rented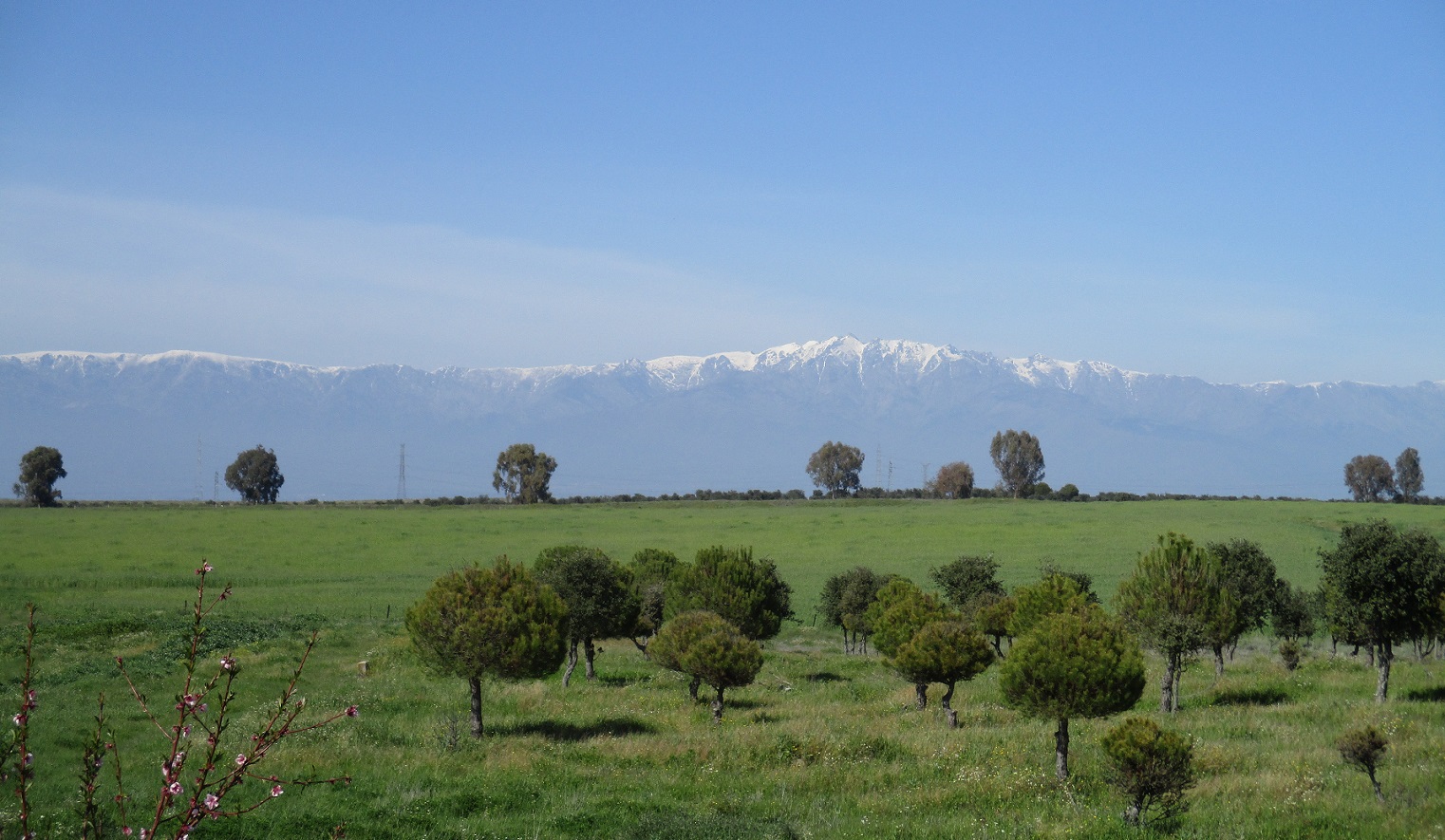 us a portable wi-fi device for our car! This made the 5 hour drive a lot more appealing to the kids, and we barely heard a peep from them the entire time.
Our drive to Seville was uneventful, which is exactly how it should be. The scenery was interesting the whole way and ranged from snow-capped mountains, grazing cows and sheep, rugged hills with scrubby bushes, to groves and groves of olive trees. An interesting tidbit we learned today (by using the car's wi-fi!) was that Spain grows the most olives of anywhere else in the world - more than two times that of Italy! I had no idea.
Entering Seville was smooth and we quickly found our apartment. What we didn't find, however, was parking. We literally drove around for 45 minutes scouting spots until finally resorting to parking in the underground lot at the bus station quite a ways from the apartment. We made it just in time to meet the guy who was giving us the keys, and after bidding him adieu we grabbed some food at a cute little restaurant around the corner. We ordered a bunch of different tapas and they were delicious! This bodes well for the rest of our time here. :)
Supposedly the parking is always crazy here, but tonight especially so. Tomorrow is Good Friday, and starting at midnight tonight they start parades that go until 8 in the morning! Seville is THE place to be for Easter, and if you didn't know what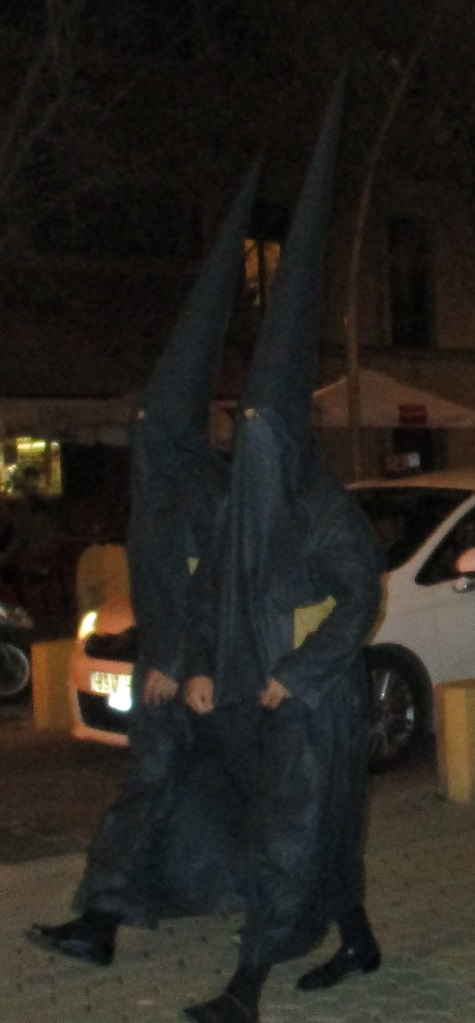 was going on it would be terrifying to see all these people walking the streets in what look like black Ku Klux Klan outfits. Tall, pointy black hats, black robes, and something that looks like ropes tied around their midsections. After midnight they will carry large floats down the street from various churches to the main cathedral , but we are way too exhausted to stay up to watch the spectacle. We did, however, catch some marching gladiators with big white plumes on their heads and glittery vests. I'm sure there will be some great things to see out there tonight, but our early morning and long day makes it too difficult to stay up.
I have to keep this post short as I am very much ready for sleep. More from Seville tomorrow!
PS - If anyone with knowledge of Spanish geography wonders why we flew from Lisbon to Madrid only to drive 5 hours to Seville (which is only a 4-hour drive from Lisbon!), it's because we couldn't rent a car in Portugal and return it in Spain. (Well, we could, but it would cost an extra €900 on top of the rental fee.) Also, to fly to Seville we would have to change planes in Madrid, and the flight times were ridiculous. So, this was our best option! Although, now that we see the parking situation perhaps the train would've been better, even if it would've taken just as long as the drive. Six of one, half a dozen of the other. Que sera, sera - we are here now!