Ahhhh… our first full day of soaking up the Bali sun. Our main goal today was nothing. Well, if nothing includes lounging around on comfy chairs, eating delicious food poolside, drinking snazzy drinks, splashing around in the pool, and having a great dinner! We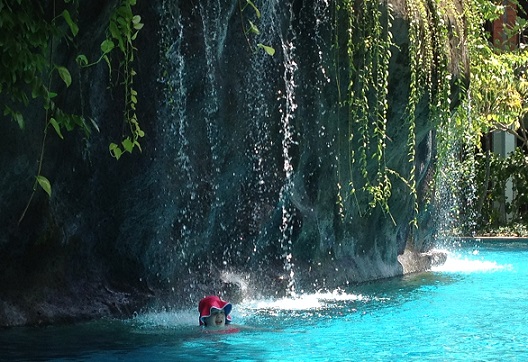 must be here in the low season, because we have had absolutely no trouble securing seats by the pool or in restaurants, and there seems to be more staff than people. Apparently it is rainy season, but so far we haven't seen anything but blue skies and scorching sun. Granted, it's only been 24 hours, but today was beautiful and we are trying to live in the present. :)
They have the most amazing drinks at this place, and compared to many fancy-ish resorts the prices are very reasonable. The kids are loving the interesting iced teas they do (mixing tea with guava juice, mint, and lime for instance) and shaking it up in front of them like Tom Cruise in Cocktail! Today I had an interesting watermelon sangria and a lychee mojito. Both drinks had huge chunks of fresh fruit in them and it was like a healthy snack with my refreshment! (Justification.)

After coming back to the room for showers we all sat around in the comfy Balinese robes we found in the closet – Chloë thought it
would be fun to take a family picture but for some reason Jeff didn't feel like it. Instead, he took a picture of me blogging while wearing it!
We had dinner at the main restaurant in the hotel, and again it was strange at how few people we encountered. It was "Italian Night", and only having Mexican all-inclusives to compare it to I didn't have the highest expectations for authenticity. There were four very competent men behind the pasta bar, and I must say that what they made was fantastic! We all made different combinations of sauces and noodle types, and it was really, really good. Chloë even went back for a second plate of it! This place is not an all-inclusive, and maybe that makes a difference, but regardless we had really great Italian food in Indonesia which is pretty remarkable.
Now, I must confess… it wasn't all roses and rainbows. It was HOT. Like, SUPER HOT. Verging on going up in flames kind of HOT. I, as a very thick blooded Canadian, do not do well with excessive heat and humidity. Neither does Julia. Jeff and Chloë seem to be of different stock than us and manage these temperature extremes quite well. It tells you something when Julia and I are stealing ice cubes from the wine bucket to control our body temperature! We thought nothing of sticking ice cubes down our shirts and had no qualms about it. A girl must do what a girl must do.
We eventually moved to a cooler area of the bar (fans are a great invention!) and listened to a really great band. The singers were fantastic and the music was great – mostly cover songs of current hits and great ones from the past. The kids went up and asked for an Ed Sheeran song, and believe it or not the lady asked them to come up with her and sing along. (Disclaimer, our girls harmonize together really well and love to sing. This was unexpected and very exciting!) They were fantastic, and unfortunately the environment was not great for pictures. Insert mental image here. :)
Everyone is tucked in to bed now and ready for a new day; tomorrow we are off to explore the island and we hope to come back with some interesting stories. Until then, goodnight from a little slice of paradise!